Baked zucchini casserole with tuna and melted cheese.
This recipe is my own version of one of the recipes from the Six seasons book I make the most at home. If you like cooking with seasonal produce and want to get the most out of each seasonal produce, this is a great book to inspire from.
Six seasons by Joshua McFadden is a true inspiration.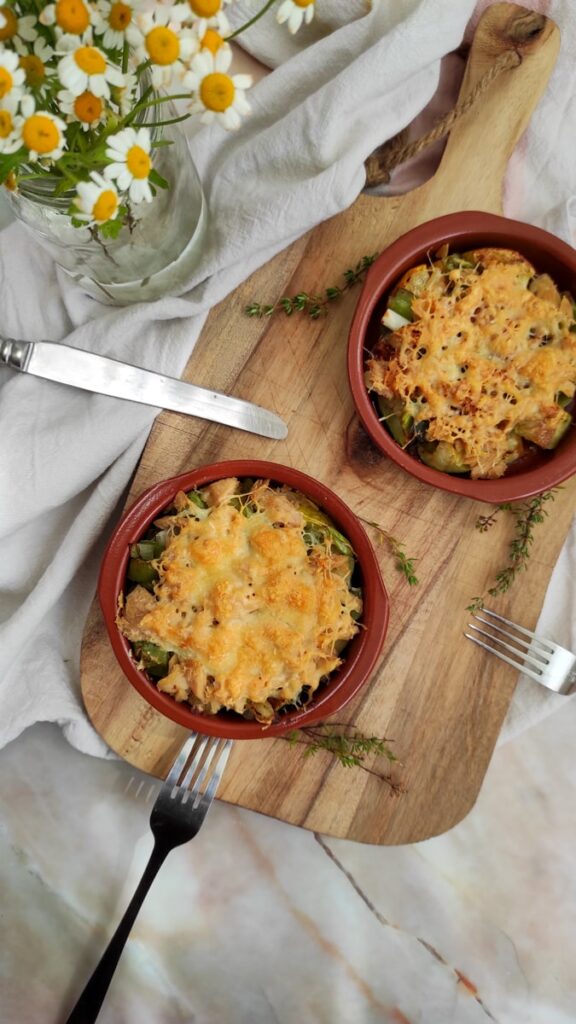 Baked zucchini casserole with tuna is my version of Joshua's recipe with more vegetables but with the tuna and the melted cheese because it makes everything taste better.
In August the urban garden is producing so many zucchinis that this casserole is perfect to use 3-4 zucchinis at once. If you do batch cooking this recipe is also perfect.
Also, it is easy to make as we will simply roast zucchinis in the oven, add a layer of vegetables, tuna and cheese, broil it for 5 minutes and dinner is ready.
Can I use aubergine? For sure, you can use aubergine instead zucchini, the result is as good.
Easy dinner idea ready in 40 minutes.
Do you need more ideas to use zucchini? Let me inspire you.
Zucchini omelet, Zucchini brownie, Zucchini "Linguini" With Shrimp , Zucchini Cannelloni With Cashew Sauce o Fish Pie.
Let's start!
Baked zucchini casserole
Course: Main Dish
Cuisine: Mediterranean
Difficulty: Easy
Ingredients
2 zucchinis

1/2 bell green pepper, chopped

1/2 onion, chopped

3/4 green onions, chopped

Olive oil

Fresh or dry thyme

Tuna

Shredded cheese (gouda, parmesan, your favourite cheese)

Salt and pepper
Directions
Preheat the oven to 200°C.
Cut the zucchinis into large pieces (2-3 cm).
Place the zucchini in a baking tray and toss with olive oil, salt and pepper.
Distribute the zucchini along the tray leaving space between the pieces to ensure they will roast properly. If you overcrowd the tray, the water on the vegetables will not evaporate and you will not get golden roasted vegetables.
Bake for 30 minutes or until golden.
In the meantime, place the rest of the vegetables in a medium size pan with 1 tablespoon of olive oil. Sauté for 5-6 minutes.
Add the thyme and cook for a few more minutes or until soften and slightly golden.
When the zucchini is ready arrange a layer of the roasted vegetable in a casserole or 2 (if you want to make individual portions).
Add a layer of the sautéed vegetables and a little bit of flaked tuna.
Sprinkle some flaked chilly if you want it spicy.
Top with shredded cheese.
Broil for 4-5 minutes.
Recipe Video