These zucchini cannelloni with cashew sauce are a great idea for dinner when you want to have something warm but keeping it healthy. Also, it is 100% vegan.
The cashew sauce adds that special thing to this meal to make it perfect. To be honest I could eat the sauce just with a spoon… so yummy!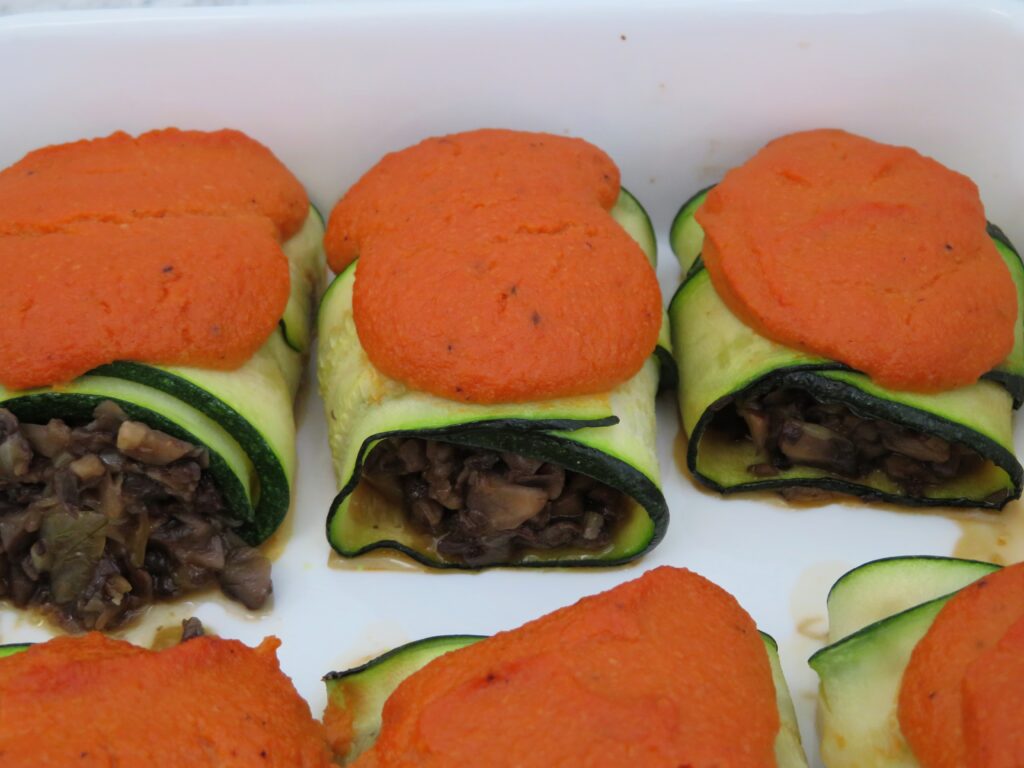 Looking for more recipes with zucchini?
Zucchini brownie, or linguini with shrimps or a delicious quiche.
Let's start making some zucchini cannelloni!
Zucchini Cannelloni with Cashew sauce
Course: Main
Cuisine: Italian
Difficulty: Easy
Ingredients
2 large zucchini

400 g mushrooms

1 chopped onion

1 chopped garlic clove

1/2 cup of cashew nuts (natural)

1/2 cup white wine

1 can plum tomato

salt and pepper

1 tablespoon nutritional yeasts (optional)

1/2 teaspoon garlic powder
Directions
Start soaking cashew nuts in water for 15 minutes.
For the mushroom filling, heat 1 tablespoon oil in a medium-size pan and sauté the onion and the garlic.
Chop mushrooms, add and stir. Cook for 5 minutes.
Add 1/2 glass of white wine. Cook for another 5 minutes until the mushrooms are soft. Remove from heat and set aside.
In the meantime, heat 1/2 tablespoon oil in a small saucepan. Add the tomato and simmer for 10 minutes or until the sauce thickens slightly.
Remove the tomato sauce from heat.
Place the tomato sauce, cashew nuts (without the water), garlic powder, nutritional yeast (optional), salt and pepper in a food processor and blend them all until you get a creamy texture.
Meanwhile, using a mandolin or sharp knife, peel the zucchini into wide strips and lay them flat. Sprinkle the zucchini with salt.
Heat a large pan and cook zucchini ribbons in small batches. 30 seconds from each side max. Place them in a dish.
To assemble. Grab 2 wide zucchini ribbons, lay them on a work surface slightly overlapping.
Place 1 large tablespoon of the mushroom filling onto the centre of the zucchini.
Roll into a coin and place it in an oven dish. Repeat with remaining zucchini.
Spoon the cashew sauce over each roll.
Bake in a preheated oven for 10 minutes at 200 ºC. Conventional heating.
Sprinkle with extra nutritional yeast and serve with some salad. Enjoy it!