Basque cake, the traditional recipe.
The Basque cake is a lemon pie with creamy feeling for a special occasion. Buttery and with lemon flavour.
A delicate buttery pastry outside and a creamy custard filling inside with a lemon touch.
I think you can already guess that this is one of my favourite homemade dessert. It has been a while since the last time I baked it, and I think I enjoyed it as the first time. One of the best Basque dessert together with the cheesecake.
It has few steps bit with a bit of time and patient I am sure you will manage. I hope you try it for a special dinner with friends or family. Last time I baked it for some dutch friends they loved it. So, let´s bake!
---
More traditional recipes, here.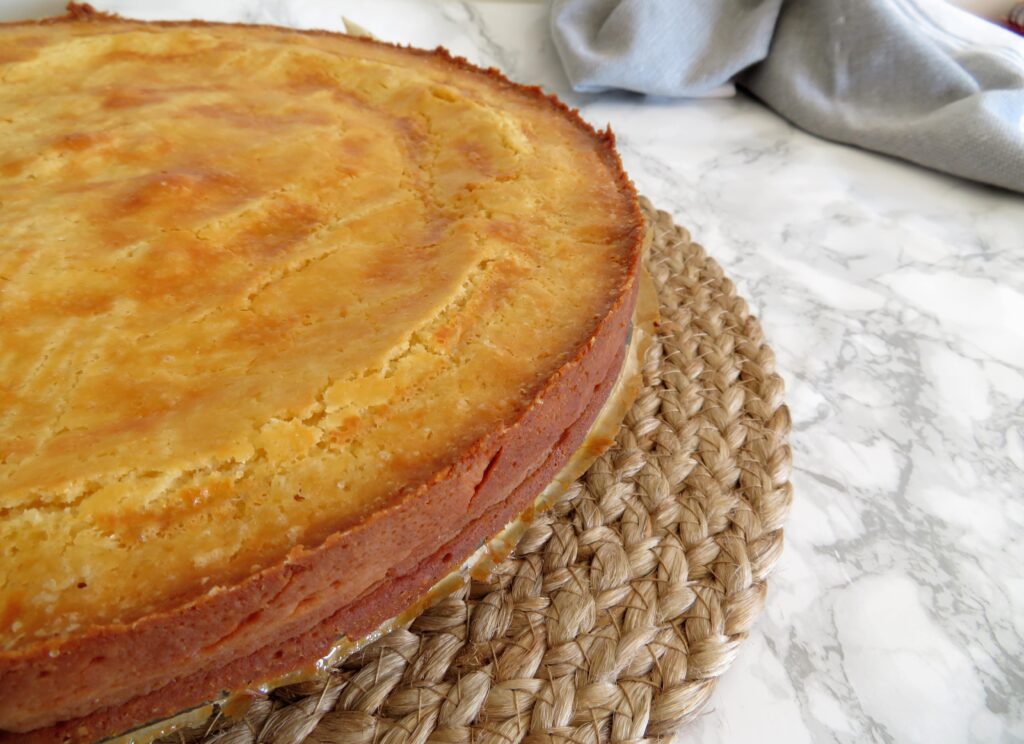 Basque cake – traditional recipe
Course: Dessert
Cuisine: Basque
Difficulty: Medium
Ingredients
300 g plain flour

200 g sugar

200 g unsalted butter (melted)

2 eggs (1 egg is to brush the top)

2 egg yolks

1/2 teaspoon salt

1 teaspoon lemon zest

Custard filling

500 ml milk

4 egg yolks

50 g sugar

50 g plain flour

lemon peel
Directions
To prepare the pastry, in a large bowl mix the flour, sugar, melted butter, 1 egg, 2 egg yolks, salt and lemon zest. You can also knead the dough by hand, as I did. Mix it until you get a soft and non-sticky dough.
Wrap the dough with plastic film and keep it in the fridge for 1 hour.
Meanwhile, make the custard filling, whisk together 100ml of milk, 4 egg yolks, 50 g of sugar and 50 g of flour.
In a medium saucepan, heat the rest of the milk (400 ml) with the lemon peel, over medium heat.
When the milk is warm, pour little by little the mixture (milk, yolks, sugar and flour). Whisk constantly until the mixture gets thick and starts boiling. Around 5 minutes.
Remove from heat and cover with a lid to cool for 30 minutes. Remove the lemon peel.
Get the dough from the fridge and divide into two pieces, one a little it bigger than the other one. One for the top and one for the bottom part.
Take the bigger piece and roll it out with a rolling pin. I always place one baking paper on the bottom, as it is easier to transfer the dough into a mold later. Roll as thin as possible, 2-3 mm thickness.
Carefully transfer it to a pie mold with a removable bottom, pressing into bottom and up sides.
Pour the custard filling.
Take the smaller piece and roll it out with the rolling pin, again place the baking paper on the bottom.
Carefully place it over the filling, seal edges and trim excess dough.
In a small bowl, whisk 1 egg and brush the top of the pie carefully with the egg.
Bake in a preheated oven for 45 minutes at 160ºC.
Most difficult step, the waiting time. Let cool at room temperature and wait at least 12 hours before eating it. The taste will be a lot better after a few hours when the pie is completely cold.