Swiss chard omelette, a quick an easy dinner idea when chard season get crazy at the urban garden.
I have an small urban garden in The Hague and when it gets chard season one of the first recipes I make in an omelette.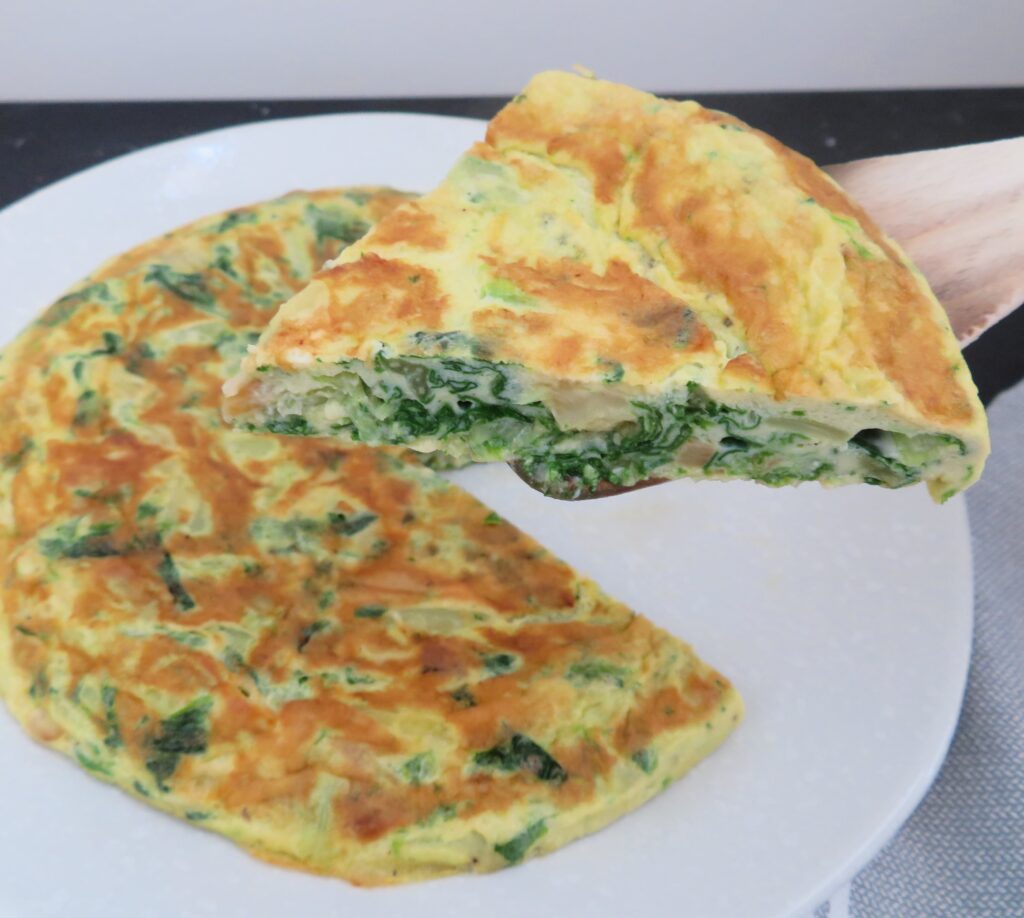 It is a super simple omelette recipe, with some onion and garlic, but has so much flavour. Plus, you can enjoy it warm or even cold the day after.
It is perfect as a dinner idea, to bring it to a picnic or to even make a sandwich with it.
For those that are not a big fan of swiss chard, I think it is a really nice way to eat it, as adding onion and garlic really changes the flavour of the chard. Also right now is the best time to buy them as they are in season. So if you want to eat this vegetable, next time you do your groceries get some swiss chard and try it, I think you will like it.
There are lots of other recipes to enjoy this delicious vegetable, so let me inspire you with a few of them. Make a delicious chard curry, stuffed with ham and cheese, cook it in an almond sauce, use it is a quiche filling…
Enjoy them!
Swiss Chard Omelette
Course: Main
Cuisine: Mediterranean
Difficulty: Easy
Ingredients
700 g swiss chard

1 onion

2 garlic clove

5 fresh eggs

2 tablespoon Olive Oil

Salt and Pepper
Directions
Heat a medium-size pot with water and bring it to boil. In the meantime, wash swiss chard and slice the leaves and white stems (1-2 cm pieces). Add to boiling water and cook for 10 minutes.
While the chard is cooking, heat oil in a medium-size pan. Chop the onion and garlic. Add them to the pan and cook over medium heat for 10 mins. Add salt and pepper.
When the chard is ready, drain it in a colander in the sink and add then it to the pan. Toss with the onion and garlic for 2 minutes.
Crack the eggs into a bowl and beat them with a fork. Add chard-onion mixture into the eggs, mix them.
Heat 1/2 tablespoon olive oil in the medium size pan. When it is hot add the egg mixture. Keep heat at medium-low (I like a juicy omelette) for about 8 minutes.
Invert the omelette on a large plate and slide back into the pan and cook a few more minutes, until the eggs are set. Time will depend if you like it more or less cooked.
Slide on to a plate and serve.
Notes
You could add some parmesan to the egg-swiss-onion mixture before making the omelette. It gives a nice flavour.