Easy swiss chard curry with potatoes, so simple and delicious.
Swiss chard is in season now and making an easy curry is a delicious way to enjoy them.
You could also use green beans or cauliflower, both are delicious options for this easy curry.
If I am honest, I like to make homemade curry from scratch, using fresh garlic, ginger, turmeric… but sometimes I do not have a lot of time to cook so good quality curry powder is also an option.
Make sure you use a good quality curry powder as it will make a huge difference in such a simple dish.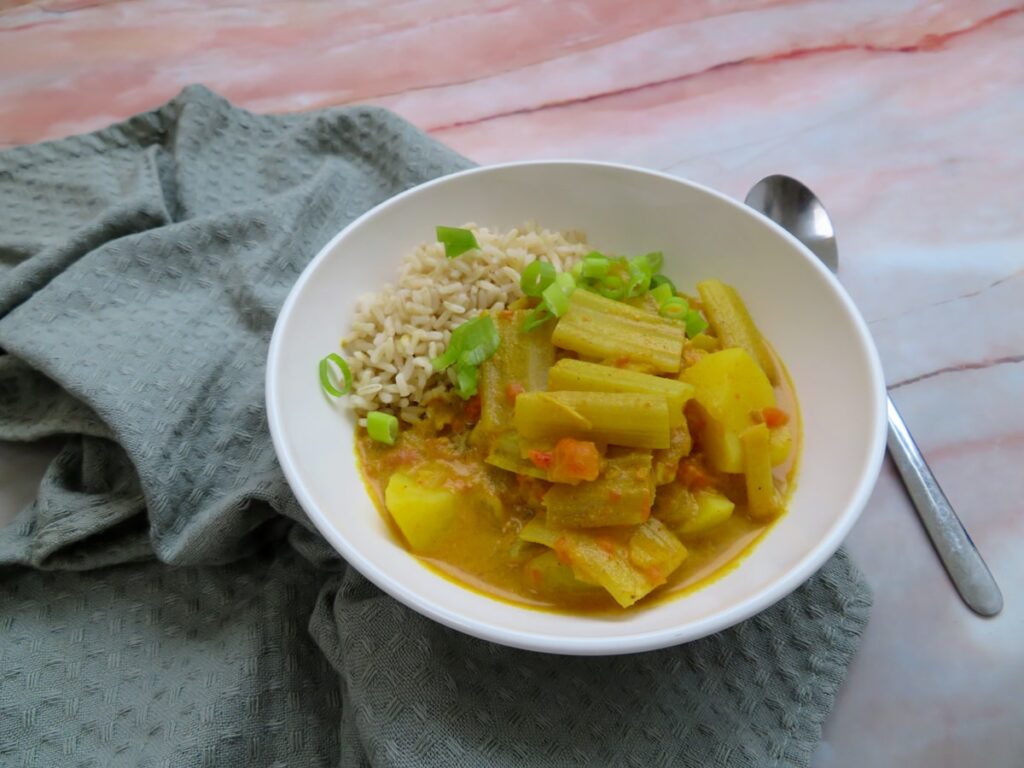 Pick your favourite vegetable in season in February and let's make some easy curry.
If you want more recipes using swiss chard, here are some of my favourites.
Easy swiss chard curry
Course: Main
Cuisine: Asian
Difficulty: Easy
You can also use green beans or cauliflower instead of swiss chard.
Ingredients
500 swiss chard

2 medium-size potatoes, cut into cubes

1 small onion, chopped

1 garlic clove, minced

2 cm fresh ginger, minced

1/3 yellow or red bell pepper

250 ml coconut milk

250 ml water

1/2 cup diced canned tomato

1 teaspoon curry powder

1/2 teaspoon garam masala

1/4 teaspoon turmeric powder

1 tablespoon olive oil
Directions
Heat the oil in a large pan over medium heat. Add the onion and bell pepper and cook for 3 minutes.
Add the minced garlic and ginger and cook for 1 minute.
Add curry powder, garam masala, turmeric and diced tomato. Cook for 2 minutes over low heat.
Add the potatoes, coconut milk and water. Season with salt and simmer for 15 minutes.
In the meantime, separate the stalks from the leaves of the chard. Chop the stalks into 2 cm pieces. You can use the leaves to make stir-fried on a lentil stew.
Add the stalks to the pan, cover with the lid and simmer 5-8 minutes more.
Serve with some brown or white rice and enjoy it!