Easy to make savoury olive and sun-dried tomato muffins. Lots of flavour for the perfect starter, pintxo, lunchbox idea or a tapas dinner with friends.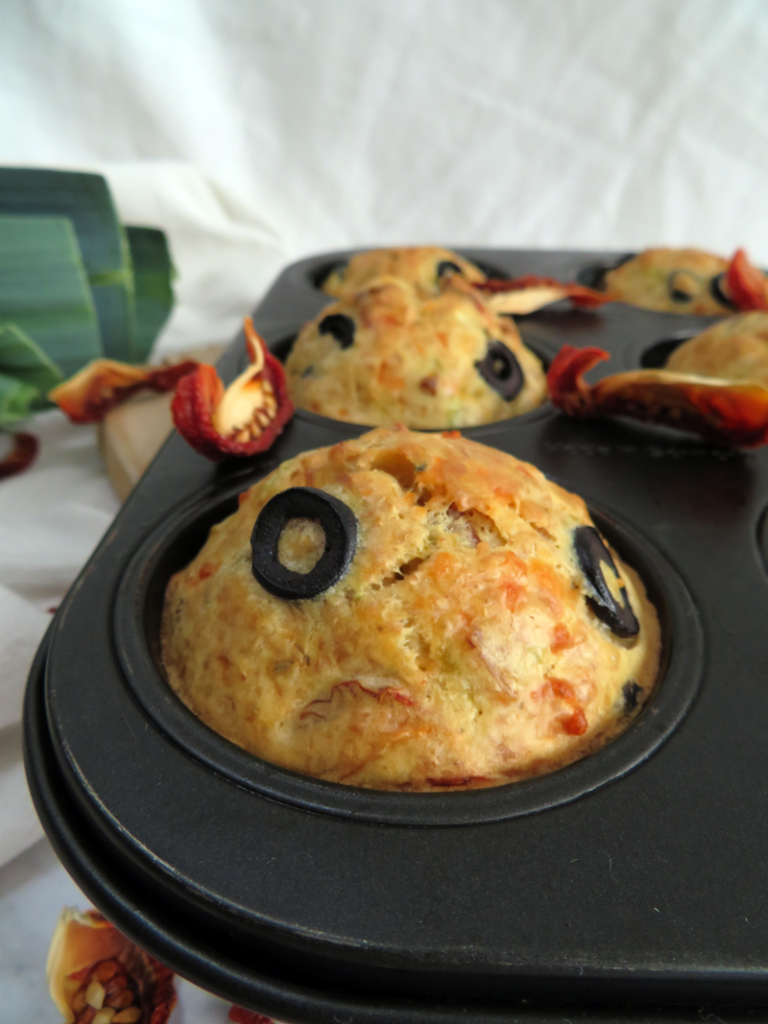 My proposal is to make muffins but you can also bake the dough on a rectangular baking mold and make a savoury bread to enjoy with a nice salad.
The best part of these muffins is that they are super easy to make and they stay moist and perfect for 3-4 days.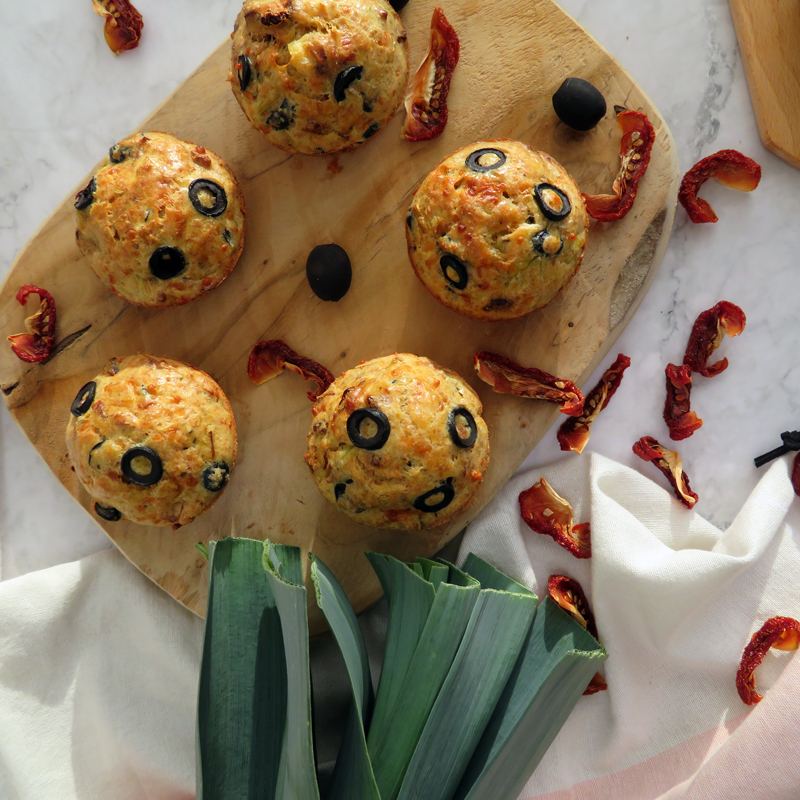 Need more filling ideas?
You can adjust the ingredients and add your favourite savoury ingredient, here some ideas:
Ham and cheese
Blue cheese, pear and walnuts
Smoked salmon
Roasted vegetables: pumpkin, broccoli, onion, pepper…
Feta, jalapeños, sun-dried tomatoes
…
Need more appetizer ideas? Check here.
Savoury Olive and sun-dried tomato muffins
Course: Appetizers and Snack, Pintxos (Tapas)
Cuisine: Mediterranean
Difficulty: Easy
Ingredients
100 g wholemeal flour

5 g dry yeast

2 eggs

65 ml olive oil

90 ml milk, room temperature

45 g cheese (parmesan or mozzarella)

100 g leek, chopped

40 g black olives, sliced

35 g sun-dried tomatoes, drained and chopped

1 teaspoon olive oil

1 teaspoon oregano

Salt and pepper
Directions
Preheat oven to 180ºC/350ºF.
Brush an 8 hole muffin tin with olive oil.
Heat 1 teaspoon olive oil on a small pan over medium heat.
Add chopped leek and cook for 5 minutes until soft and golden.
Place the flour, yeast, eggs, olive oil and milk in a large bowl.
Mix all the ingredients with a hand mixer.
Add cheese, golden leek, black olives, sun-dried tomatoes, oregano, salt and pepper.
Mix a little bit just to combine the ingredients. 10 seconds with a hand mixer.
Divide the mixture between the 8 muffin holes (2 tablespoons per hole).
Bake for 20 minutes or until a toothpick inserted in the centre comes out clean.
Cool for 10 minutes before serving. Enjoy them!
Notes
Storage: Allow to cool completely before storing in an airtight container for 3 to 4 days. Keep them in the fridge.
---
---
This post contains affiliate links, which means if you buy something through those links I will receive a small commission at no extra cost for you. Thank you for your support!