Red wine chorizo potato nest, flavourful and crunchy bite.
Pintxo Saturday is here again. Today I am sharing a recipe inspired by a pintxo my father used to make when we were kids, chorizo on a crispy potato nest.
I decided to give a twist to the recipe and make soft sautéed chorizo with red wine and crispy potato nest. The result is amazing!
Hope you try it!
More pintxos (tapas/fingerfood) next Saturday 🙂 #pintxorootsandcook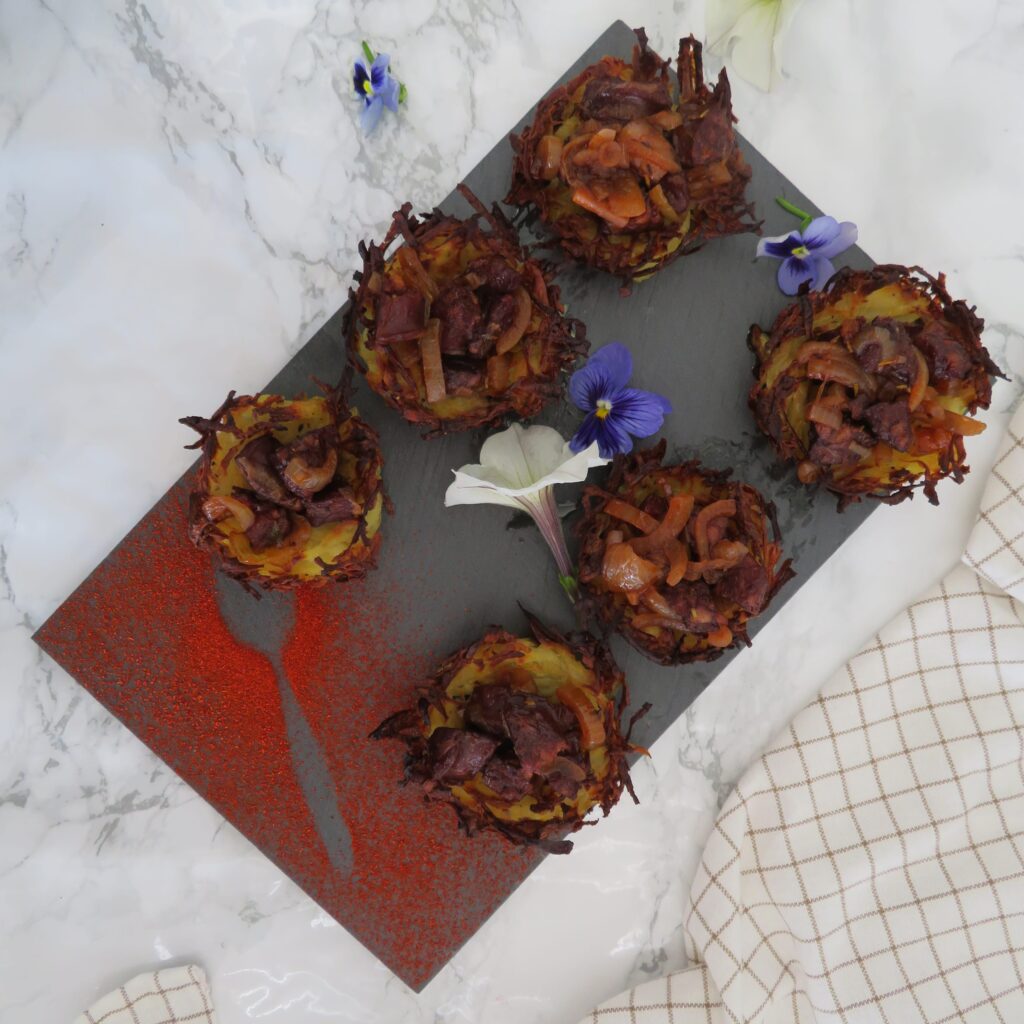 Red wine chorizo potato nest
Course: Appetizers
Cuisine: Spanish
Difficulty: Medium
Ingredients
4 medium size potatoes, peeled

Salt and pepper

2 tablespoons Olive oil

Sautéed chorizo with red wine

75 g Chorizo, cutted into cubes

1 and 1/2 cup red wine

1 bay leaf

1 teaspoon black pepper

1/2 onion, finely chopped

1 garlic clove, finely chopped

1 tablespoon Olive oil
Directions
Grate potatoes to get thin shreds, squeeze to drain the water out.
In a medium-size bowl, toss potato with salt, pepper and olive oil.
Preheat oven to 200ºC. Lightly grease 6 muffin tin cups with olive oil. Place 2 tablespoons potato mixture into each cup and press against bottom and up sides creating a nest.
Bake for 25-30 minutes until the nest edges are dark golden. Cool for 10 minutes. Carefully and using a fork or small spoon remove nests and place on a wire rack.
Sautéed chorizo with red wine
Heat 1 tablespoon olive oil in a small pot and sauté the onion and garlic for 4-5 minutes.
Add the chorizo and cook 2 minutes.
Add the red wine, bay leaf and black pepper.
Simmer for 15 minutes over low heat.

To Serve
Place potato nest on a platter.
Add 1 tablespoon of sautéed chorizo to each nest.
Serve right away.
Notes
You can combine this appetizer with some more red wine. Just the perfect combination.