Do you want to know how to cook octopus in easy steps?
If you never cooked octopus before, do not worry as it is way easier than you might think. There are some key steps you need to follow to get a tender octopus, but they are so easy.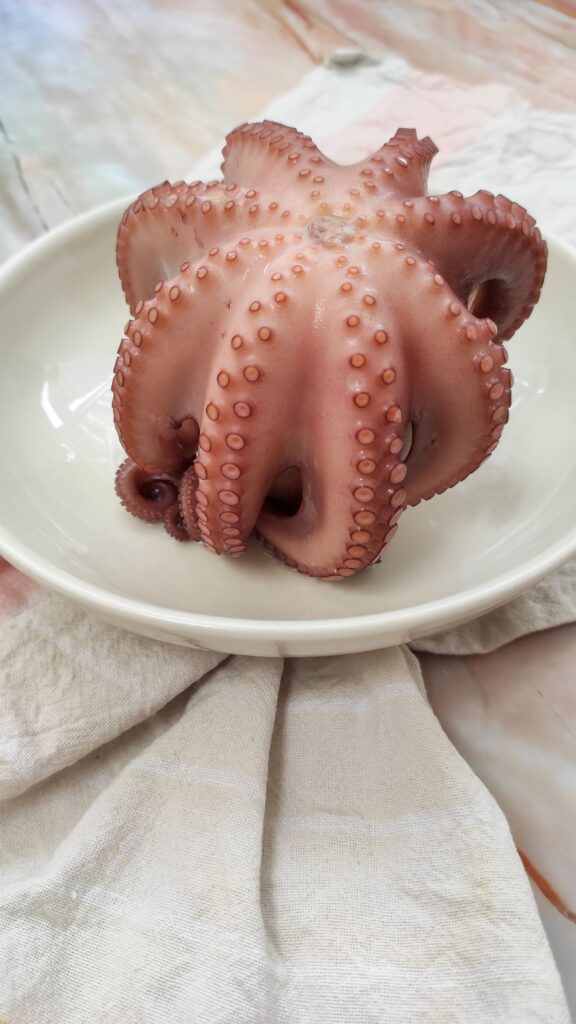 ---
Key step to get a tender octopus
The most important thing is to use frozen whole octopus. You can buy it at the frozen section of the supermarket/fishmonger or buy fresh octopus and store it in the freezer for 48 hours. This steps is important to help soften the meat of the octopus. Also, it will take less time to cook it.
Place the frozen octopus to thaw in te fridge for 12 to 24 hours before cooking it.
---
How to get the perfect curly legs? Octopus legs
The dipping method:
---
How to cook octopus
Course: Main
Cuisine: Spanish
Difficulty: Easy
Ingredients
700 g whole octopus

1 teaspoon salt

Optional: 2 bay leaves
Directions
Bring a large pot of water to a boil.
Add salt and bay leaves.
Grab the octopus from the head and dip 2-3 cm of the legs into the boiling water. (see video below)
Pull out and dip it again but now 3-6 cm.
Repeat this 2-3 times until you dipping the octopus a little bit more each time.
This steps will help to shape or curl the legs of the octopus nicely. So they will be curly but also flat in case you want to grill the legs of the octopus afterwards. It is a key step.
When the octopus is in the water, bring the water to a simmer and cook for 50 minutes.
To check if the octopus is tender and cooked, pierce the thick part of the tentacle (the part closer to the head) with a knife, if you feel a little resistance it is ready.
It is ready to enjoy it.
If you are not going to eat it right away, then transfer the octopus to a platter to allow to cool down. Store it in the fridge for up to 2 days.
Recipe Video
Notes
Cooking times might differ if the octopus you are using is bigger or smaller, so adjust the timings.
---
Octopus is tender and ready to eat, any recipe ideas?
You can do lots of different things with octopus.
If you want to keep it classic and simple, cut off the legs and sliced them in thick slices. Place them on a platter, drizzle with good olive oil and sprinkle with smoked paprika and season with salt. This is called pulpo a feira, traditional in Galicia, Spain, a truly delicassy.
---
Do you want to make it more fancy?
What about these ideas?
---