This zucchini salad is that fresh summer salad you were looking for.
It is easy to make, fresh and beautiful, and we all like that combination.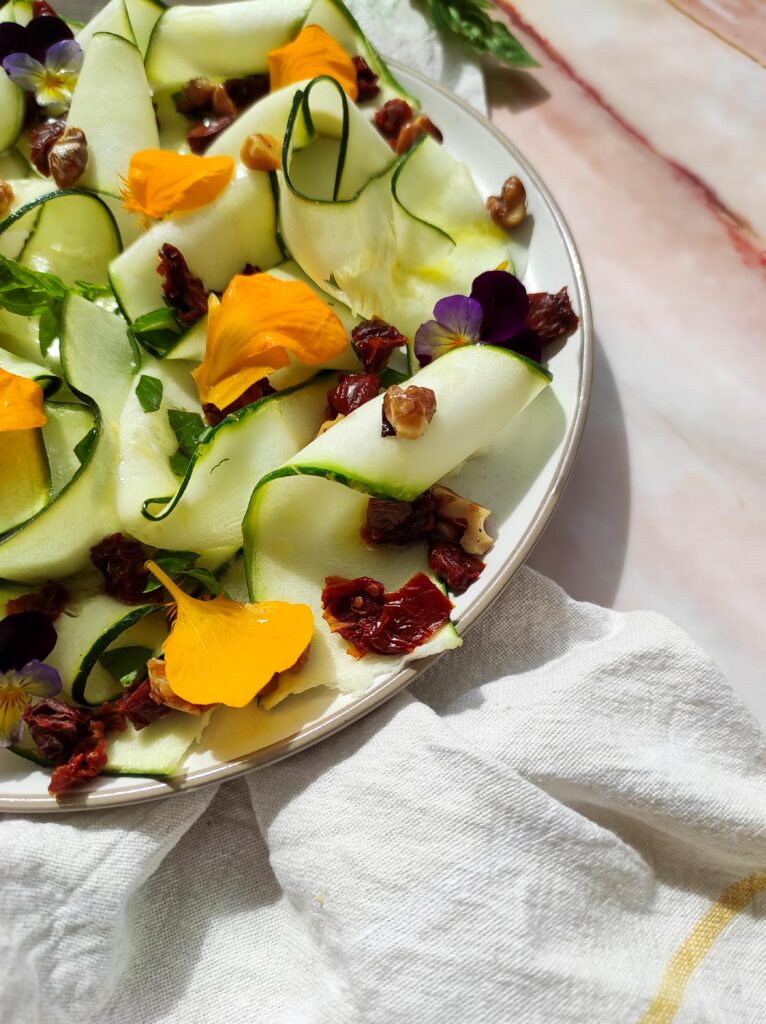 ---
Easy, fresh and cute
Zucchini salad is for sure one of the easiest things you can make in summer when you get 2-3 zucchinis per day from the urban garden.
It is easy to make, super fresh and so pretty, so always fun to make it.
---
Do you need more zucchini recipe ideas?
It might be difficult to cook different zucchini recipes so let me help you with some inspiration.
---
Zucchini salad
Course: Salads
Cuisine: Mediterranean
Difficulty: Easy
Ingredients
1 small zucchini

10 g roasted walnuts

15 g sun-dried tomatoes

Fresh basil

Optional: Edible flowers

Dressing:

1 tablespoon olive oil

1 teaspoon lemon juice

Salt

Pepper
Directions
Using a vegetable peeler, peel the zucchini into thin strips.
Place them in a platter and top with chopped sun-dried tomatoes, roasted walnuts and fresh basil.
Optional: add some edible flowers.
Drizzle with olive oil and lemon juice and season with salt and pepper.