The BEST carrot cake, incredibly moist and flavourful. My birthday cake to celebrate my 30th birthday.
Extremely moist carrot cake, full of flavour, topped with a creamy frosting and roasted walnuts. A traditional recipe that everyone loves.
Definitely, not a cake that you will bake weekly but for a special occasion such as birthdays, where you can share it with friends and family it is perfect. I tried different versions of this carrot cake but this is THE recipe to get it incredibly moist.
With a secret ingredient to get an incredibly moist cake.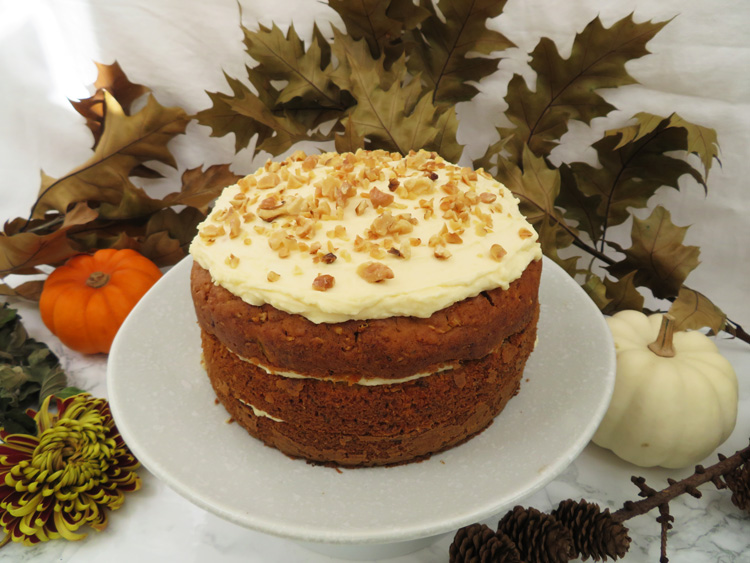 Easy to make, assembly and decorate.
If you are looking for a healthy version of the carrot cake, do not worry as I am working on that. Soon available.
More dessert recipes? Here.
Springform hack for high cakes.
To make a 3 layer cake I used a regular 18 cm springform and added some baking paper on the sides as the cake will be pretty high. Little hack so you do not need to buy a high side springform 😉
Let´s bake!
Incredibly Moist Carrot Cake
Course: Dessert, Traditional
Difficulty: Easy
I used a 18 cm springform pan.
Below information about the springform pan and tools I used.
Ingredients
350 g very finely grated carrots

100 g walnuts

250 g pineapple (4 slices if canned)*, finely chopped

180 g all-purpose flour

100 g wholemeal flour

100 g brown sugar (or normal sugar)

220 ml olive oil (or melted butter)

4 eggs

1 tsp baking soda

2 tsp baking powder

1/2 tsp salt

2 tsp vanilla extract

2 tsp ground cinnamon

1/4 tsp ground nutmeg

Frosting

250 g mascarpone or cream cheese, room temperature

50 g butter, room temperature

100 g icing sugar

2 tsp vanilla extract

Tools

Springform pan D 26 cm (2 layers)

Springform pan D 18 cm (3 layers)
Directions
Heat the oven to 180ºC (350ºF). Place walnuts is a small oven tray and roast for 8-10 minutes. Allow to cool down and chop them in small pieces. Set aside 2 tbs of the roasted walnuts for garnish.
Grease a springform pan (see notes below) with a bit of butter. Set aside.
Carrot Cake
Bowl 1: In a medium-size bowl combine grated carrots, chopped pineapple and walnuts (except the ones for garnishing).
Bowl 2 (dry ingredients): In a medium-size bowl, combine both flours, baking soda, baking powder, cinnamon, nutmeg and salt.
Bowl 3: In a large bowl combine eggs and sugar with a hand mixer on medium speed. Beat in the olive oil and vanilla extract until fully combined (about 1 minute with the hand mixer).

Add 1/3 of the dry ingredients (bowl 2) to bowl 3 at a time. Combine with the mixer at medium-low speed.
Ones you incorporate all the flour, stir in the carrots, pineapple and walnuts from bowl 1. Using a spatula, fold the ingredients together until just combines. Or mix with the hand mixer at low speed (30 seconds).
Pour the batter into the springform pan.
Bake:
– 2 layer cake: 30-35 minutes at 180ºC or until toothpick inserted in the centre comes out clean.
–3 layer cake: 40-50 minutes at 180ºC or until toothpick inserted in the centre comes out clean.
Allow cooling completely in the pan on a wire rack. The cake must be completely cool before adding the frosting.
Frosting:
In a large bowl, beat together the butter, mascarpone or cream cheese, vanilla and icing sugar using a hand mixer on medium speed. Mix on high speed 1 minute more until creamy and fluffy.
Assembly:
Using a large serrated knife, layer the cake (2 or 3 layers depending on the pan you used).
– Place 1 cake layer on a serving plate. Spoon 1/3 of the frosting on top and spread in an even layer.
– Add another layer of cake and spread another 1/3 of the frosting.
– Add the last top layer and spread the rest of the frosting over the top.
– Scatter roasted walnuts on top.
– Chill for 1 to 2 hours before serving.
Enjoy!
Notes
*You can use Pineapple or Apple. But do not skip this ingredient, it is key to get a moist cake.
Store cake in the refrigerator for up to 5 days.
Tools to make this incredibly moist carrot cake
---
This post contains affiliate links.