As promised, an amazing healthy brownie with zucchini video recipe for this weekend. With lots of chocolate, a different ingredient, extremely spongy and moist.
Do not be sceptical about the zucchini, it is really key to get the texture of a brownie. I made a few trials until I found this recipe to trust me, it is really good!
I gave it to a few friends and they loved it, none of them guessed I added zucchini, so you can try it as well 😉
Send me a picture if you bake it or tag me on Instagram @rootsandcook.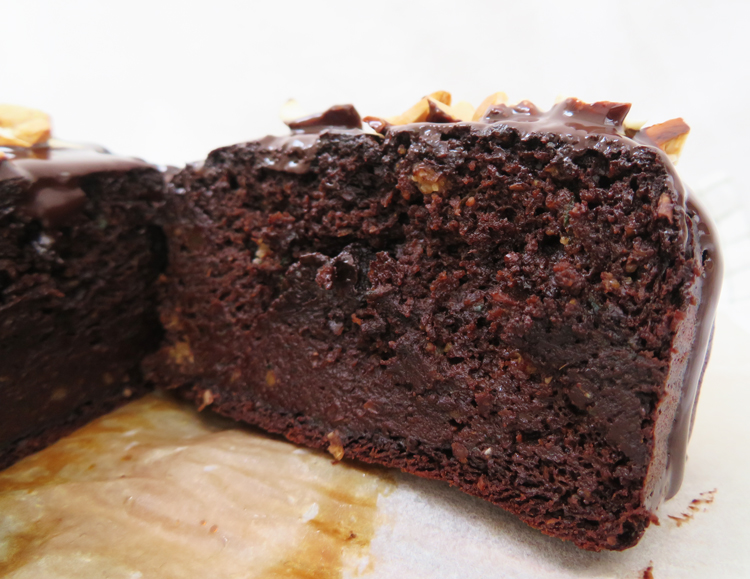 Healthy Brownie with Zucchini
Course: Dessert
Difficulty: Easy
Ingredients
200 g zucchini

100 g date caramel

125 g cashew butter (any nut butter)

1 egg

2 tbs olive oil

40 ml milk

40 g wholemeal flour

50 g cacao powder

1 tsp baking soda

½ tsp salt

1 tsp vanilla extract

½ tsp cinnamon

30 g chocolate chunks (85% cacao)

Topping

50 g chocolate (85%)

1 tsp olive oil

Roasted cashew
Directions
Brownie: See video
Topping: Melt the chocolate. Add the olive oil and combine. Drizzle brownie with melted chocolate and add roasted cashews.
Recipe Video
Notes
Date caramel: Soak pitted dates in hot water (20 ml) for 15 minutes. Add them to a powerful food processor. Blend until you get a creamy-caramel texture. With my Nutribullet it takes 1 minute.
Cashew butter: Roast cashews in a pan or oven for 15 minutes. Add them to a food processor. Process until very smooth. Pause to scrape down the sides of the bowl every 30 seconds. With my Nutribullet it takes 3-4 minutes.