Slow cooker pumpkin and chocolate cake, healthy, easy and flavourful.
I fell in love with red kuri pumpkin this fall so I had to try different recipes with it. It is so sweet and delicate that I thought making a cake was a good idea. I could be happier with the result, this slow cooker pumpkin and chocolate cake is so rich in flavour, a little bit spiced and has 0 sugar. The pumpkin is so sweet you do not need to add any sugar (no sugar no dates).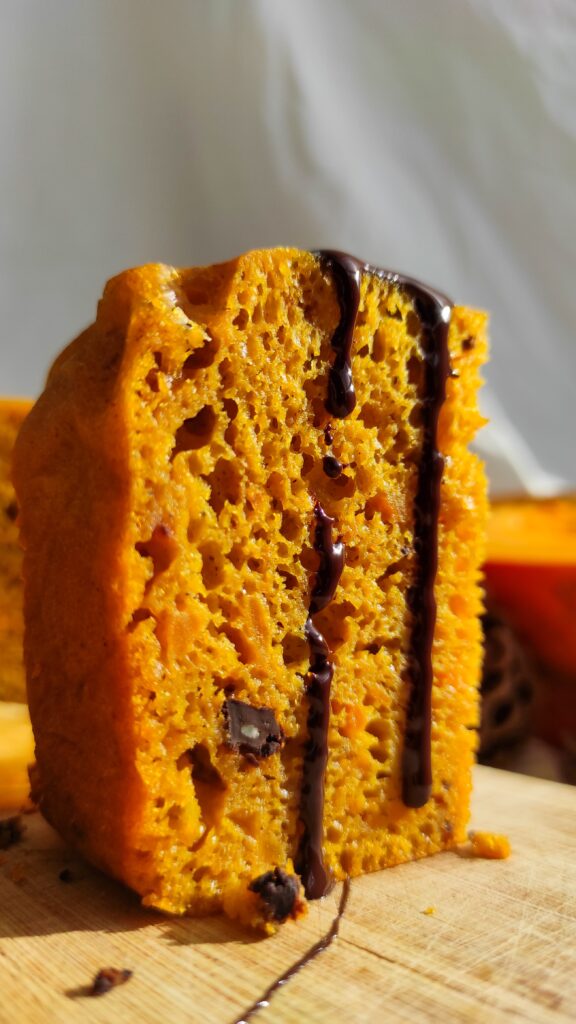 Also, it is possible to make delicious and moist cakes on the slow cooker so if you never tried, this is a great and easy recipe to start.
If you want more slow cooker recipes, here are some of my favourites.
Enjoy it!
Slow cooker pumpkin and chocolate cake
Course: Healthy, dessert
Difficulty: Easy
Cooking time
1
hour
45
minutes
When the pumpkin is in season and it is sweet, I do not think there is any need to add sugar to the recipe, but if you want the cake to be sweet/er, feel free to add sugar 🙂
Ingredients
380 g pumpkin purée (I used red kuri pumpkin)

120 g oat flour

4 eggs

75 g olive oil

16 g baking powder

70 g dark chocolate chip (85%)

1/2 teaspoon cinnamon powder

1 pinch of nutmeg powder

3 cloves, ground into powder

A pinch of salt

Optional: 70 g of sugar or maple syrup

Extra: 40 g chocolate as a topping
Directions
Place the eggs in a large bowl and whisk using an electric mixer or a stand mixer until light and fluffy. About 3 minutes.
Stir in the olive oil and whisk. Add the sugar or any kind of sweetener if you want it more sweet.
Stir in flour, baking powder, salt, cinnamon powder, nutmeg powder and clove powder. Mix until smooth.
Add the pumpkin purée and mix until combined.
Fold in chocolate chips.
Place parchment paper on the slow cooker and pour the batter into the slow cooker.
Place a clean kitchen towel under the lid and place it on the slow cooker.
Cook on HIGH for 1 hour and 45 minutes.
Allow the cake to cool down for 20 minutes before pulling it off the slow cooker.
Place the cake on a wooden board. Melt the extra chocolate in the microwave and pour it over the cake.