What to do when you have leftovers from a roasted chicken? Meatballs are always a good option.
Today I am sharing a nice recipe of a main dish or as an appetizer, roasted chicken meatballs with applesauce.
Recipe for the slow cooker chicken here.
Hope you like the idea.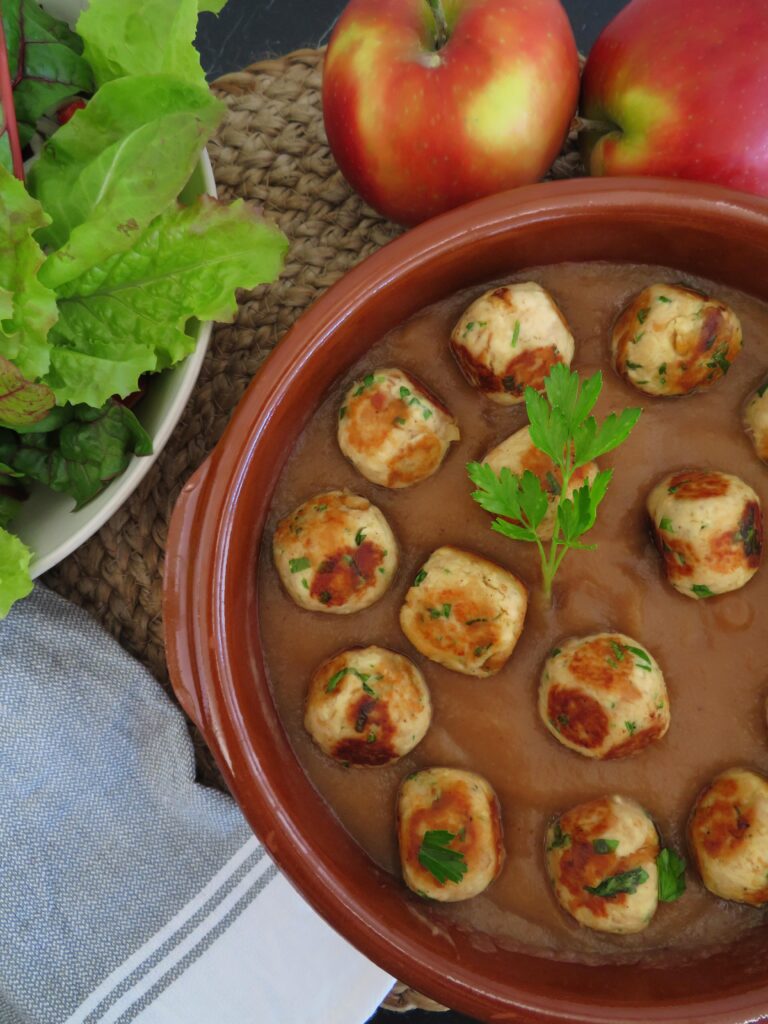 Roasted chicken Meatballs with Applesauce
Course: Meat
Difficulty: Easy
Ingredients
Meatballs

2 roasted chicken breast, finely chopped or ground

2 tablespoons breadcrumbs or 30 g bread

3 tablespoon milk

1 egg

1 garlic clove, minced

1 tablespoon parsley, finely chopped

salt and pepper

Applesauce

3 apples

1/4 cup of water

2 dates

1/4 teaspoon cinnamon
Directions
Meatballs
In a medium-size bowl mix all the ingredients until well combined.
Shape mixture into meatballs, I made 15 balls.

Heat 1 tablespoon olive oil in a large pan, over medium heat. Cook meatballs on all sides until golden. Set aside.

Applesauce
Peel, core and chop the apples into small pieces.
Place the apple, water, dates and cinnamon in a medium-size pan. Cover and simmer over medium-low heat, stirring occasionally, for about 25 minutes.
Blend in a food processor.
Place the apple sauce in a pan and heat oven low heat. Place the meatballs in the sauce. Cook for 2 minutes and serve.