Roasted mushroom tacos with garlic yogurt sauce, my absolutely favourite vegan tacos.
One of my favourite Mexican dishes is Tacos de Alambre, tender meat with roasted vegetables. To be honest, the best part of those tacos are the roasted and soft vegetables. So a couple of weeks ago I decided to make them at home with different toppings. They were amazing! and I was not missing the meat at all.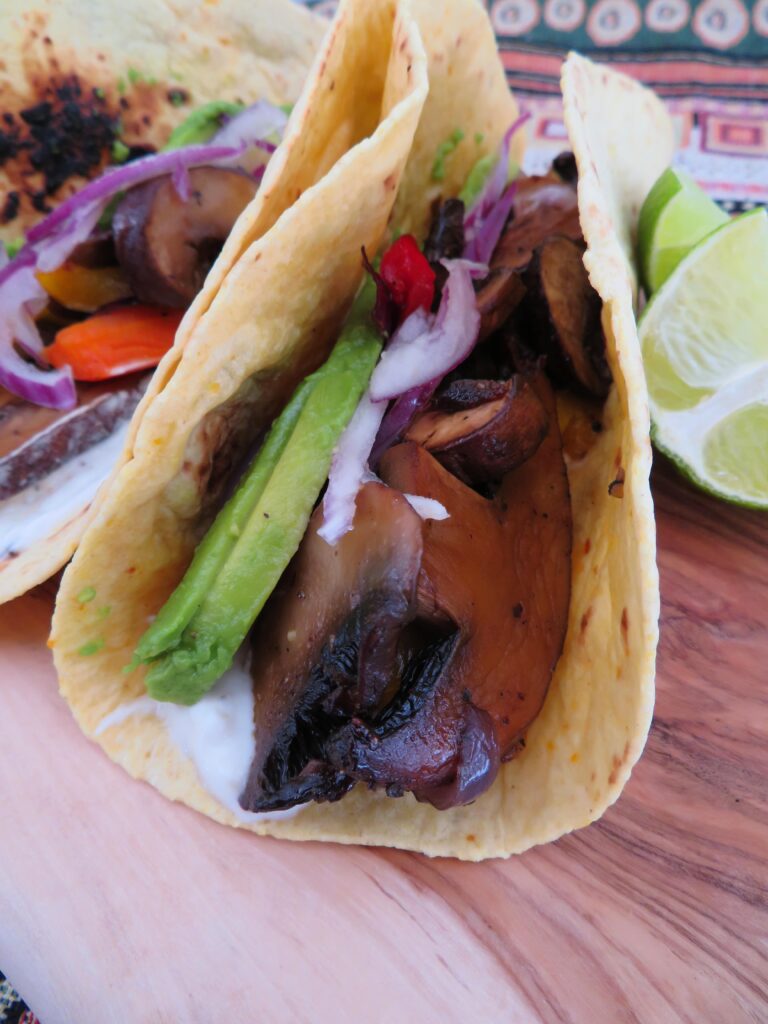 Soft and roasted mushrooms with garlic yogurt sauce, it is the perfect fresh combination.
I used classic yogurt but you can change it for soy yogurt to make it 100% vegan.
I can ensure they are so far my FAVOURITE TACOS. If you try them let me know if you love them too 🙂
Roasted mushroom tacos with garlic yogurt sauce
Course: Main
Cuisine: Mexican
Difficulty: Easy
With the amount below I made 7-8 medium size tacos
Ingredients
350 g sliced mushrooms

1 red bell or Italian pepper sliced

1 green bell or Italian pepper sliced

2 medium-size onion sliced

1 large carrot cutter into stripes

2 tablespoons olive oil

1 teaspoon garlic powder

salt and pepper

1 sliced avocado (topping)

1 tablespoon lime juice

1 finely sliced red onion (topping)

7-8 tortillas

Sriracha or any spicy sauce (optional)

Garlic yogurt sauce

4 tablespoons of yogurt (greek, skyr, soy yogurt…)

1 tablespoon Olive Oil

2 tablespoons lime juice

1 clove garlic

1/2 teaspoon cumin powder

6 chopped green olives

1/4 teaspoon salt

1/2 teaspoon pepper
Directions
TACOS
Pre-heat oven to 200ºC (392ºF).
In an over tray place all these ingredients: sliced mushrooms, sliced red and green pepper, sliced onion and carrot strips.
Add 2 tablespoons of olive oil, salt, pepper and garlic powder over all the vegetables. Mix well.
Transfer to oven and roast until browned and soft, around 25 minutes.
GARLIC YOGURT SAUCE
In a blender or food processor, combine the yogurt, olive oil, lime juice, garlic, cumin, salt and pepper. Combine until smooth. Transfer to a bowl and add the chopped green olives, mix well. Set aside or in the fridge up to 5 days.
TOPPINGS
Prepare red onion to soften the flavor and make it crispy. Place sliced onion in a medium bowl with cold water and add 2 ice cubes. Soak for 15-20 minutes and then drain the water.
Avocado. Place sliced avocado in a bowl, add 1 tablespoon lime juice, salt and pepper. Mix and set aside.
ASSEMBLY
Heat tortillas in the oven or a pan.
Spread the garlic yogurt sauce onto warmed tortillas, and top with roasted vegetables, avocado and red onion. Top with sriracha if you like it spicy. Serve and enjoy!
Notes
You can use any mushroom. Sometimes I use cremini and other time portobello.