Carrot and white beans summer dip on the slow cooker. Yes, it is possible to use the slow cooker in summer to roast the vegetables and make amazing dips.
Use white beans or chickpeas as both make an amazing fresh summer dip.
If you want more summer recipes, check here.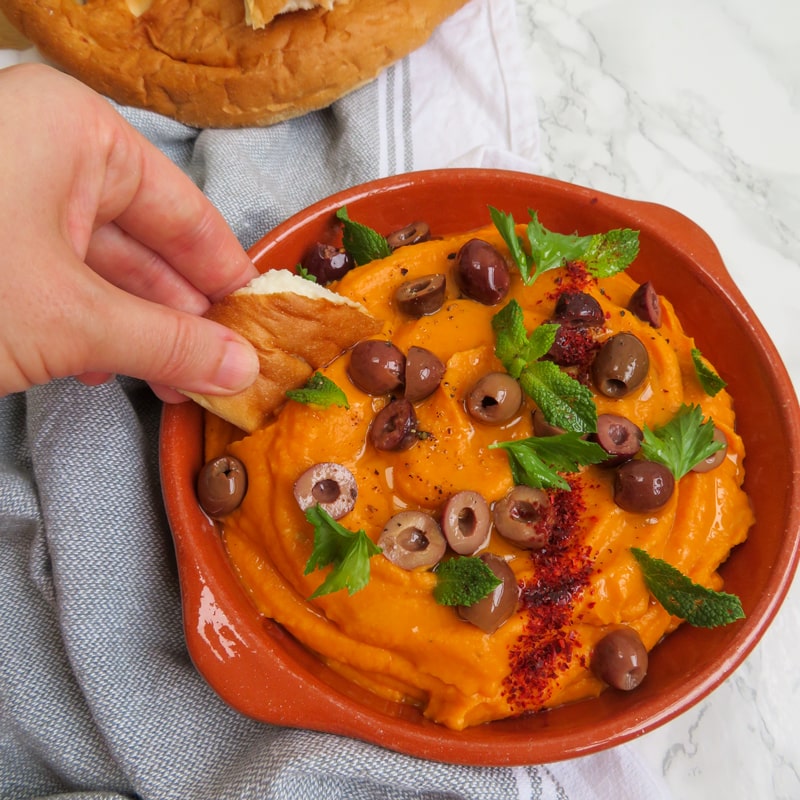 Carrot and white beans summer dip
Course: Appetizers and Snack, Slow Cooker, Vegan
Cuisine: Appetizer
Difficulty: Easy
Ingredients
3 carrots

1 red bell pepper

2 garlic cloves

200 g can white beans rinsed

1 teaspoon tahini

½ teaspoon cumin powder

½ teaspoon oregano

2 tablespoons olive oil

Salt

Pepper

1 teaspoon chilli powder

Toppings:

Kalamata pitted olives

Fresh herbs: mint, coriander, thyme…

Chilli powder
Directions
Place the carrots, the red bell pepper and the garlic cloves on the slow cooker. Drizzle with 1 tablespoon olive oil. Cover and cook on HIGH for 3 hours.
Oven version: Roast the carrots, bell pepper and garlic cloves in the oven at 190°C for 30-40 minutes.
Remove from oven or slow cooker and let cool slightly.
In a food processor combine the roasted vegetables, white beans, tahini, cumin powder, oregano, olive oil, salt, pepper and chilli powder. Process for 1 minute or until smooth.
Transfer to a resealable container and refrigerate for a couple of hours before serving.
Place the dip in a bowl. Top with kalamata olives and some fresh herbs (thyme, mint..). Sprinkle some chilli powder.
Drizzle with olive oil and serve with some naan or pita bread.