Blue cheese, pear and bacon pizza, savoury and sweet combination that I truly love.
Pizza dough is one of the easiest bread/doughs to make at home, specially with beer. It is super easy to make and you can make it upfront and store it in the freezer. So convenient when you crave pizza on the weekend.
How to make beer pizza dough? Check video recipe here.
Personally I love using a good IPA or blond beer for the dough, one of my favourites is this one is case you want to try it.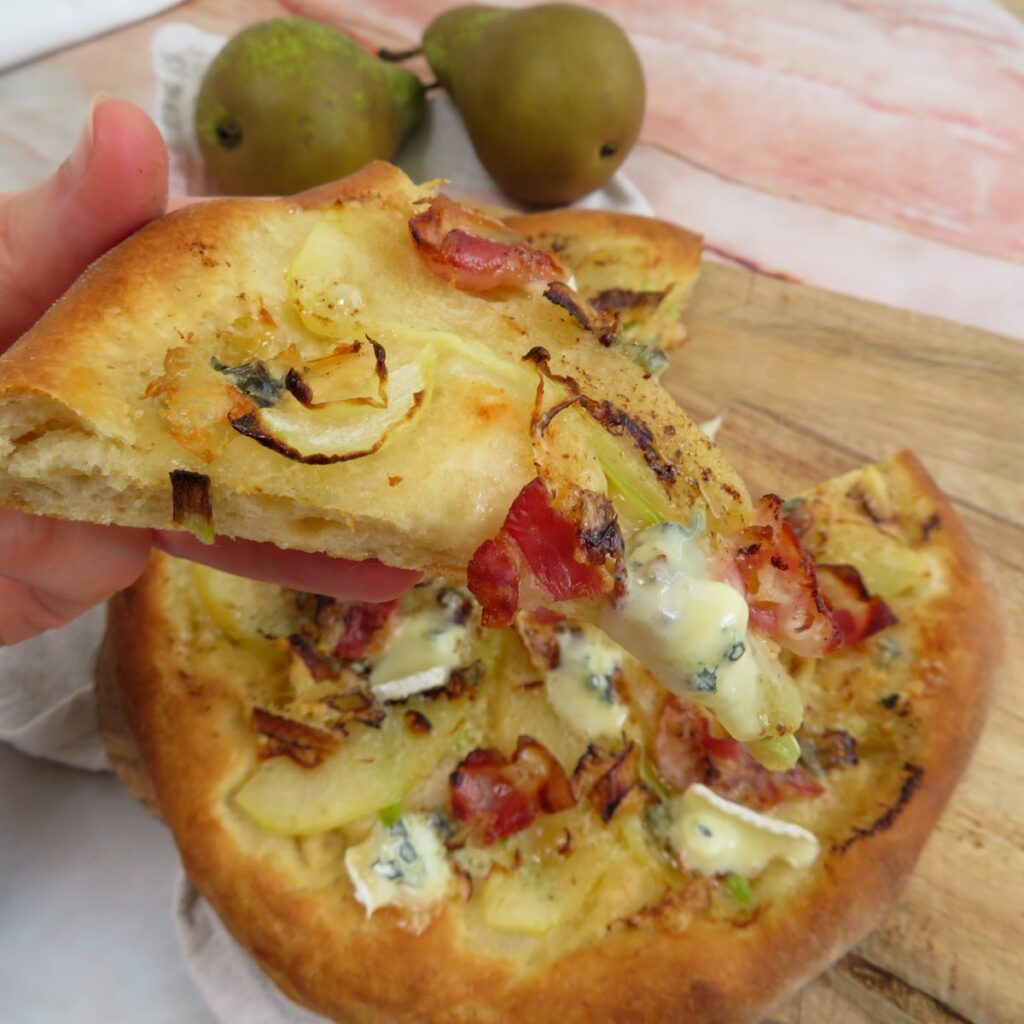 You can always go for a more classic pizza and use tomato sauce and mozzarella, but every now and then we all what to taste something new.
Pear, blue cheese and bacon is the perfect savoury-sweet combo. Use your favourite blue cheese: gorgonzola, roquefort… all great options. Plus a good bacon.
Check notes at the end of the recipe to adjust some of the ingredients.
Let's start!
Blue cheese, pear and bacon pizza
Course: Bread, Meat, Vegetables
Cuisine: Italian
Difficulty: Easy
2 pieces beer dough.
Ingredients
2 beer dough pieces

1 pear, sliced

Blue cheese

1/4 leek or fresh onion, sliced

Bacon
Directions
Preheat the oven to 475ºF (250ºC).
Lightly flour the work surface and your hands. Flatten each dough into a disc with your hand or a rolling pin.
Place the dough on a baking tray.
Add the toppings: Add first leek or fresh onion slices.
Arrange a layer of pear sliced.
Add bacon cut into 2 cm pieces.
Bake for 14-15 minutes or until golden.
Remove from the oven and add blue cheese cut into 2 cm pieces.
Serve and enjoy it!
Notes
You can drizzle with some spicy olive oil just before serving it.
If you want to add a sauce as a first layer (as we do with tomato), use some creme fraiche.
You can use prosciutto instead of bacon but then add it at the end together with the blue cheese.
Or skip the meat and add good quality anchovies. So so good!