I am going to show you how to make super easy homemade beer pizza dough to make the best pizza this weekend.
Simple, crunchy and delicious pizza dough. Add your favourite toppings and you will get the best pizza ever. And 100% homemade.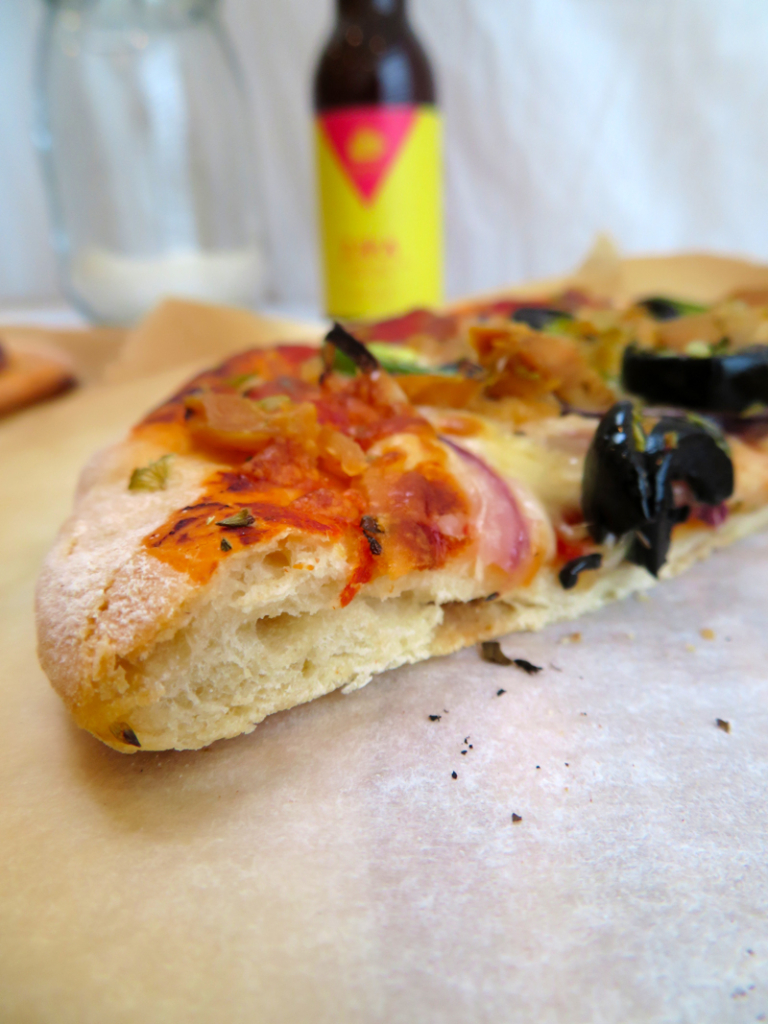 Some weeks ago a friend of mine who owns a craft brewery challenged me to create recipes with his beer. I love testing and creating new recipes so said YES straight away.
I love their beer and the company they created so it is an absolute pleasure to create recipes for them.
Challenge 1. Recipe with the Z.IPA.
At the beginning, I thought about adjusting one of my favourite chicken beer recipes to create a recipe with their IPA but then I thought about creating something different. So, I started testing and testing to get the best homemade beer pizza dough.
It is important to use beer at room temperature. As if it is cold the yeast will not activate.
Easy and delicious pizza dough to create your favourite pizza.
Video recipe:
Homemade Beer Pizza Dough
Course: Main
Cuisine: Mediterranean
Difficulty: Easy
Ingredients
4 cups of all-purpose flour or whole flour (550 g)

1 bottle of beer (330 ml) (at room TEMPERATURE), Heineken, Brand or an IPA

7 g dry yeast

8 g salt

2 tablespoon olive oil
Directions
Place all the ingredients in a large bowl or in the bowl of a stand mixer.
With the stand mixer: Beat on low speed for 3-4 minutes.
By hand: Start mixing all the ingredients with a wooden spoon or a rubber spatula.
Transfer the dough onto a lightly floured surface.
Knead the dough for 8 minutes. (watch video below)
Grease a large bowl with a bit of olive oil and place the dough in the bowl. Cover with a kitchen towel or plastic wrap.
Allow the dough to rise at room temperature for 2 hours or until it doubles in size. You can also place the dough in a bol, cover with plastic wrap and do a slow fermentation by storing it in the fridge for 48 or 72 hours.
When the dough is ready, preheat the oven to 475ºF (250ºC).
Punch the dough to release any air bubbles and dive into 4 equal pieces.
Lightly flour the work surface and your hands. Flatten the dough into a disc with your hands, see video minute: 6:40.
Place the dough on a baking tray.
Top with your favourite toppings. I used: tomato sauce, cheese, green paprika, onion, black olive, tuna and oregano.
Bake for 15 minutes or until golden.
Enjoy it!
Recipe Video
Notes
If you are using fresh yeast, use 21 g.
Looking for more weekend recipe? Here some of my favourites.