Crunchy on the edges and gooey in the middle, and so delicious…these white chocolate and rhubarb cookies are the perfect cookies to make this weekend.
Rhubarb is in season and its tart taste pairs amazingly with white chocolate, so why not combine them with some delicious cookies? Its unique flavour makes these cookies so addictive.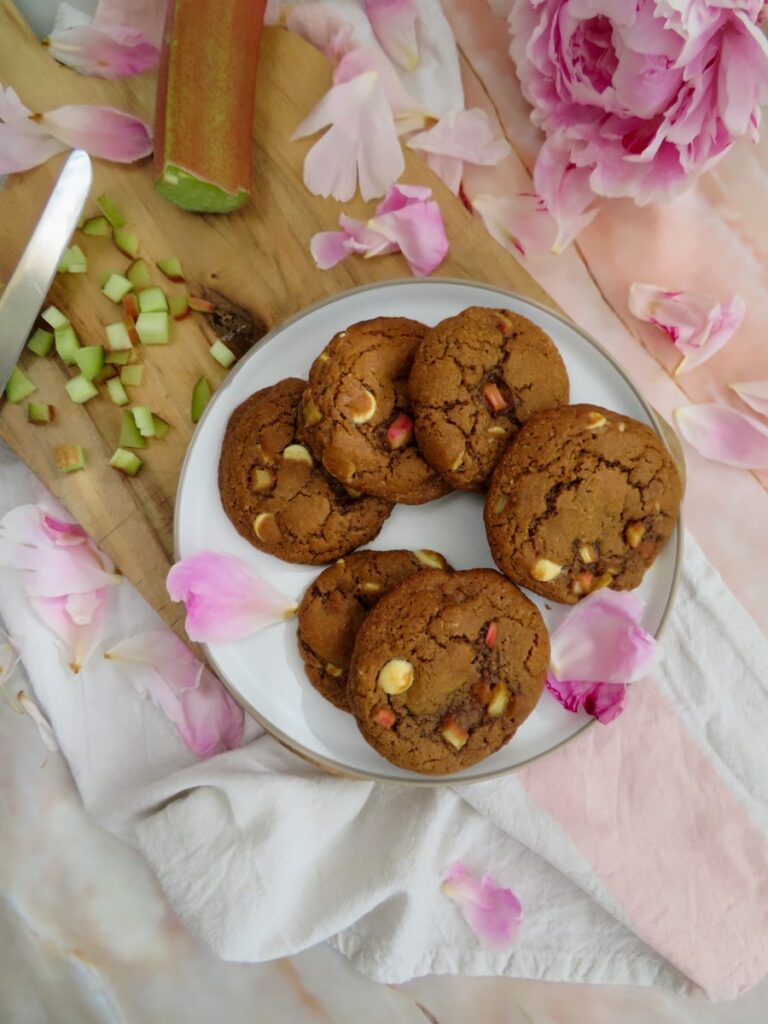 How does rhubarb look like?
Rhubarb is a very tart fruit that grows in red-pink stalks.
You can find rhubarb at your local market or supermarket as it is in season and it is rather easy to find. If you are in The Hague you can also get it at Lekkernassuh or De Haagse Markt.
If you never tried it before, I think these chocolate cookies are for sure the best and most delicious way to try them.
White chocolate and rhubarb cookies
Course: Dessert
Cuisine: American
Difficulty: Easy
Ingredients
50 g rhubarb, diced

80 g white chocolate chunks or chips

100 g unsalted butter, melted

100 g all-purpose flour

80 g oat flour

120 g brown sugar

1 egg

1/2 teaspoon baking soda

1 pinch of salt

1 teaspoon vanilla extract
Directions
In a large mixing bowl, beat together the butter, the sugar and the egg until combined.
Add the vanilla and beat until creamy.
Add all-purpose flour, oat flour, baking soda and salt. Beat until combined.
Fold in the diced rhubarb and chocolate chips.
Store the dough in the fridge for 2 hours or overnight.
Preheat oven to 180°C. Line a baking sheet with parchment paper.
Roll the dough into 2 tablespoon size balls and place them 4 cm apart on the baking sheet.
Bake for 14-15 minutes at 180°C.
Allow to cool on the baking sheet.
Notes
Store in an airtight container for up to 5 days.
Are you looking for more seasonal desserts? Maybe some Beetroot Healthy Brownie or Slow Cooker Pumpkin And Chocolate Cake.