Mushroom hummus toast with pomegranate, the perfect autumn toast.
Oyster mushrooms and pomegranate are in season in October, so I can not think of a better combination to enjoy them:
A nice slice of bread, creamy classic hummus, sautéed oyster mushrooms with garlic, fresh pomegranate and chopped parsley.
So simple yet so good combo to enjoy as lunch or weekend brunch.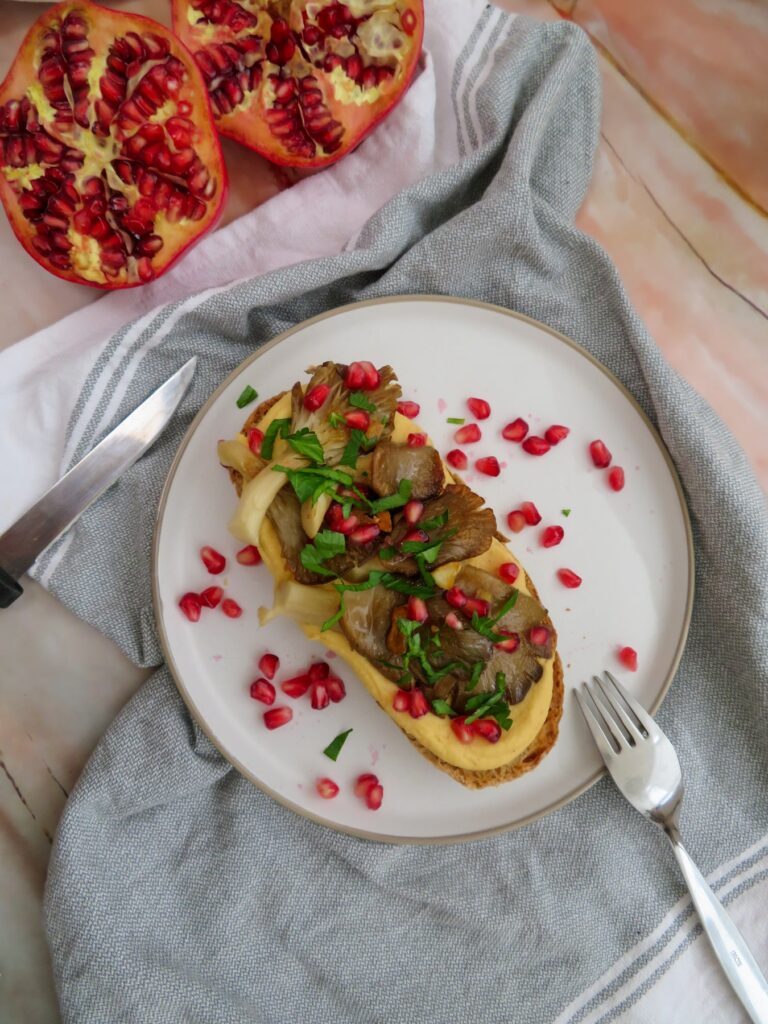 The combination of the ingredients is so simple but has lots of flavour.
Do you need more breakfast ideas? Let me inspire you with some.
Enjoy it!
Mushroom hummus toast with pomegranate
Course: Brunch
Cuisine: Mediterranean
Difficulty: Easy
Ingredients
2 slices of bread

4 tablespoons of classic hummus

100 g oyster mushrooms

1/4 pomegranate seeds

Fresh parsley, chopped

1 garlic, sliced

1/2 teaspoon olive oil

Salt
Directions
Heat the oil and the garlic a medium size pan over medium heat.
Add the oyster mushrooms in an even layer.
Cook the mushrooms for 2-3 minutes of each side.
In the meantime, toast a couple of slices of bread in the toaster.
Spread 2 tablespoons of hummus on each slice.
Place the sautéed mushrooms on top of the hummus. Sprinkle with some salt.
Add some pomegranate seeds and sprinkle with fresh parsley.
Enjoy it!
What else is in season in October? Get the full guide and inspiration for recipes here.