I discovered this broccoli soup this fall and we eat it 2 times a week as I love it! This time with a little twist, Broccoli soup with spiced lentils.
It is super easy to make, creamy and warm soup perfect for this time of the year.
If you want to add a little twist you can make the spiced lentils as topping. The combination is really good and a great idea for a quick lunch.
Hope you like it!
You can find more soup ideas here.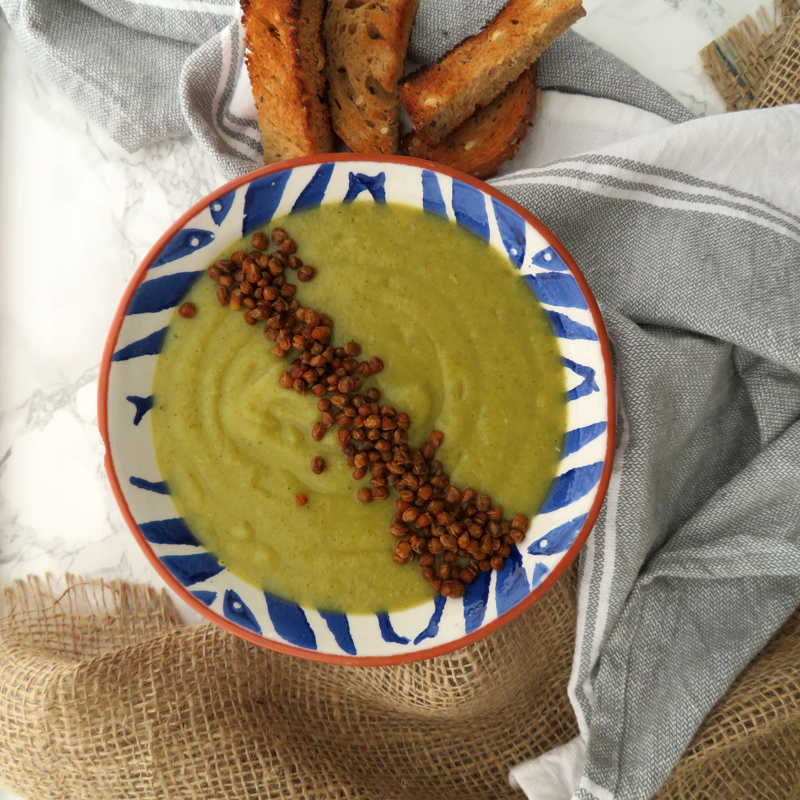 Broccoli soup with spiced lentils
Course: Soup, Vegan
Cuisine: Mediterranean
Difficulty: Easy
Ingredients
1 large broccoli, around 750 g

1 large onion

1 leek

2 medium size potatoes

1 carrot

Salt and pepper

1 tablespoon olive oil

Water

Spiced Lentils

125 g canned lentils, rinsed and drained

1 teaspoon smoked paprika

½ teaspoon onion powder

½ teaspoon garlic powder

¼ teaspoon cumin

1 teaspoon olive oil

Salt and pepper
Directions
Heat the oil in a medium-size pot over medium heat. Peel and chop the onion. Add it to the pot.
Peel and cut the rest of the ingredients while the onion turns soft and a little bit gold.
Cut the entire broccoli including the stalks. You do not need to make small pieces as we will blend the soup afterwards.
When the onion turns a little bit gold add the rest of the ingredients. Add water just to cover all the vegetables, bring to boil and let it simmer for 20 minutes until the veggies are soft.
Meantime make the spiced lentils. Place all the ingredients in a bowl and mix to combine.
Heat a medium-size pan over medium-high heat. Add the spiced lentils and stir fry for 10-15 minutes until crispy.
Blend all the vegetables until you get a smooth and creamy soup. Season with salt and pepper.
Serve the soup in 4 bowls and add some spiced lentils on top.
The stick blender I always use is this one:
---
This post contains affiliate links, which means if you buy something through those links I will receive a small commission at no extra cost for you. Thank you for your support!