Need some inspiration for a nice starter this Christmas? This is my family's recipe, duck confit salad with caramelized onion and mustard-honey dressing.
Warm and crispy duck with some caramelized onion, crunchy pistachio and sweet dried peach. Plus a mustard-honey dressing, just one of my favourite Christmas salads.
If you need more Christmas recipe idea, check here.
Enjoy it!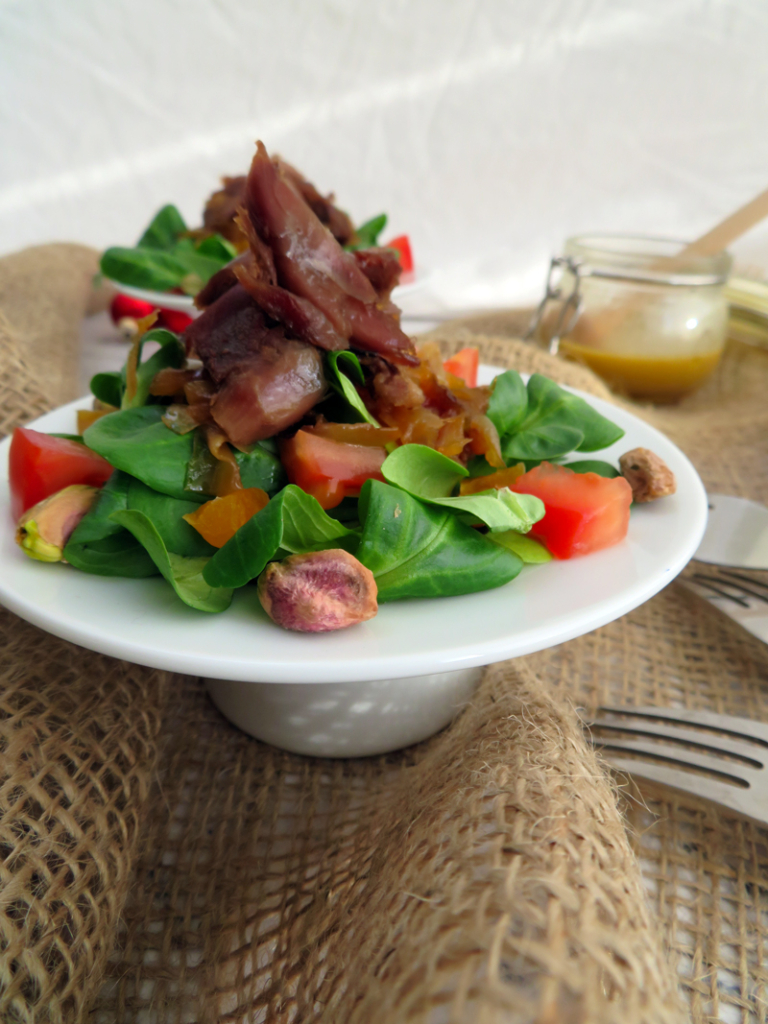 Duck confit salad with caramelized onion and mustard-honey dressing
Course: Ensaladas
Difficulty: Easy
Ingredients
400 g Duck confit, 2 legs

100 g salad mix (lettuce, ruccula…)

1 tomato, cutted into cubes

1 large onion, thinly sliced

30 g pistachio

30 g dried peaches or raisins, chopped

1 tablespoon olive oil

Salt

Dressing

1 tablespoon honey

1 teaspoon Dijon mustard

1 teaspoon sherry vinegar

2 tablespoon olive oil

1 teaspoon fresh ground pepper

½ teaspoon salt
Directions
Heat the oil in a medium size pan over medium heat. Add sliced onion and a pinch of salt. Let cook for 20 minutes stirring regularly until the onion is golden and caramelized.
Fill a large bowl with hot water and place the duck legs (with the vacuum sealed back on) in the water. After 4 minutes remove from the water, open the plastic bag and remove the legs. All the fat will be liquid now so easier to remove.
Transfer the duck to a cutting board, remove the skin and the bones. Tear the meat into bite-size pieces.
Heat a pan over low heat and cook the teared duck until crispy. About 10 minutes.
Dressing: Place all the ingredients in a small jar, close and shake until combined.
Serve: Divide the salad into 6 bowls or small serving dishes. Add a bit of tomato on top.
Add some pistachios and chopped dried peaches.
Place some caramelized onion and top with crispy duck.
Drizzle each salad with the dressing. Serve and enjoy!
The small white bowls are from Ikea.