Are you looking for a main dish for your Christmas dinner? Something different that everyone will love? This roasted sea bass with homemade tomato mayonnaise and tapenade is one of my favourite ideas.
My proposal is to use sea bass but you can use hake, sea bream, monkfish…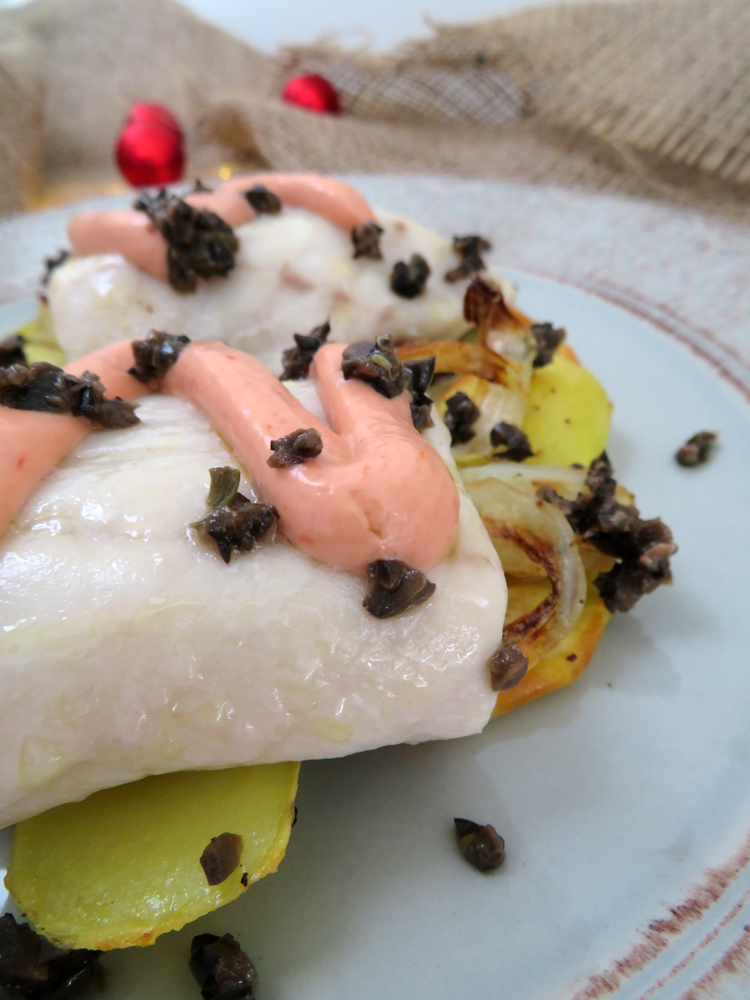 Homemade tomato mayonnaise?
Yes, it is so easy to make and way better than the store-bought one. Make sure to use a good tomato paste as well, with just tomato and salt as ingredients.
Tapenade is the cherry on top of the cake for this dish. Fresh and salty to use as topping for this lovely Christmas dish proposal.
If you need appetizer ideas check here.
Roasted Sea Bass with tomato mayonnaise and tapenade
Course: Main
Cuisine: Mediterranean
Difficulty: Medium
Ingredients
260 g sea bass, cutted into 2 filets

2 medium size potatoes, sliced

½ onion, sliced

2 tablespoon Olive oil

Salt and Pepper

Mayonnaise

175 ml sunflower oil or olive oil

1 medium size egg

½ teaspoon apple vinegar

A pinch of salt

1 tablespoon tomato paste

Tapenade

100 g black pitted olives

4 anchovies

½ Lemon juice

1 teaspoon olive oil

½ teaspoon dry oregano

½ teaspoon ground black pepper

½ teaspoon cumin powder

1/2 teaspoon fresh parsley
Directions
Preheat the oven to 200ºC.
Place sliced potatoes and onions on a baking tray. Drizzle with olive oil and season with salt and pepper. Toss everything together and roast for 25 minutes.
Mayonnaise
Add all the ingredients (egg, vinegar, salt, tomato paste and oil) to the jar of a stick blender.
Place the stick blender touching the bottom and blend on medium speed without moving the stick for 10-15 seconds.
When the mayonnaise starts emulsifying, move the stick blende up and down slowly to combine the ingredients.
Remove the stick blender and transfer it to a ziplock bag. Keep in the fridge.
*Check notes to make a healthier version of this mayo.
Tapenade
Place all the ingredients in a food processor or vegetable-cutter. Pulse a couple of times until coarsely chopped. Cover and place in the fridge.
When the potatoes are ready, arrange sea bass filets on top. Drizzle a little bit of olive oil and roast for 6-7 minutes until the fish is ready.
Serve: Divide roasted potatoes between two plates and place one sea bass filet on top.
Snip off the corner of the ziplock bag and place some mayonnaise on top of each fillet.
Sprinkle some tapenade on top. Serve and enjoy!
Notes
Healthy mayo: Make the healthy mayo recipe adding the tomato paste.
Tools I used: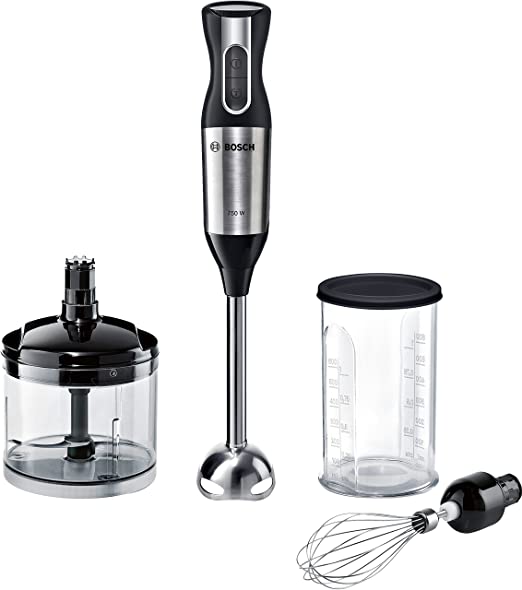 ---
This post contains affiliate links.