White asparagus stuffed with mushrooms, if you try them you will not eat asparagus any other way.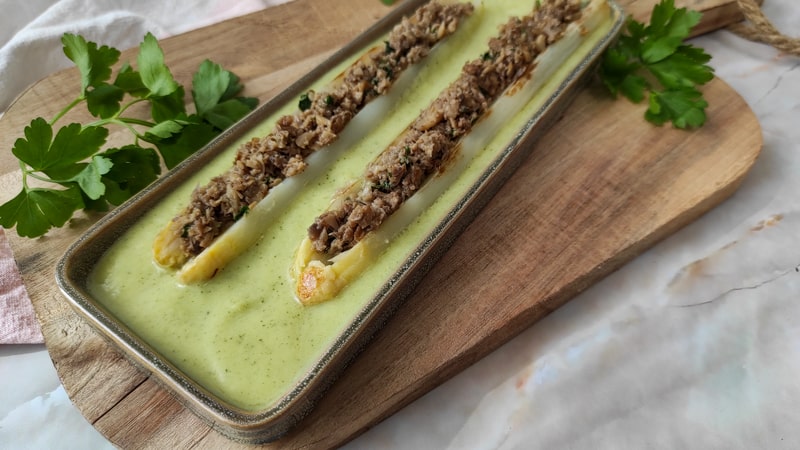 Fresh white asparagus season is almost over, so I am going to enjoy this very last ones a lot. Asparagus season starts in April and I bought my first ones this year to try new recipes and they are amazing. It is super easy to boil them at home and I think this is a really nice recipe for a nice dinner or as starter for some family lunch/dinner.
White asparagus roasted in a pan over a green creamy sauce and stuffed with soft mushrooms. I can ensure it is a really nice combination and hope you will try them.
I added a bit of Gorgonzola cheese to the sauce but you can skip it or replace it with vegan cheese or 1/2 tablespoon of nutritional yeast.
White asparagus stuffed with mushrooms
Course: lunch, dinner
Difficulty: easy
Ingredients
6 fresh white asparagus

Mushroom filling

220 g mushrooms

1/2 chopped onion

1 chopped garlic clove

fresh parsley

1/4 cup white wine

1/4 cup water

1 teaspoon flour

Green sauce

1/4 zucchini

1 small onion

1 small potato

1/4 leek

1 tablespoon Gorgonzola cheese or nutritional yeast

nutmeg

200 ml water
Directions
Boil white asparagus, check this post (How to cook white asparagus).
Green sauce
Heat a small-size pot over medium heat. Peel and chop the onion. Add it to the pot with 1 tablespoon of olive oil.
Peel and cut the rest of the ingredients while the onion turns soft and a little bit gold.
Add the rest of the vegetables and the water to the pot and let it simmer for 20 minutes. Add salt, pepper and nutmeg.
Add gorgonzola and blend all the ingredients until you get a creamy soup. Reserve.
Mushroom filling
Heat 1 tablespoon oil in a medium-size pan and sauté the onion and the garlic.
Add flour, stir and cook for 1 minute.

Chop mushrooms, add and stir. Add wine and water. Stir and cook for 30 minutes until the mushrooms are soft and the sauce gets a bit thick. Add parsley and set aside.
Asparagus
Heat 1 teaspoon olive oil in a large pan over high heat. Place asparagus in the pan, roast from all sides. It will take about 2 minutes. Transfer to a plate.
Take a sharp knife and open each asparagus lengthwise. Do not cut them fully, they need to look like a canoe.
Take a large flat plate. Place a large scoop of the green sauce on the base.
Place an asparagus and fill it with the mushroom filling.
Repeat the process with the remaining asparagus. I served 3 asparagus per person.
Serve hot and enjoy it!