Marinated strawberries with balsamic vinegar, yes! and it is surprisingly good. The combination of a good tomato and the marinated strawberries is fresh and delicious. Easy and quick to prepare, and a great idea to surprise your guest.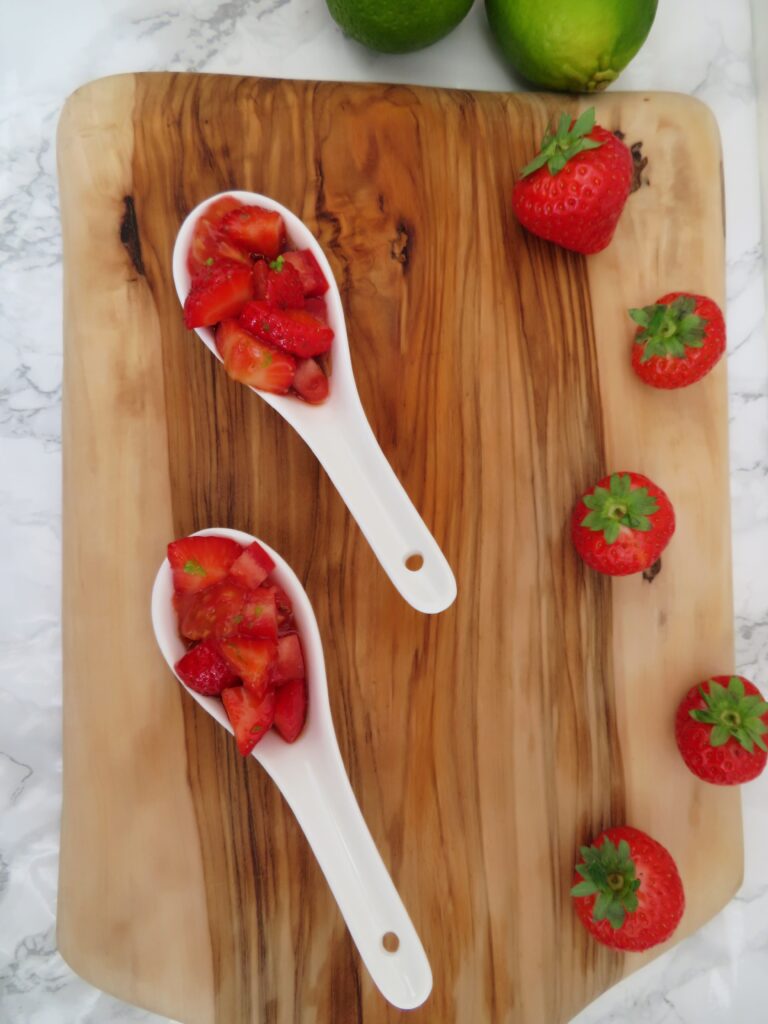 I bought 2 flat bottom spoons a year ago and finally I found the perfect way to use them 🙂 you can use a normal spoon to eat them of course.
Try and let me know if you like it.
More pintxos (tapas) next Saturday 🙂 #pintxorootsandcook
Marinated Strawberries with tomato
Course: Pintxo, Tapa, Starter
Cuisine: Basque
Difficulty: Easy
Total time
1
hour
10
minutes
Ingredients
1 tomato

8 strawberries

2 tablespoons Balsamic vinegar

3 tablespoons lime juice

Lime zest

1 teaspoon honey

Olive oil, salt and pepper (for the tomato)
Directions
Cut strawberries into cubes and place them in a bowl. Add balsamic vinegar, lime juice, lime zest and honey, mix well. Cover with transparent film and set aside in the fridge for 1 hour to marinate.
Peel and cut the tomato into cubes, place in a bowl. Add 1 teaspoon olive oil, salt and pepper.
In a flat bottom spoon, add 1 teaspoon of the marinated strawberries and 1 teaspoon of the tomato cubes. Serve and enjoy!