The perfect summer galette, tomato and peach phyllo galette.
Fresh, crunchy and simply perfect for summer days.
Ricotta, tomatoes, peach or any summer fruit and crunchy phyllo, nothing can go wrong with that combination.
Quick and easy summer appetizer?
Do you have guess coming over and you need to prepare something quick and delicious to surprise your guest?
This summer version of a classic galette is perfect. We will use phyllo sheets so make a super quick base for the galette, spread some ricotta, top with fresh summer fruit and tomatoes and simply bake it for 30 minutes.
Add some fresh basil and you have the perfect summer appetizer for your guest.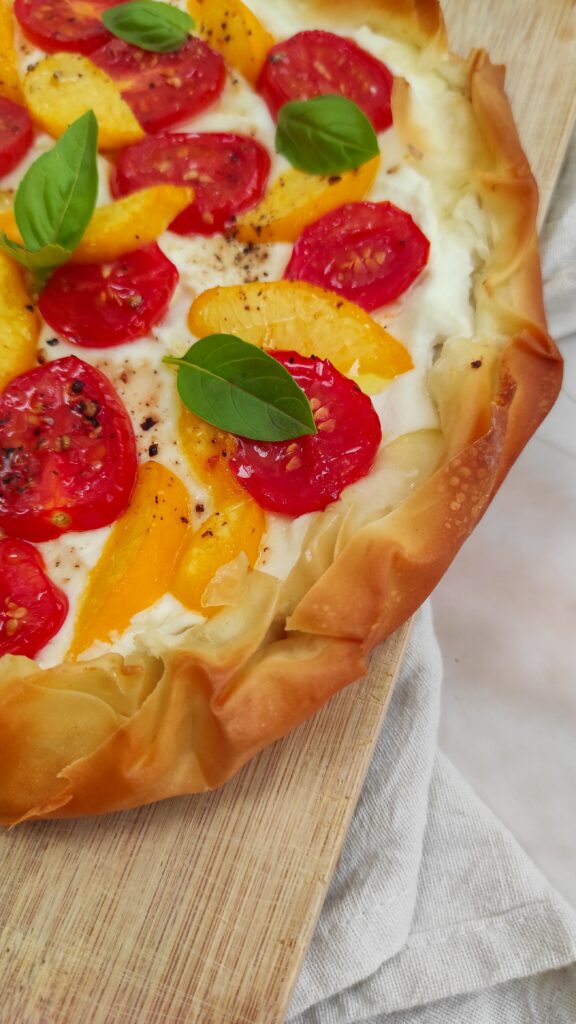 Ricotta, burrata or creme fraiche ?
I would go for ricotta but with creme fraiche is also delicious. If you want to use burrata, add it on top after baking the galette.
---
Can I use any other summer fruit?
Of course, you can add almost any summer fruit. Use flat peach, plums, apricot, figs, mango, nectarine, cantaloupe melon, papaya or melon.
Any summer fruit will work really nicely with the tomato, ricotta and phyllo.
---
Do you need more summer appetizer ideas?
If you need more summer appetizer ideas, let me inspire you with some.
---
---
Tomato and peach phyllo galette
Course: Appetizers and Snack
Cuisine: French
Difficulty: Easy
Ingredients
5 sheets phyllo dough

5-6 cherry tomatoes, sliced

2 peach, sliced

3 tablespoons ricotta

1 tablespoons of melted butter

Fresh basil

1 teaspoon honey

Olive oil

Flaky salt

Pepper
Directions
Preheat the oven to 200°C.
Line a baking sheet with parchment paper.
Lay one phyllo sheet on top of the paper and brush it with melted butter.
Place another phyllo sheet in top with a different angle and brush with melted butter. Repeat these steps with the rest of the phyllo sheets.
Spread ricotta in the centre of the phyllo creating a large circle, but leave about 2-3 cm border uncovered.
Place sliced tomato and peach over the ricotta.
Drizzle with olive oil and season with flaky salt and pepper.
Brush the edges with melted butter and fold them.
Bake for 25-30 minutes at 200°C or until crust is golden.
Let cool for 5 minutes before serving.
Drizzle with honey and add some fresh basil leaves before serving.
Pesto, tomato and burrata version
You can make as many combination as you like. I also love it with pesto instead of ricotta, sliced summer tomatoes and burrata to top it after baking it. So so good!