Tomato and feta bites with flaky olive oil pastry dough.
Quality over quantity, this recipe is a great example of that.
A nice homemade flaky olive oil dough and some good quality canned tomatoes.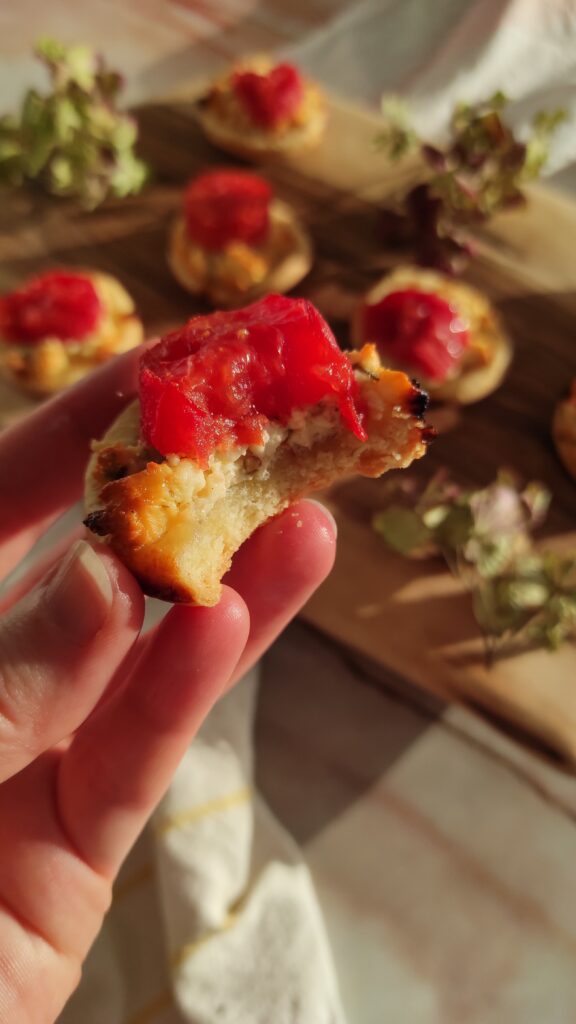 I do not buy fresh tomatoes in winter as they are not in season, are not sustainable and have zero flavour. That doesn't mean I do not cook recipes with tomatoes, as there are amazing canned tomatoes at the market. Tomatoes that are harvested in summer when they are at their best and canned with no other ingredient than tomato.
Get a good quality canned tomato and you will see they taste better than the fresh ones in winter.
How to make flaky olive oil pastry dough?
Full recipe and video recipe here.
Can I use store bought puff pastry dough? Yes, you can use that if you have no time to make the flaky version at home. Just adjust timings accordinly.
---
Tomato and feta bites
Course: Appetizers and Snack
Cuisine: Mediterranean
Difficulty: Medium
Ingredients to make 8 bites
Ingredients
120 g canned tomatoes

Olive oil

Sea salt

Flaky olive oil pastry dough

115 g all-purpose flour

30 g olive oil

2 g salt

2 g baking powder

5 g sugar

30 g ice cold water

1 teaspoon olive oil

Feta mixture

60 g feta

1 teaspoon honey

1/4 teaspoon garlic powder

1/2 teaspoon oregano

Black pepper
Directions
Flaky olive oil pastry dough
In a medium-size bowl, combine using a spoon: flour, sugar, salt, baking powder and olive oil.
Brake up the large pieces with the back side of the spoon.
Add the cold water and keep stirring with the spoon and then with your hands.
Transfer the dough to a work surface and knead a few times.
Press the dough into a 2 cm thick square and wrap it tightly in plastic. Refrigerate for 1 hour.
Roll out the dough to a 2-3 mm thick square. The dough it pretty hard and not the easiest to roll out so put some nice music 🙂 It took be 6 minutes to roll out the dough.
Brush the dough with the extra tablespoon of olive oil.
Fold up the dough into a flat loose roll.
Flatten the dough with your hand and then roll out into a 1 cm thick rectangle.
Bring the left and right sides of the dough inward to fold it in thirds.
Then, wrap the dough thickly in plastic and refrigerate for at least 30 minutes up to 3 days.
Feta mixture
Combine all the ingredients on a medium size bowl. Set aside.
Bites
Cut the canned tomatoes into 1 cm slices, you will need 8 slices.
Preheat the oven to 180°C.
Roll out the olive oil dough into a 2 mm thick square.
Using a 4,5 cm platting ring cut 8 disks from the dough.
Brush a 8 cupcake mold with olive oil and place the disks in the mold.
Add 1 teaspoon of the feta mixture to each mold and top with a slice of tomato.
Drizzle some olive oil and sprinkle with some flaky sea salt.
Bake for 30-35 minutes at 180°C.
Serve and enjoy!