Rigatoni pie with oxtail stew, creamy, flavourful and delicious combination.
If you cooked the slow cooker oxtail stew and you got some leftovers, let me inspire you to transform them into an amazing dish full of flavour.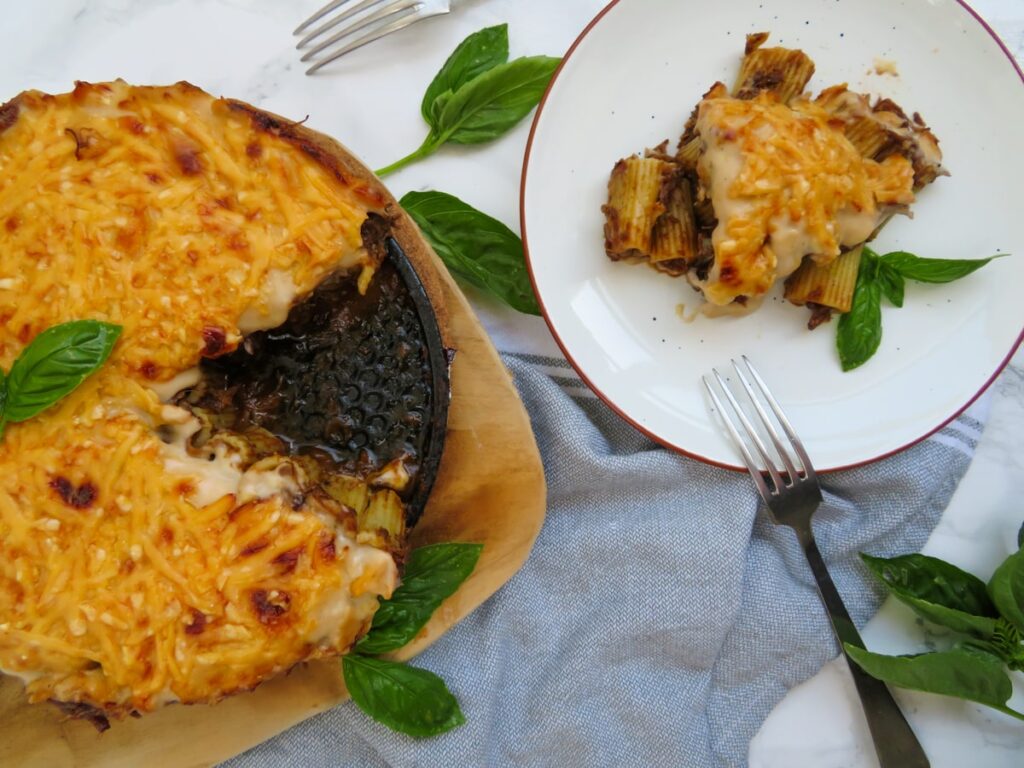 Autumn is the perfect season to enjoy a delicious oxtail stew so it is the best time to make a rigatoni pie using that stew. An amazing combination that everyone will love.
If you want to start cooking the oxtail stew, here is the full recipe.
Once you have your stew ready let's jump into the recipe 🙂 Enjoy it!
Rigatoni pie with oxtail stew
Course: Meat, Rice and Pasta
Ingredients
Oxtail stew (recipe here)

170 g rigatoni

40 g butter

40 g plain flour

400 g milk

Nutmeg

Mozzarella cheese
Directions
Remove the oxtail from the sauce. Set the sauce aside.
Strip the meat from the bones and place it in a bowl. Add 1 cup of the sauce and mix it.
Boil the rigatoni in salted boiling water until just underdone (2 minutes less than the time on the package). Drain it, drizzle with some olive oil and set aside.
Wrap the bottom and sides of a springform with some foil.
Spread 1/4 cup of the sauce in a springform pan.
Place the rigatoni standing up to fill the pan and stuff them with the oxtail filling using 2 small spoons or a piping bag.
Pour the rest of the filling and sauce over the pasta.
Preheat oven to 400°F/200°C.
Bechamel sauce:
Melt the butter in a small saucepan.
Stir in the flour and cook, stirring constantly, for 1 minute.
Add the milk stirring constantly. Add a pinch of salt and a little bit of nutmeg.
Bring it to a boil. Lower the heat and cook, stirring for 3 minutes until the sauce thickens. Optional: You can add 1 or 2 tablespoons of the oxtail sauce to add extra flavour to the bechamel sauce.
Pour the bechamel sauce over the rigatoni pie and sprinkle some mozzarella cheese.
Bake for 40 minutes at 200°C.
Remove the pie from the oven and let it cool for 10 minutes before serving.
---
Springforms I use is the 18 cm one but you can also use the 26 cm one to make a larger pie.
---
This post contains affiliate links.