Soft, acid and fresh, Citrus Marinated Sea Bass, the perfect combination for a starter to surprise your guest.
Last week, I did some research to cook cured sea bass fillet. While checking different recipes I found some interesting information to cook fresh sea bass in acids. Using vinegar, lime or lemon juice, fish can be cooked in acids. Therefore, I decided to experiment with the sea bass and acids to find the right balance between lime and vinegar.
After a couple of tests and adjusting the vinegar, I found the perfect recipe to make marinated sea bass. If you like boquerones en vinagre with that acid taste, for sure you are going to like this recipe.
I can ensure that it is easy to make as only requires to freeze the fish fillet 24h in advanced.
If you have friends/family coming over and want to surprise them, this is your recipe. You prepare it a couple of days in advance and it is ready to serve and surprise them.
Let me know if you cook it at home and you surprise someone.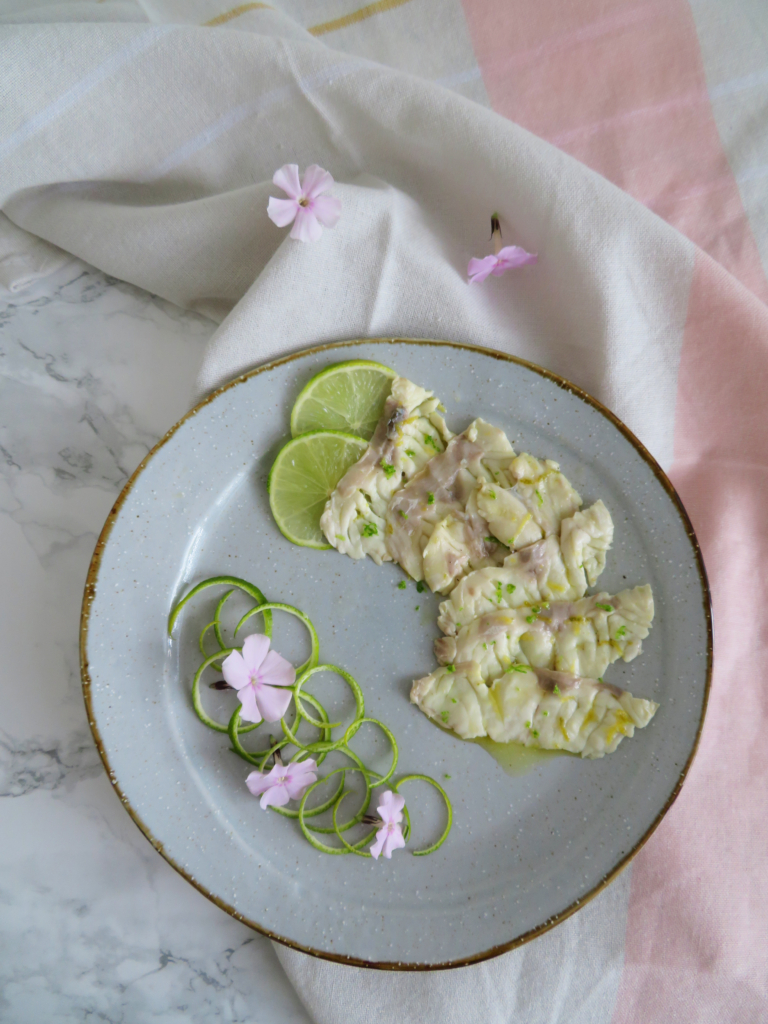 Marinated Sea Bass with Citrus
Course: Starter
Cuisine: Mediterranean
Difficulty: Easy
Ingredients
180 g sea bass, bones and skin removed

1 lemon, juice

3 lime, juice

Lemon (1) and Lime (3) zest

2 tablespoon apple vinegar

1 teaspoon salt

1/2 teaspoon ground pepper
Directions
Mix in a medium size jar or bowl: lemon and lime juice, vinegar, lemon and lime zest, salt and pepper.
Place the sea bass fillet on a cutting board and with a sharp knife slice thinly on an angle.
In a medium-size container, place a layer of sea bass slices.
Pour a little bit of the acid mixture. Add another layer of sea bass fillet. Repeat.
Close the container and store it in the refrigerator for 24 hours.
Serve: Remove the sea bass fillet from the container and pat dry with some paper towels, place them on a plate. Drizzle with olive oil and enjoy it!
For more appetizer and snack ideas click here.