How to buy fish at Noryangjin market in Seoul – a complete guide.
Noryangjin market was my favourite fish market in South Korea. It is not in the city centre nor a touristic area so if you want to go there you have to take the metro. But it is worthy.
Location: 674 Nodeul-ro, Dongjak-gu, Seoul, South Korea Google maps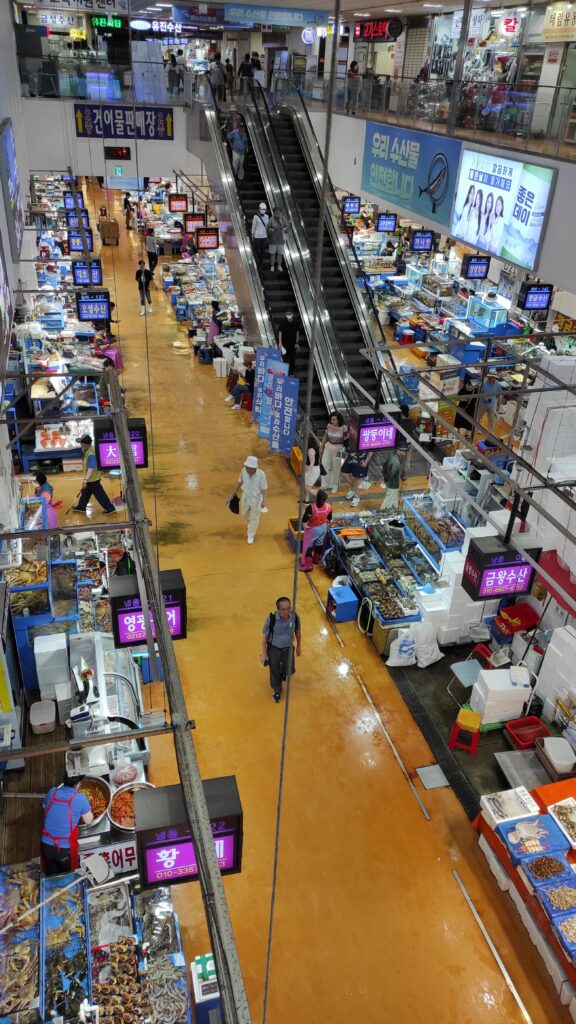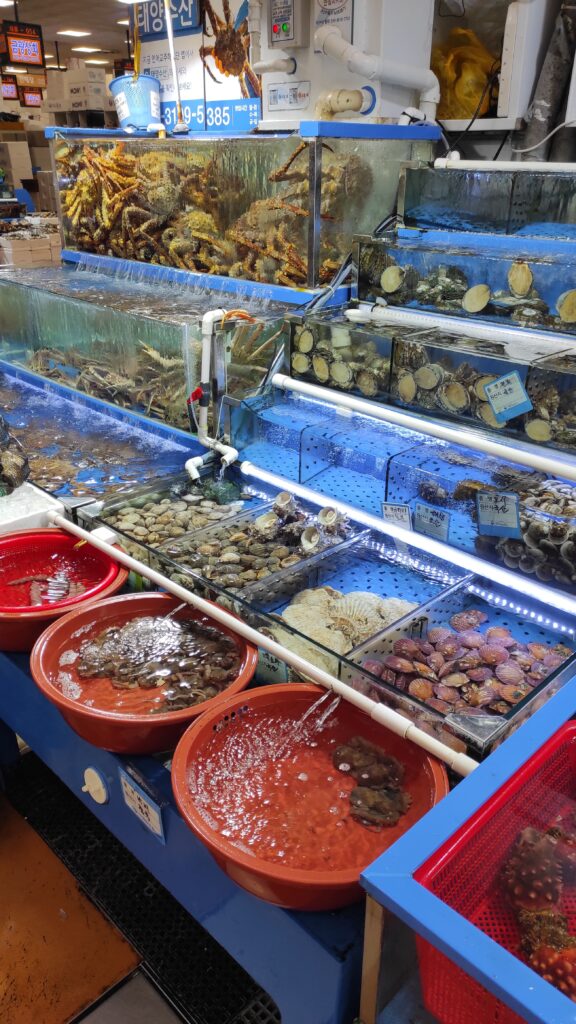 Noryangjin market is a large market divided in multiple floors. You will find lots of fresh fish on the first 3 floors and restaurants on the upper floors. It is also a great place to but Korean or Japanese knives, but lets talk about food first.
Tips to buy fish and sashimi at Noryangjin Fish market in Seoul
One of my favourite experiences during the trip was to buy fresh fish at the market and eat it at one of the restaurants upstairs. It is not easy to let me share a few tips:
They do not speak english, so you will need to bargain the price of the fish, specially sashimi with your phone (calculator).
You can bargain the price for sashimi.
Have a walk at the market before you buy anything.
Try to buy from a place where locals are already buying.
The price for fish is usually written next to the fish, so no need to bargain here. But what about sashimi or seafood?
---
How to buy sashimi at Noryangjin Fish market?
You can buy a sashimi platter at the restaurants, but take into account that it will be more expensive, see the middle photo below, the smalest platter is 70.000 W. While on the market itself you will find it for 40K 50K or 60 K Won.
I would recommend that you buy sashimi at the market. Try to find a place where locals are buying sashimi already.
The bargain game:
They do not speak english, so you will need to use google translator or hand signals 😉 to let them know you want sashimi.
Let them know if you want the small, medium or big platter and have your calculator ready to ask for a price. They will give you a price but if you think is too much, bargain and write a lower number on your phone, until you reach an agreement 🙂
We paid for a small platter of sashimi 40.000 Won. The small one is more than enough food for 2 people btw.
Which I think it was a great deal 🙂 felt proud of myself as I hate the bargain game.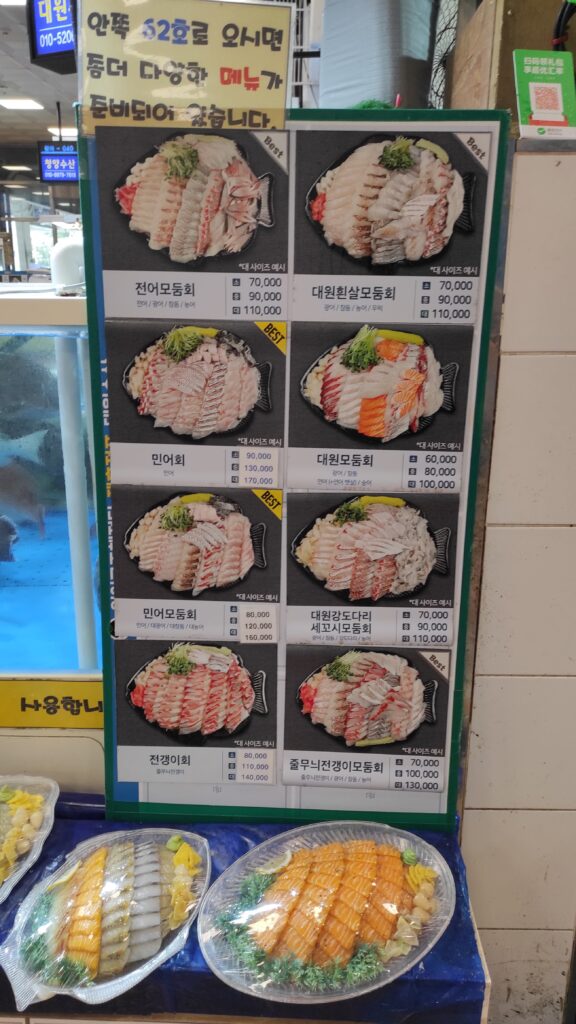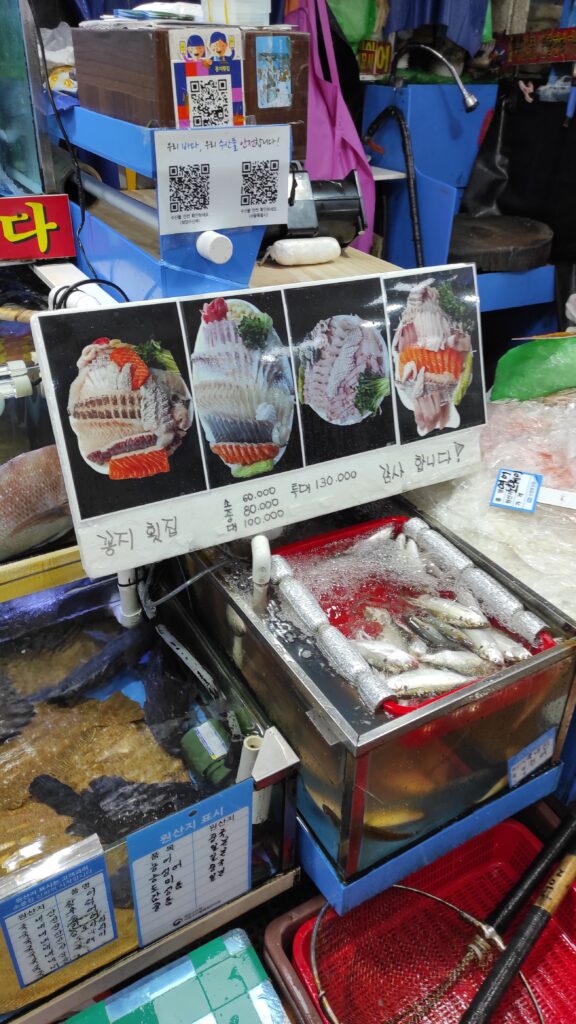 ---
Where can you eat the fish and the sashimi?
There are 2 options:
1- Take your fish and sashimi and walk to one of the restaurants upstairs.
2- The fishmonger will call someone from one of the restaurants upstairs and you just need to follow him.
How much does it cost to eat at Noryangjin market?
Small sashimi platter: 40.000 W
Squid: 5.000 W
Restaurant cost:
Basic table set up: 6.000 per person (includes banchan – all the Korean side dishes)
Cooking: Steamed squid: 8.000 W
Beer: 6.000 W
Total: 71.000 W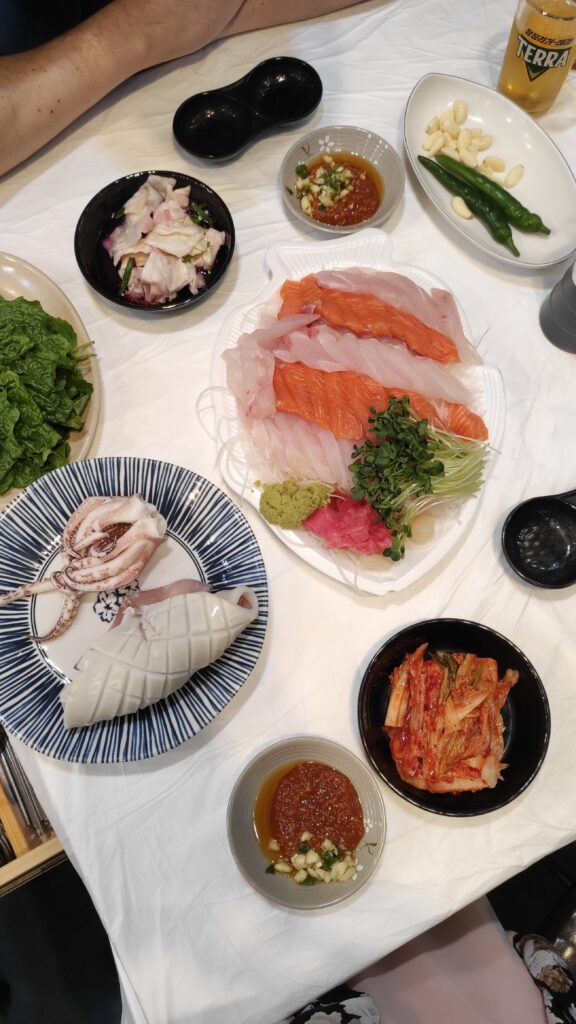 ---
Buy knives at Noryangjin market
Best souvenir ever. Not sure if it was at the 3rd or the 4th floor at the market, but there are shops where you can buy Korean and Japanese knives.
The shops at the right side run by a woman is lovely. She was lovely and it was fun to negotiate with her with google translator 😉 So get some good knives.