Korean pancakes with seafood and green onion – haemul pajeon.
Crispy-soft Korean pancakes are for sure the easiest way to start exploring Korean cuisine.
Easy to make but make sure you follow the key tips to get them super crispy.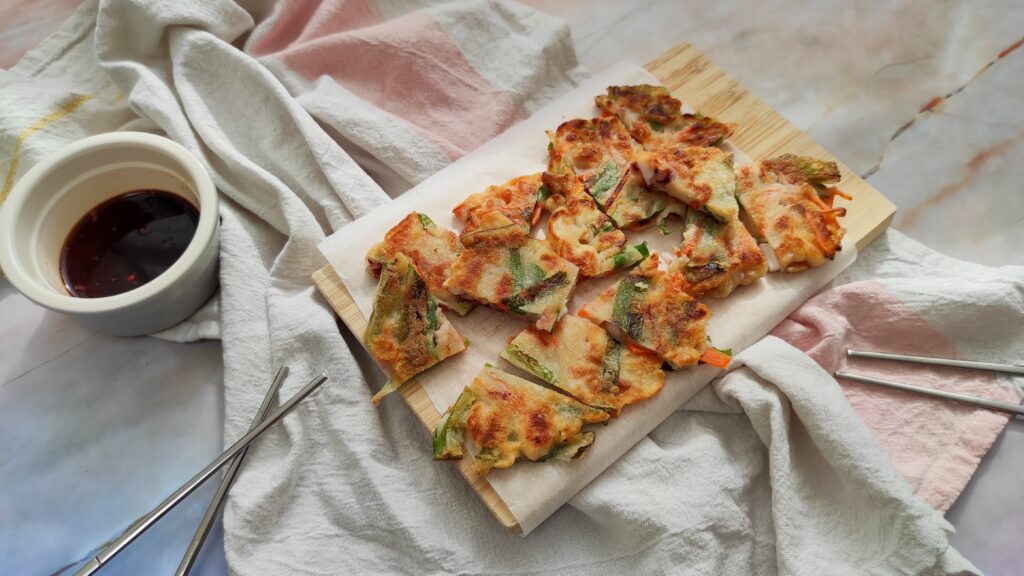 ---
Vegetable or seafood Korean pancakes (haemul pajeon)?
Most common pancakes in Korean are the classic spring onion pancakes and seafood pancakes. If you ask me, seafood pancakes are more sure my favourite.
Seafood pancakes?
You will find lots of different variation, but these are the most common seafood pancakes:
Pick your favourite combination:
Squid pancakes
Squid and clams
Squid and octopus
Squid and shrimps
Octopus
Shrimps
Oysters
Beef, pork or kimchi pancakes are also pretty popular
---
Egg or no egg in the batter?
That will be up to you 🙂 Some recipes use egg and some not. If you add egg to the batter you will get a more elastic omelet-like pancake, less crispy.
The recipe I will share does not have any egg, that will create a lot crispier pancake. But you could add a small egg to the recipe if you want to get an omelet-like pancake.
---
Let's go with the recipe:
Korean pancakes – haemul pajeon
Course: Starter
Cuisine: Korean
Difficulty: Easy
Ingredients
80 g all purpose flour

80 g ice cold water

Salt

30 g green onion, just the green part, sliced

20 g carrots, thinly sliced

30 g squid, diced (1 cm pieces)

Dipping sauce:

2 teaspoons soy sauce

1 teaspoon rice vinegar

1 teaspoon water

1 pinch of chili powder (Korean hot pepper)
Directions
Dipping sauce:
Place all the ingredients in a small bowl, mix and set aside.
Pancakes:
In a medium-size bowl combine the flour, ice-cold water and a pinch of salt. Whisk until smooth. Need to be a crepe-like batter texture, runny but thick.
Add the vegetables and squid to the batter and mix.
Heat 1 tablespoon of vegetable oil in a small nonstick skillet over medium-high heat.
Take 3/4 cups of the mixture and place it on the skillet.
Press the mixture down with a spoon to make a wide disk.
Cook for about 1 minute until the bottom and sides get golden and crispy.
Flip the pancake and lower the heat. Cook for 2-3 minutes.
Transfer to a platter and cook the rest of the pancakes. 3-4 pancakes.
Serve them with the dipping sauce.
---