Yes, I am going to show you how to make cloud egg with roasted apple purée and crispy morcilla. It is not difficult to make and it is extremely fluffy and delicious.
Ready for #pintxoSaturday? More appetizer ideas here.
Cloud eggs are easy to make and a completely different fun way to enjoy eggs.
This time I decided to mix them with the apple purée I prepared earlier this week and some crunchy morcilla. The combination is just amazing, you are going to love it.
If you are not a big fan of morcilla no worries as you can use lots of different toppings.
Make the cloud egg and add your favourite topping:
All kind of mushrooms (boletus edulis…)
Truffle flakes
Salmon
Tuna
Avocado
Fresh tomato cubes with olive oil, salt and oregano ( or basil)
Chorizo
Cheese
…
Mix the toppings and make amazing cloud eggs at home to surprise your guests with a different starter or as weekend breakfast 🙂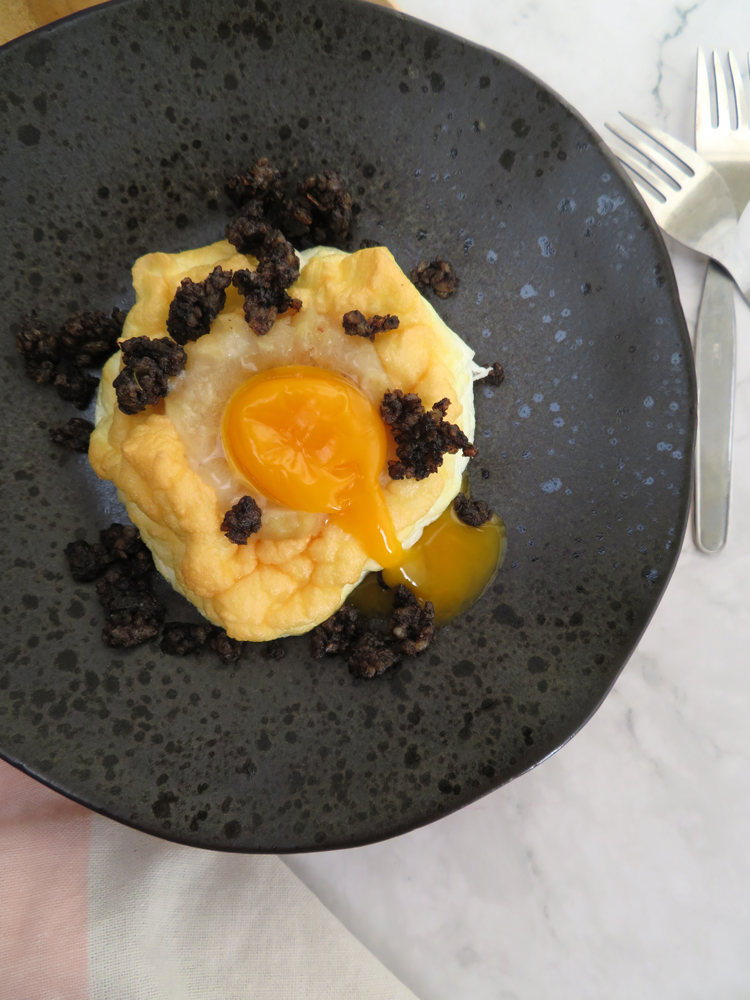 Enjoy them!
Cloud Egg with Roasted Apple Purée and Crispy Morcilla
Course: Appetizers and Snack, Pintxos (Tapas)
Cuisine: Spanish
Difficulty: Medium
Ingredients
130 g morcilla, skin removed

3 eggs

3 tablespoon apple purée

Olive oil

Salt
Directions
Heat a small pan over low heat. Add the morcilla filling and using a wooden spoon break the morcilla to get small pieces. Cook over low heat 15-20 minutes until crispy.
Meantime preheat the oven at 200ºC. Place some baking paper on a baking tray and drizzle some olive oil to grease it.
Separate the egg yolk from the whites. Keep the yolks in a small bowl.
Place the egg whites in a bowl and add a pinch of salt. Beat the egg whites with a whisk or a hand mixer until stiff peaks form.
Divide the egg white into 3 mounds on the baking tray. Using a spoon press a little bit the centre to create a nest.
Bake for 6 minutes at 200ºC.
Pull out the tray and gently add 1 tablespoon apple puré to each nest, leaving some space for the yolks.
Place one yolk in the centre of each cloud.
Return to the oven and bake 4 minutes at 200ºC or until the yolk is cooked.
Place each cloud on a platter and sprinkle some crispy morcilla on top.
Serve warm and enjoy!
Tools I used in this recipe: