Grilled squid with muhammara and sauteéd green beans, easy and flavourful dinner idea.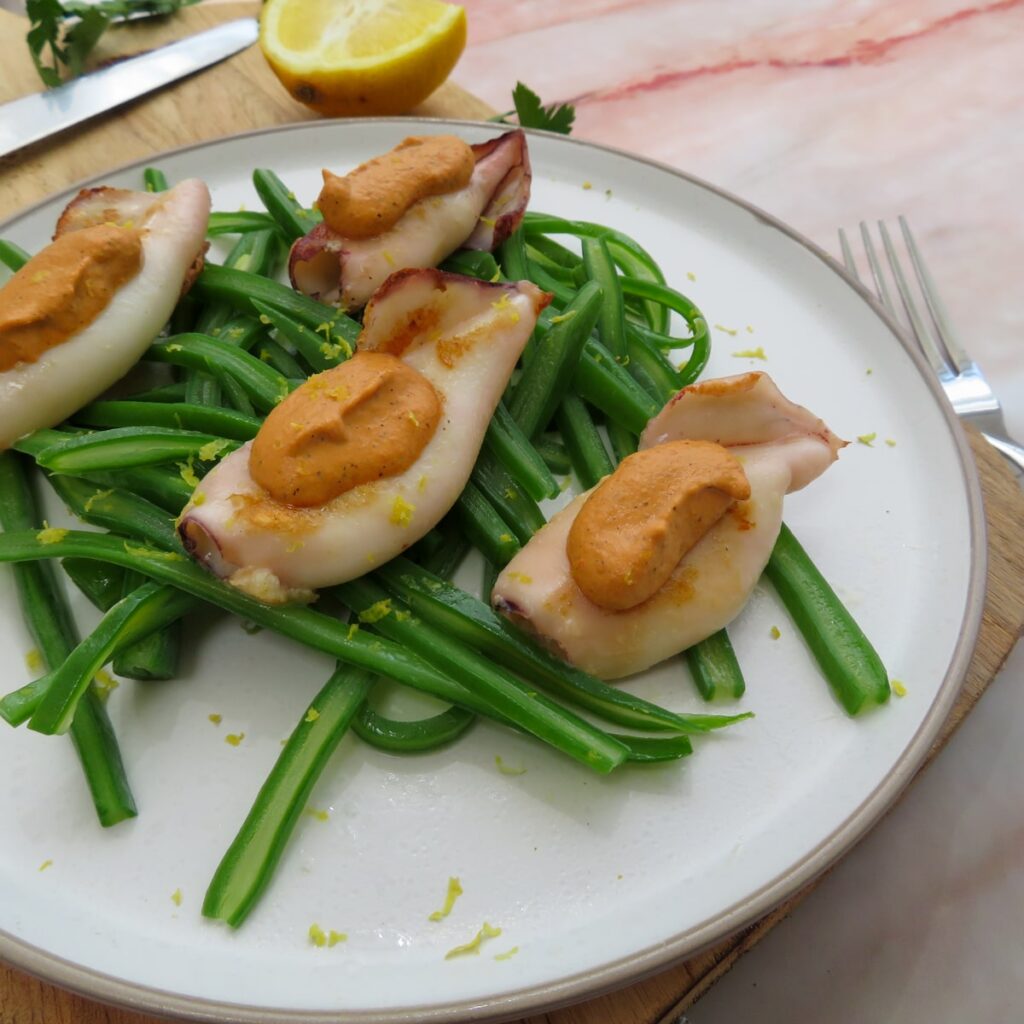 What is muhammara?
Muhammara is a spicy dip made with roasted red bell pepper, walnuts, pomegranate molasses and breadcrumbs. This dip is traditional from the Syrian cuisine. It is usually used as a dip to enjoy it with bread or vegetable sticks but I love it on a toast or a sauce for some grilled fish.
So I decided to combine it with some grilled squid, but you can also enjoy it with some grilled cuttlefish, so good!
Use seasonal vegetables:
The idea to create this dish was to make some vegetable "noodles" using swiss chard stems, but as I could not find them at the market, I had to use plan B and make green bean noodles. Use green beans, swiss chard or even zucchini to make "noodles" and sauteé with some garlic. The combination with the grilled fish and muhammara is just delicious.
Swiss chard, green beans and zucchini are in season in June, so the perfect time of the year yo enjoy them.
Do you want to know what is in season in JUNE? and get some recipe inspirations? Read more here.
Grilled squid with muhammara and sautéed green beans
Course: Main
Cuisine: Mediterranean, Syrian
Difficulty: Easy
Ingredients
500 g squid, cleaned

250 g fresh green beans

1 garlic, sliced

2 teaspoons olive oil

Salt and pepper

1 lemon

Muhammara

400 g roasted red bell pepper

100 g walnuts

1 small garlic clove

1/2 teaspoon cumin powder

1 teaspoon chili flakes

1 teaspoon olive oil

1 tablespoon breadcrumbs

1 tablespoon lemon juice

salt and pepper

1 tablespoon pomegranate molasses*
Directions
Muhammara
Combine all the ingredients in a food processor. Blend into a smooth paste. Store in the fridge.
Sauteéd green beans
Trim the green beans and cut them lengthwise into noodles.
Blanch beans: Bring a large saucepan of water to boil with 1 tablespoon of salt. Add the green beans and cook for 3-4 minutes. Drain and rinse under cold water to cool. Set aside.
Heat 1 teaspoon of olive oil in a large skillet over medium heat.
Add garlic and sauteé for 1 minute. Add the green beans and sauteé for 2 minutes. Transfer to a serving dish.
Grilled squid
Heat 1 teaspoon of olive oil of olive oil in a griddle over high heat.
Rinse the squid under cold water and pat dry with paper towels. Sprinkle with some salt on both sides.
Cook about 1-2 minutes on each side.
Place them over the sautéed beans and add 1 teaspoon of muhammara on top of each squid.
Finish with some grated zest of lemon.
Notes
The official muhammara recipe has pomegranate molasses, but I could not find them at the supermarket so I did not add it. The result is still DELICIOUS 🙂 Sometimes you can not find all the ingredients 😉