Classic Spanish-style stuffed aubergine.
It is one of the most traditional dinner recipes in Spain. The kind of recipe grandma will make and that you would love. Comfort food at its best.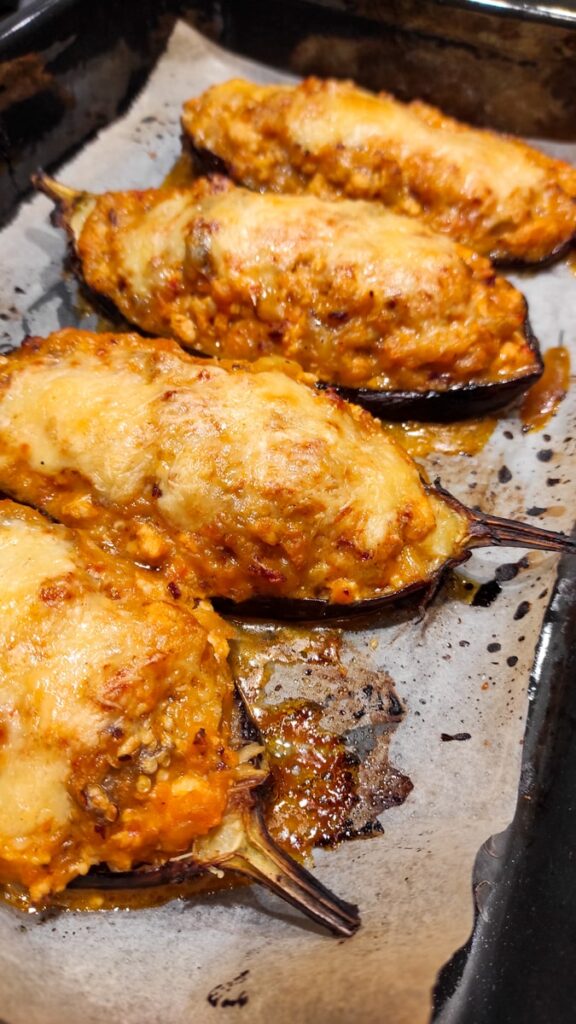 I got the last aubergines of the season last week at Lekkernassuh and it was cold and rainy so could think of a better dish.
Roasted aubergine, vegetables and some chicken, add some side salad and dinner is ready to enjoy.
My favourite side salad is this KALE SALAD, perfect to enjoy it with the aubergine. I usually make it without the crispy chickpeas when using it as side dish.
Let's cook!
Spanish-style stuffed aubergine
Course: main
Cuisine: Spanish
Difficulty: Medium
Ingredients
2 aubergines

Salt

Olive oil

Stuffing

1 chicken breast, minced (you can also use minced beef – 1/2 cup)

1 onion, finely chopped

1 garlic clove, finely chopped

1/4 red bell pepper, finely chopped

2 carrots, finely chopped

1 teaspoon tomato paste

1/4 cup white wine

1 tablespoon all-purpose flour

120 ml milk

Salt and pepper

Olive oil

Grated cheese
Directions
Preheat oven to 200°C. Line an oven tray with baking paper.
Cut the aubergines in half lengthwise and season with salt.
Drizzle the tray with some olive oil.
Place the aubergine on the tray skins up. It is important that the flesh side is in contact with the tray.
Bake for 20 minutes – 200°C.
In the meantime, cook the stuffing.
Stuffing
Heat 2 tablespoons of olive oil in a large skillet over medium-high heat.
Add the chopped vegetables: onion, garlic, red bell pepper and carrot.
*You can also add 1-2 slices of jamón, finely chopped with the vegetable for extra flavour.
Cook until soft and golden, about 5 minutes.
Add the minced chicken Brown, stirring with a wooden spoon and break the mince up.
Add the tomato paste and pour the white wine. Cook for another 2 minutes.
Lower the heat and add the flour, stirring with the wooden spoon. Cook for 1 minute.
Pour the milk and bring into a boil.
Simmer stirring with the spoon for 5 minutes.
At this point the aubergine should be roasted. Remove from oven and turn them over to scoop out the flesh.
Using a tablespoon, scoop out the aubergine flesh, be careful not to break the shells.
Chop the flesh and add it to the skillet, cook for 2 minutes.
Pile stuffing into shells using 2 tablespoons.
Sprinkle with some cheese and bake at 220°C for 5-6 minutes or until the cheese is melted.
Serve with some side salad.
Notes
My favourite side salad for the stuffed aubergine is this KALE SALAD. Usually with no chickpeas, just the kale 🙂 so so good!