Simple sous vide pulled turkey. Basic sous vide recipe to cook a super juicy and tender pulled turkey.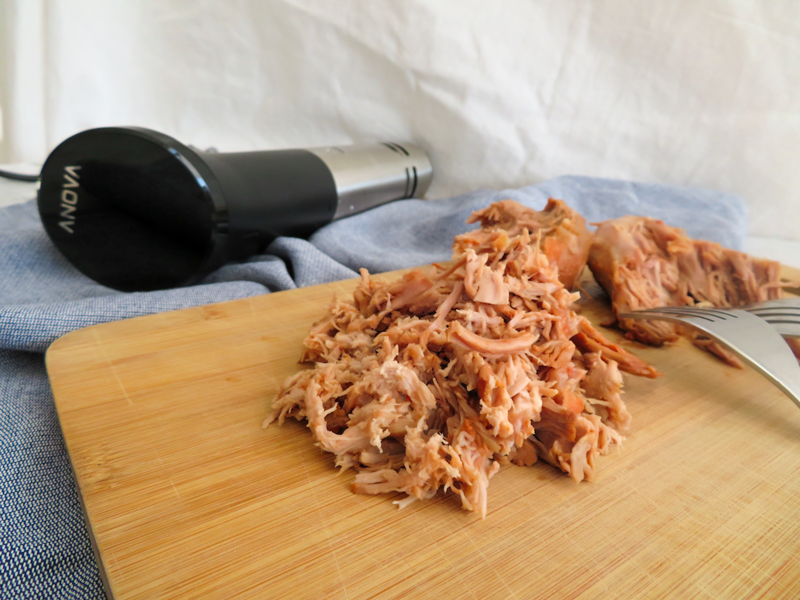 What is Sous Vide?
If you want to know more about this cooking technique, please find here ALL you need to know about the SOUS VIDE.
Sous vide pulled turkey
Course: Main
Cuisine: Sous vide
Difficulty: Easy
Ingredients
600 g turkey thigh

Marinade

1/2 onion

1 garlic clove

1 tsp tomato puree

2 pitted dates

50 ml white wine (or beer)

2 TBS apple vinegar

1 tsp sweet paprika powder

1 tsp spicy paprika powder

1/2 tsp cumin powder

1/2 tsp smoked salt

1/2 tsp ground pepper

1 tsp oregano
Directions
Place all the ingredients to make the marinade in a blender and blend until combined.
Place the turkey thigh in a vacuum bag and pour all the marinade inside the bag. Seal the bag. Place in the fridge overnight.
Set Anova Sous Vide precision cooker to 73,5℃
Place in water bath and cook for 10 hours.
Remove from the bag and pull the turkey. Do not throw away the liquid in the bag, mix it with the pulled turkey to make it extra juicy.
Use on sandwiches, burgers, quesadillas, tacos… Enjoy it!
Notes
Store: You can store it in the freezer for up to 6 months. Store it in small batched to use it a some quesadillas filling 🙂