Juicy and tender slow cooker pork tenderloin with flavourful port wine sauce. Such a simple and delicious combination that is easy to make on the slow cooker.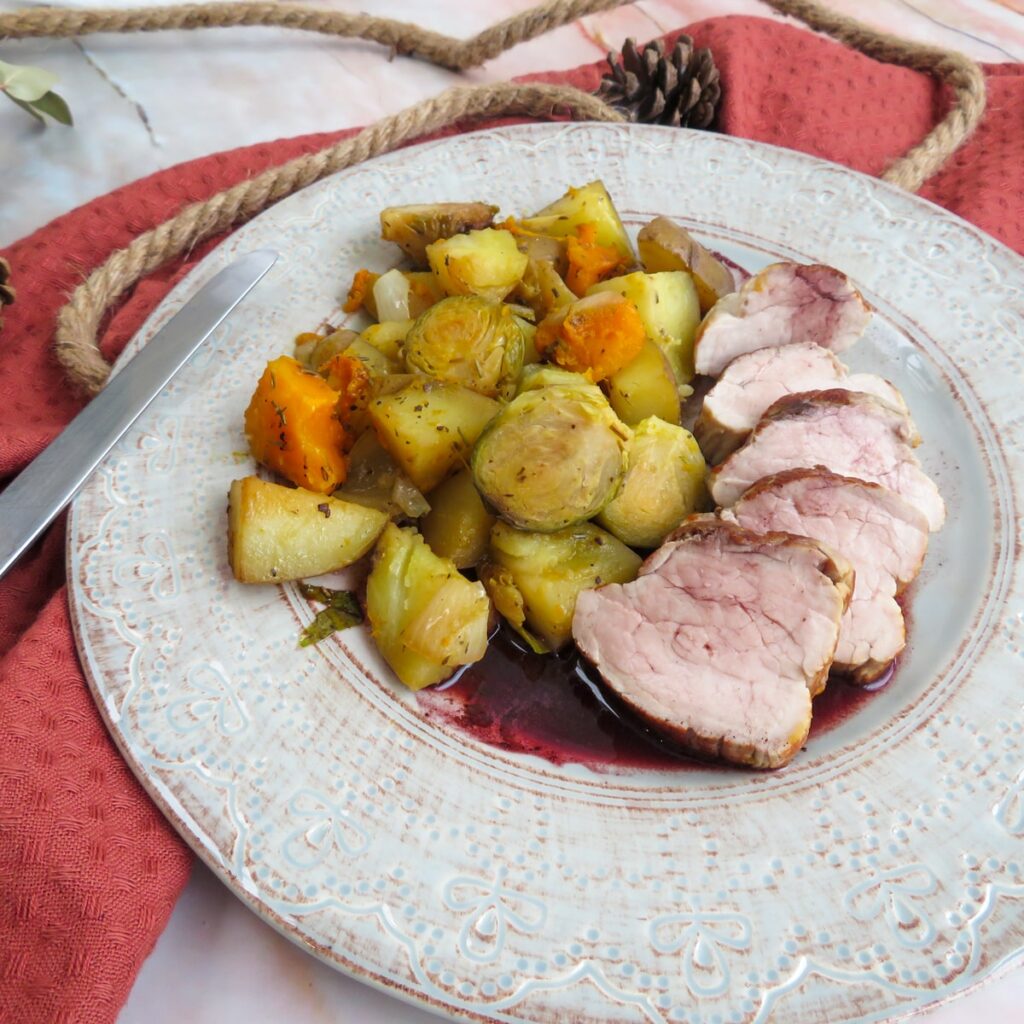 How to get the most tender slow cooker pork tenderloin?
Pork tenderloin is one of the most delicious cuts from pork, tender and juicy. It is also difficult not to overcook it. That is why a cooking thermometer is KEY for these kind of recipes.
I have a pretty basic cooking thermometer but it is perfect to cook all the meat roast I make. I will leave the link below the recipe if you are looking for one.
---
Stews, meat, the most tender fish, vegetables… I use my slow cooker every week so I have some recipes that might inspire you.
Slow cooker pork tenderloin with port wine
Course: Main
Cuisine: Slow cooker
Difficulty: Easy
Ingredients
Pork tenderloin, 350 g

5 medium-size potatoes

8-10 brussels sprouts

1 onion

1/ 4 pumpkin

1/4 cup Port wine

Salt and pepper

1 thyme sprig

Olive oil
Directions
Chop all the vegetables: slice the potatoes and the onion, cut the brussels sprouts in halves and cut the pumpkin into cubes. Place them all on the slow cooker.
Season them with salt and pepper and drizzle with olive oil. Mix to season the vegetables. Add the lid and cook in HIGH for 2 hours.
Leave the pork outside the fridge, on the countertop, for 1 hour before cooking it.
Season the tenderloin with salt and pepper.
Heat 1/2 teaspoon of olive oil in a large skillet over high heat.
Add the pork and sear on all sides, 1 minute on each side, until browned.
Insert a cooking thermometer into the centre of the loin and place it on the slow cooker, over the vegetables.
Place the lid set the temperature at 55°C and cook on LOW. It took 35 minutes to reach that temperature.
In the meantime, pour the wine into the hot skillet, and the thyme and cook on high for 2 minutes. Set aside.
When the pork is cooked, remove it from the slow cooker and allow it to rest for 15 minutes on a cutting board. Slice into 1,5 – 2 cm pieces.
Serve with the roasted vegetables and spoon a little bit of the port wine sauce over the slices.
This is the digital thermometer I use:
---
This post contains affiliate links.