Oven-baked hake with roasted potatoes is one of my favourite dinner ideas. It is simple, healthy, quick and delicious!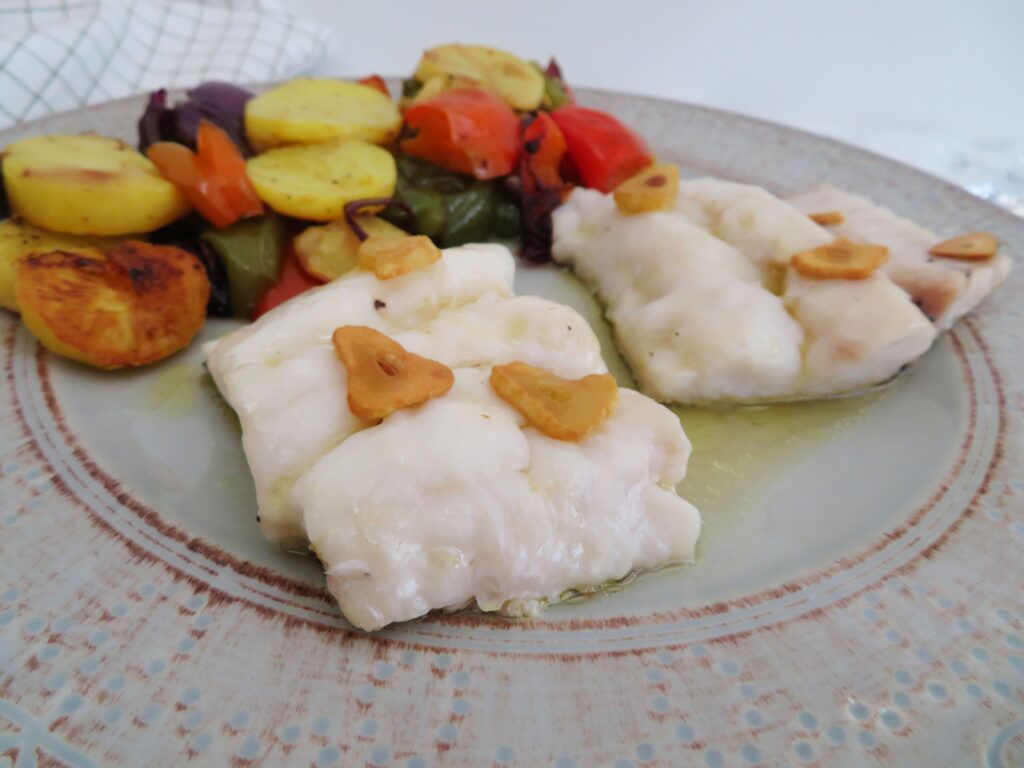 Hake is in season now and I am loving it as it is one of my favourite fish. Today I am sharing a super simple recipe to cook fish in the oven, as when the hake is fresh there is no need to add many ingredients.
I love fish and for me the best way to cook it is to keep it simple with just few ingredients and no herbs.
Go to the market or to the fishmonger and ask for hake, it is now in season so the best time to cook it. Get an entire hake, ask them to clean it for you and to make 2 large fillets (lengthwise). I always take the bones with me as well, place them in a freezer bag and store them in the freezer to make a good fish stock or fish soup.
Fresh hake, oven-baked with roasted vegetables and potatoes, simple, quick and amazing!
Where can I buy fresh hake in The Hague?
One of my favourite places to get good quality fresh fish is this one. The owner is lovely and he will always advice you on what kind of fish or dish you can make.
Oven-baked hake with roasted potatoes
Course: Fish, Main
Cuisine: Spanish
Difficulty: Easy
Ingredients
Hake, 2 large fillets. (mine had 1 kilo before cleaning it)

4 potatoes

1 red pepper

1 green pepper

1 large onion

3 garlic cloves, slices

8 tablespoon olive oil

salt
Directions
Pre-heat oven to 200ºC (400 ºF).
Peel and slice potatoes. Slice red pepper, green pepper and onion. Place them in an oven tray. Add 2 tablespoons of olive oil, salt and pepper.
Bake for 25 minutes. 200 ºC (400 ºF)

While the vegetables are cooking, cut each hake fillet in 3-4 pieces. Add a bit of salt.
When the vegetables are ready, place the hake fillets (with the skin side down) over the vegetables.
Bake for 6 minutes.
Heat 6 tablespoons of olive oil in a small pan over medium-high heat. Add the sliced garlic and cook for 1 minute until crispy and gold. Transfer the garlic to a paper towel sheet. Leave the rest of the oil in the pan, keep it hot.
When the fish is ready, place the sliced garlic over each fillet and add a little bit of the hot oil to each of them.
Serve and enjoy!
Do you need more dinner ideas?
Let me inspire you with some delicious options.