Honey and soy slow cooker chicken to take your roasted chicken to the next level.
Now that you master the basic slow cooker chicken and can make the most delicious and tender roasted chicken, let's add that something special to it.
Honey&Soy is a classic combination to make roasted chicken, but if you combine that with the slow cooker it is just heavenly. Tender meat with that flavour bomb that is the honey and soy sauce. This is for sure one of my favourite combos to make delicious roasted slow cooker chicken.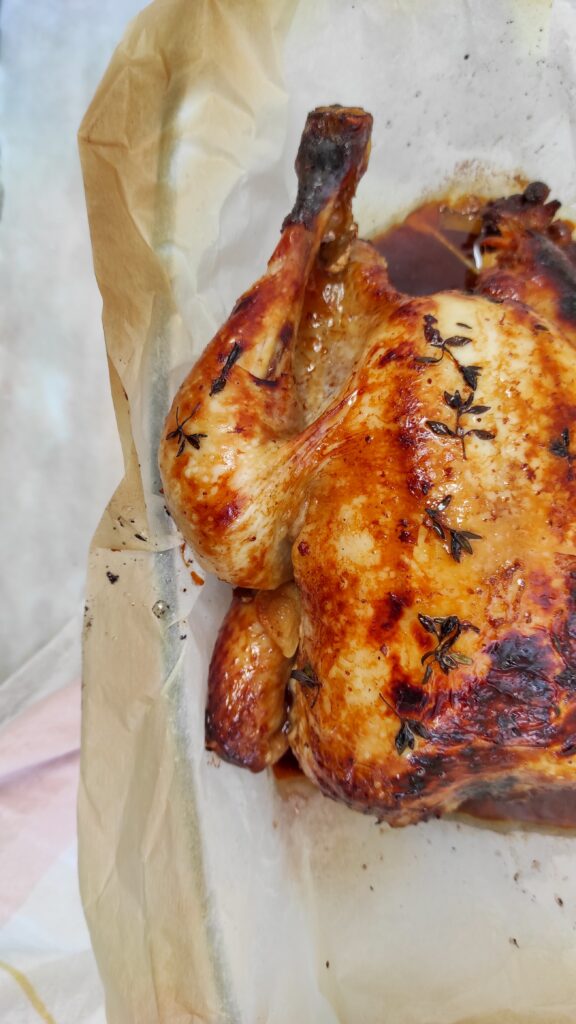 How to get a crispy and golden skin?
When you cook the chicken on the slow cooker you will never get that oven roasted crispy skin.
So if you want to get that extra crispy skin, simply broil the chicken for 5-10 minutes at 220°C in the oven.
You will get a tender and juicy meat on the inside with a crispy and golden skin.
Roasted vegetables?
Roasted vegetables or potatoes are always a great side dish for a slow cooker chicken.
You can go for some classic roasted potatoes or use any leftover vegetable you have in the fridge. The key is to roast them with some garlic powder and thyme.
A fresh salad is always a lovely idea too, here are some ideas.
---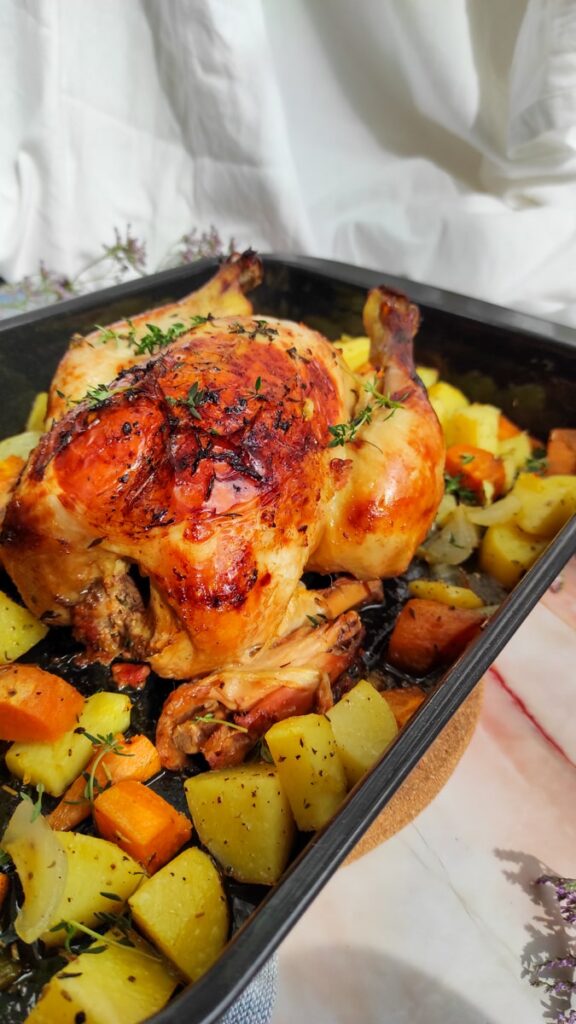 ---
Honey and soy slow cooker chicken
Course: Main
Cuisine: Slow Cooker
Difficulty: Easy
Ingredients
1 chicken, (2 kg)

4 tablespoons honey

3 tablespoons soy sauce

1 teaspoon dark soy sauce

2 garlic clove, sliced

1 piece of ginger, sliced

Black pepper

Fresh thyme

1 teaspoon sesame oil
Directions
Path dry the chicken and place it on a ziploc bag or container that you will use to marinate the chicken.
Pour in the soy sauce, dark soy sauce, honey, garlic, ginger, sesame oil, black pepper and thyme.
Brush the mixture over the chicken and marinate overnight in the fridge.
Get the chicken out of the fridge 1 hours before starting to cook.
Place the chicken and the marinade on the slow cooker.
Cover and cook on LOW for 5 hours and 30 mins.
To get a crispy chicken skin, transfer the chicken to a baking tray and pour some or all of the sauce over the chicken.
Broil for 5-10 minutes (220°C) until the skin gets golden-crispy.
Let the chicken rest for 15 minutes before carving. Enjoy it!
This is the slow cooker I use.
---
This post contains affiliate links.