Easy slow cooker cod fish with a delicious tomato sauce made with just 4 ingredients.
If you want to try new recipes with the slow cooker and get the most out of it cooking delicious fish this is your recipe.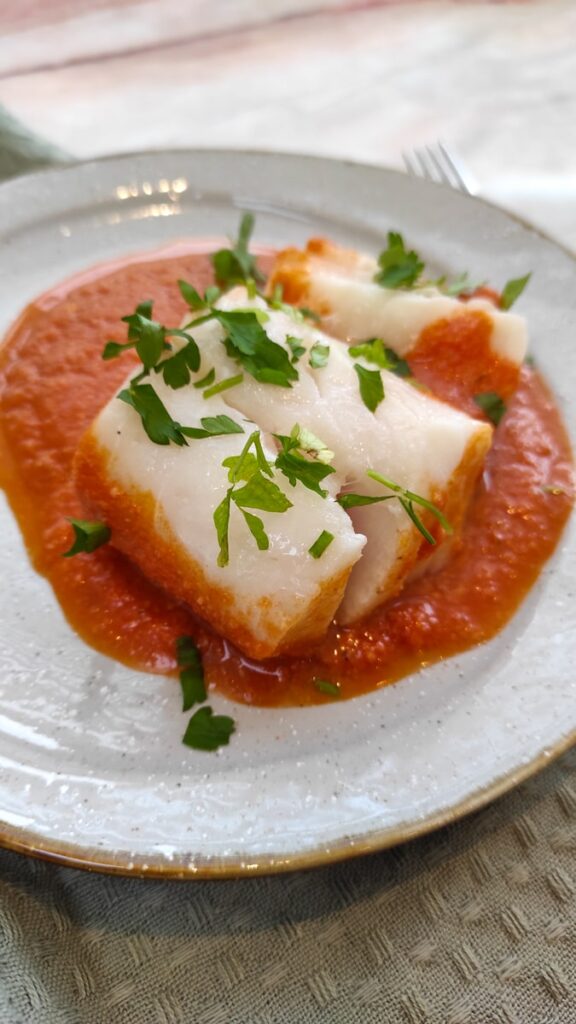 We are going to cook an amazing sauce using just 4 ingredients and cook the fish so tender… that you are going to LOVE IT!
Fish on the slow cooker?
Yes, it is possible to cook fish on the slow cooker and it always turns so tender and delicious.
I love using the slow cooker to cook fish as it is so easy to cook fish and does not smell. You can cook salmon, sea bream, cod… so many options.
If you want to learn more about how to cook fish recipes on the slow cooker, have a look at one of my latest Ebooks.
---
If you are just starting cooking fish with the slow cooker, this easy slow cooker cod is perfect for you.
You can also use a fillet of sea bream, hake or seabass, all of them are great options too.
But if you want a fish with a mild fish flavour, cod fish is the best option for you.
Let's start!
Easy slow cooker cod
Course: Main
Cuisine: Mediterranean
Difficulty: Easy
Cooking time
2
hours
8
minutes
Ingredients
2 cod fish fillets (3 cm thick)

500 g canned tomato

40 g almonds

1 garlic clove

1 teaspoon olive oil

Salt

1 tablespoon chopped parsley
Directions
Heat a small pan over medium heat.
Add the almonds and roast them for 5 minutes. Set aside.
Heat the olive oil on the same pan and cook the garlic. 1-2 minutes on each side until golden.
Transfer the garlic to a blender and add the rest of the ingredients: canned tomato, roasted almonds, salt and parsley. Blend until smooth.
Place the sauce on the slow cooker and cook for 2 hours on HIGH (lid on).
After 2 hours, season the fish fillets with some salt and place them in the sauce on the slow cooker. Cook for 5-8 minutes on HIGH. My cold fish fillets of 3 cm thickness took 8 minutes to cook. Do not overcook it.
Sprinkle some freshly chopped parsley and serve the fish and the sauce on a platter.
Recipe Video
This post contains affiliate links.