Crispy, cheesy, sweet, warm, caramelized paprika and goat cheese phyllo purse. Just so good. To be honest the PERFECT bite.
We have rainy fall weather in the Netherlands so I can not think of a better pintxo for #PintxoSaturday.
More pintxos (tapas/fingerfood) next Saturday 🙂 #pintxorootsandcook.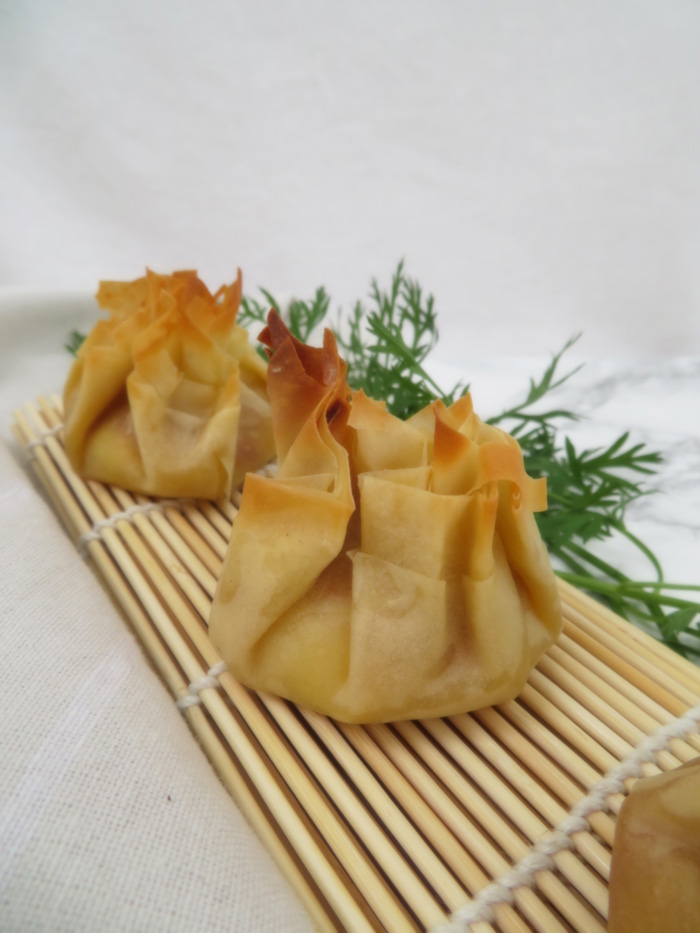 CARAMELIZED PAPRIKA & GOAT CHEESE PHYLLO PURSE
Course: Appetizers and Snack, Pintxos (Tapas)
Difficulty: Easy
Ingredients
2 tablespoon goat cheese

1 red bell paprika, chopped

1 pinch of baking soda and salt

2 sheets phyllo dough

Melted butter or olive oil
Directions
Heat 1 teaspoon of olive oil in a small pan over low heat. Saute paprika until soft. Add baking soda and salt. Cook for 5 minutes more until soft and caramelized. Set aside.
Stack phyllo sheets on top of each other. Cut sheets into 8 squared sections.
ASSEMBLY: Place one square on a work surface. Brush with melted butter or olive oil. Top with another sheet, brush, another sheet, brush, another sheet. 4 layers per purse.
Place 1/2 tablespoon goat cheese in the centre. Add 1 teaspoon of caramelized paprika. Gather the side to create a purse. Brush slightly each purse.
Bake for 15 minutes at 180ºC.
Serve warm.