Pear and blue cheese crustless quiche, flavourful and easy to make.
Sautéed leek, caramelised onion, roasted walnuts, pear and blue cheese, sounds great right?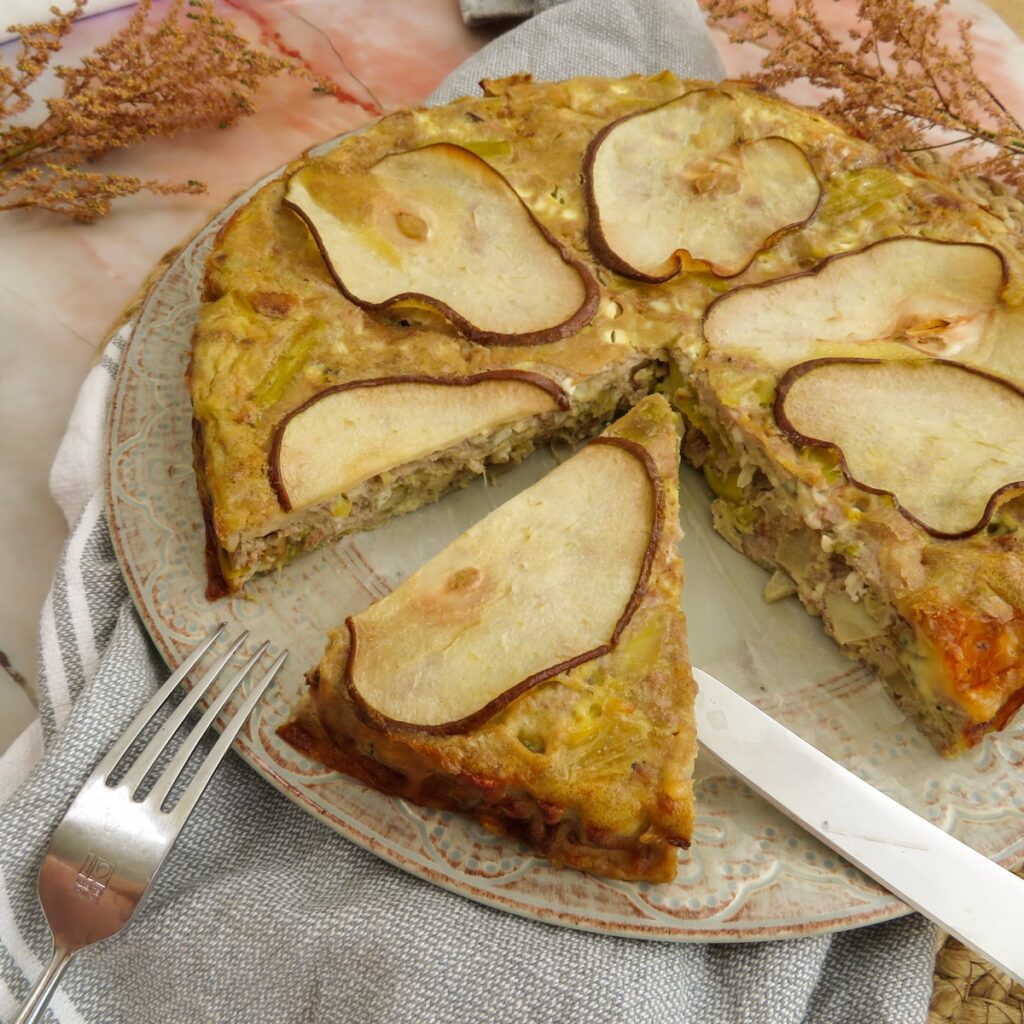 We are going to make the perfect fall quiche. Using seasonal produce in September: leek and pear and combine it with your favourite blue cheese.
It is a healthy version of a traditional quiche as you know that I do not like using heavy cream, so rootsandcook style quiche. The result is as good and it is perfect to enjoy it with some side salad.
Need more ideas to create a delicious quiche? Click here.
September Produce Guide: What Is In Season?
Pear and Blue cheese Crustless Quiche
Course: Main
Cuisine: Mediterranean, French
Difficulty: Easy
Springform pan I use is this one. (Affiliate link)
Ingredients
1 leek, sliced

1 pear, sliced

40 g walnuts, roasted and chopped

70 g blue cheese, diced

1 small onion, thinly sliced

6 eggs

350 g cottage cheese

Salt and pepper

2 tablespoons olive oil
Directions
Preheat oven to 180°C.
Optional: you can roast the walnuts in the oven for 10 minutes.
Heat the oil in a medium size pan over medium heat.
Add leek, onion and a little bit of salt. Cook for 10 minutes or until soft and golden.
Meanwhile, in a medium-size bowl, whisk together the eggs and the cottage cheese. Add some salt and pepper.
Set aside 6 pear slices and chop the rest of the slices.
When the vegetables are ready add them to the bowl together with the blue cheese, chopped pear and walnuts, stir to mix.
Place parchment paper in a 18 cm springform pan.
Pour the mixture into the pan. Top with pear slices.
Bake for 50 minutes at 180°C.
You can enjoy it warm or allow to cool down and store it in the fridge to bring it next day to the office, picnic, bbq, lunch…
Springform pan I use is this one. (Affiliate link)