If you have never done them before I will show you how easy it is to make homemade gyoza with chili oil. Actually, with 2 different sauces, the traditional dipping sauce and the chili sauce if you like spicy food like me.
Easy to make and with a simple feeling to make the best homemade gyoza.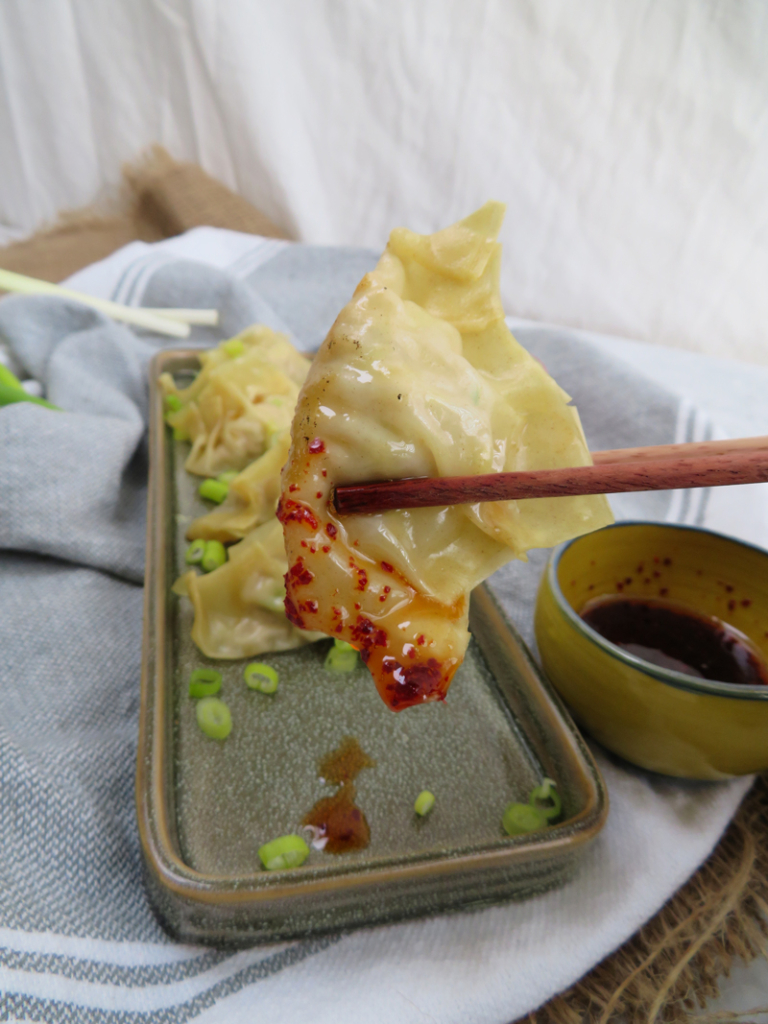 What is Gyoza?
The original gyozas are from China and consist of ground meat and vegetable filling wraps or empanadillas. Usually boiled, steamed, pan-fried or deep-fried.
The Japanese version though consists of pan-fried and steamed gyoza. First fried in a pan to get a crispy bottom and then steamed on the same pan to get a soft top gyoza.
Following the recipe fellow I made 33 wontons so besides giving a few of them to a friend of mine I also made wonton soup with them. I loved them in soup so I will share that recipe soon as well.
From now let's make some delicious homemade wontons with chilli oil.
If you like the recipe don't forget to leave a comment below.
Homemade Gyoza with chili oil
Course: Appetizers and Snack, Pintxos (Tapas)
Cuisine: Asian
Difficulty: Medium
Ingredients
33-35 gyoza wrappers

Filling

250 g pork minced meat

125 g cabbage, finely chopped

30 g green onions, finely chopped

1 garlic clove, finely grated

½ teaspoon fresh ginger, finely grated

2 tablespoons soy sauce

1 tablespoon rice vinegar

½ tablespoon cornstarch

½ tablespoon sesame oil

Traditional sauce

½ tablespoon rice vinegar

1 tablespoon soy sauce

1 tablespoon water

Chili oil

2 tablespoons sesame oil

1 tablespoon chili powder

To cook them:

1 tablespoon sesame oil

½ cup water
Directions
Filling
In a large bowl combine the filling ingredients. Mix week and knead the mixture with your hand.
Place 1 wrapper on a clean working surface.
Add 1 teaspoon of the filling in the middle.
Using your finger brush the edges with water.
Fold to seal and in the video below.
Place the gyoza into a container with a lid so they don't dry out.
To cook
Heat a large pan over medium heat. Add 1 tablespoon of sesame oil.
Place the gyoza in a single layer and they can not touch each other.
Cook for 3 minutes or until the bottom turns golden.
Add ½ cup of water to the pan and immediately cover with a lid.
Steam the gyoza for 6-7 minutes or until the water evaporates. Prepare the dipping sauces in the meantime.
Remove the lid and cook for a couple of minutes or until crispy on the bottom.
Transfer to a place and serve with the dipping sauces. Optional: Sprinkle some extra sliced green onions before serving.
Traditional sauce
Mix all the ingredients in a small bowl
Chili oil
Mix both ingredients in a small bowl
Recipe Video
Notes
Leftovers: You can keep them in the fridge for up to 3 days in an airtight container or in the freezer for a month.
You can also make a nice wonton soup with them, the recipe coming soon.