Best homemade Ferrero Rocher healthy balls! with the creamiest hazelnut filling and a crunchy chocolate coating.
If you follow me on Instagram or Facebook you already saw that I have been working on this recipe for some weeks now. Testing it several times to get the perfect creamy chocolate filling and a thin coating.
All worth it as the result is just too good.
These Ferrero Rocher like healthy balls are a must this Christmas or any time during the year 🙂 Not difficult to make but make sure you have a powerful blender to get the creamiest filling.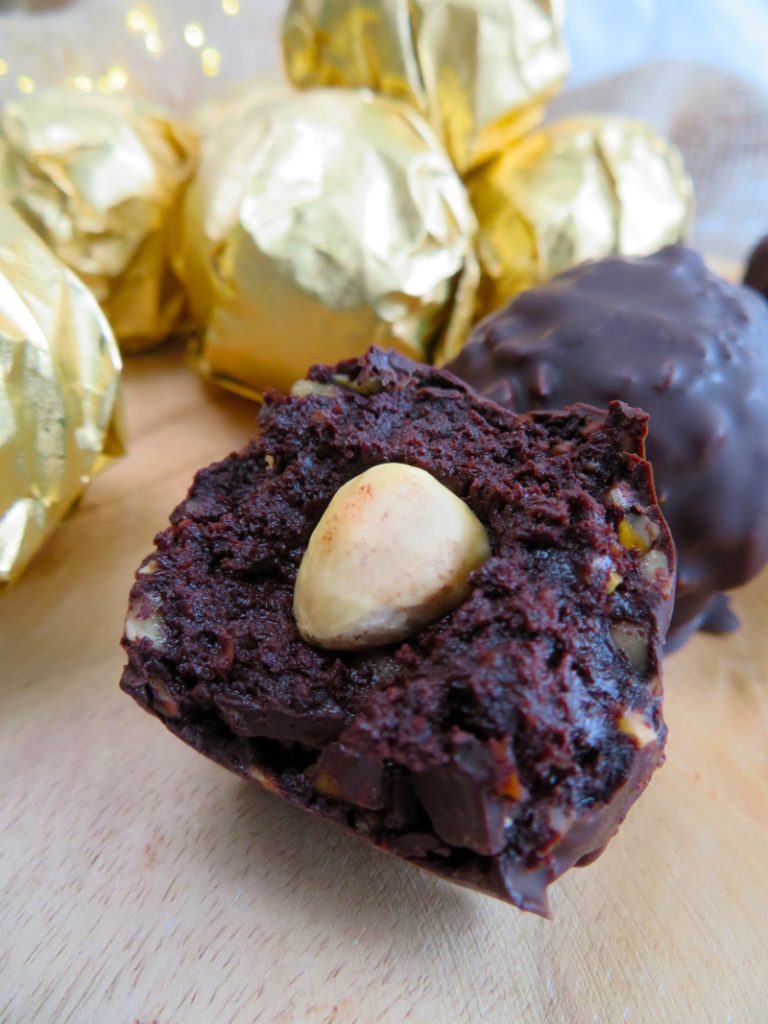 Send me pictures when you make them!
If you want more healthy dessert recipes, check here.
Homemade Ferrero Rocher Healthy balls
Course: Dessert, Snack
Cuisine: –
Difficulty: Easy
Ingredients
Filling

150 g roasted hazelnut (no added salt)

115 g pitted dates

80 g cocoa powder

50 g olive oil

125 g oat milk (any other milk)

35 ml espresso coffee

½ teaspoon salt

½ teaspoon vanilla extract

20 roasted hazelnuts (no added salt)

Coating

125 almonds, roasted (no added salt)

100 gr dark chocolate (mine is 85%)

1 teaspoon olive oil

A pinch of salt
Directions
Filling: Place all the ingredients (except the 20 roasted hazelnuts) in a blender or food processor. Use a powerful one to make sure you will get the right texture. Blend all the ingredients until you get a creamy texture. Place the filling in a container, close it and place it in the fridge for 3-4 hours or overnight.
Take 1 tablespoon of the mixture and roll into a ball. Insert 1 roasted hazelnut in the center and roll it again until you get a ball. Repeat to create around 20 balls.
Chop roasted almonds into tiny pieces. I used the vegetable chopper. Place it in a bowl.
Roll each ball in the almonds to coat the outside. Use your hand to roll and press the almonds a little bit.
Melt the dark chocolate and add the olive oil and salt. Mix until well combined.
Dip each ball in the chocolate using 2 teaspoons and place them in a plate covered with baking paper.
Chill the balls in the fridge for 30 minutes and enjoy!
Notes
Store: You can store the balls in a closed container in the fridge for up to 5 days.
---
This post contains affiliate links, which means if you buy something through those links I will receive a small commission at no extra cost for you. Thank you for your support!