Grilled chicken tikka masala or how to make the most tender Indian chicken you have ever tasted.
If you are looking for a simple but different bbq recipe that everyone will love, this is the one. It is easy to make, different, flavourful and so delicious.
It is perfect to marinate the day before and just grill it over the bbq. For sure is one of my favourite bbq recipes when I want something simple but special that everyone will love.
The key for this recipe is the yoghurt-based marinade and fresh spices. The result: the most tender and delicious chicken I had in a long time.
Yoghurt marinates the chicken and makes the meat super tender and moist. Also the fresh spices are key to make an amazing homemade tikka masala.
---
Side dish ideas for this grilled chicken tikka masala?
Fresh and easy side dishes are always the best, and easy no mayo coleslaw is for sure my favourite option, but a grilled asparagus salad is also amazing.
---
Grilled or roasted (oven), both options are great.
Can I make a whole chicken and then roast it on the bbq or oven? Of course!
This homemade tikka masala is so good that you can use it for bbq recipes in summer and to roast a whole chicken in winter.
If you need more bbq recipes, here are some of my favourites.
Chicken tikka masala wings on the slow cooker
Do you prefer to cook them on the slow cooker to get super moist eat and a crispy skin? The result is absolutely delicious.
Enjoy them!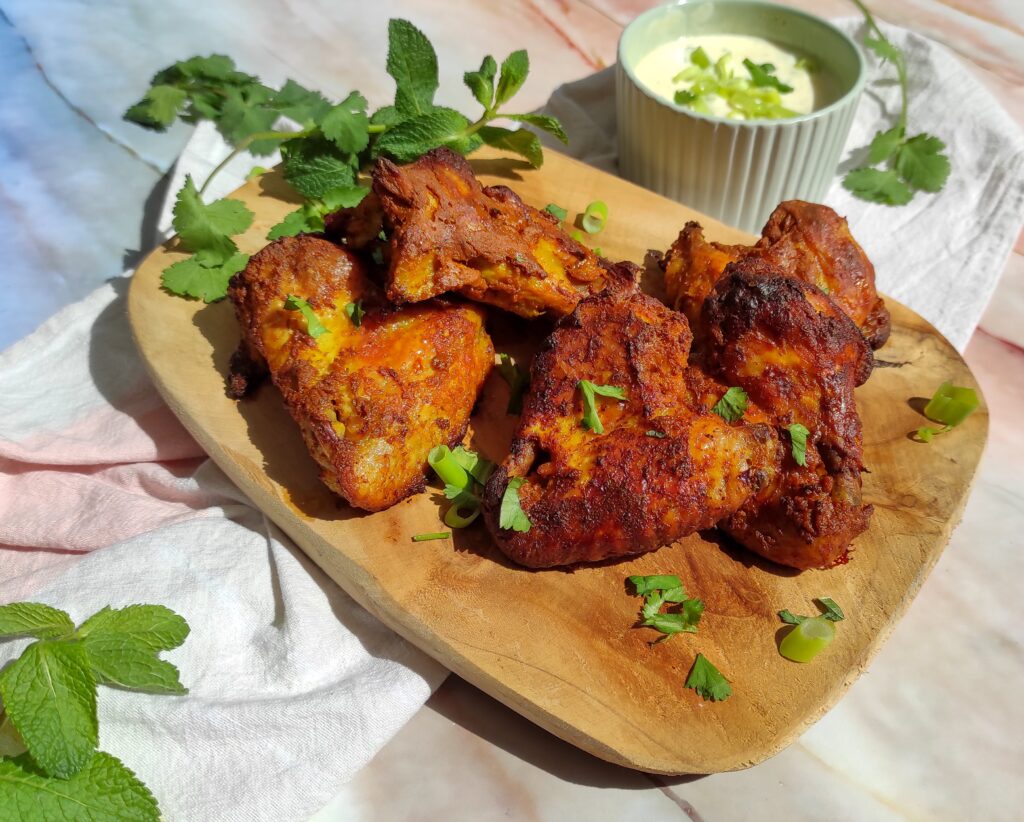 Grilled chicken tikka masala
Course: BBQ, Meat
Cuisine: Indian
Difficulty: Medium
Ingredients
1 kg chicken wings or thighs

3 garlic cloves

1 piece fresh ginger, about 3 cm

1 green chilli pepper

2 tablespoon tomato puree

1 tablespoon turmeric powder

1 teaspoon cumin powder

1/2 teaspoon garam masala

1 cup yoghurt

Sea salt

Optional: yogurt sauce
Directions
Place the chicken on a cutting board and add sea salt from both sides. Set aside.
Place the fresh ginger, garlic and chilli in a mortar. Smash the ingredients and place them in a large container.
Add the chicken and the rest of the ingredients to the same container. Combine using your hands to ensure the marinade is evenly distributed. Cover and store in the fridge for 2 hours and up to 8 hours.
BBQ: Grill the wings over high heat until cooked through, about 5 minutes per side.
SLOW COOKER:
Place the chicken wings on the slow cooker and cook on HIGH for 3 hours.
If you want to get a crispy skin, finish them in the oven.
Preheat the oven to 200°C (400°F) – fan on.
Arrange the wings on a baking tray and cook in the oven until crispy, about 5 minutes at 200°C with the fan.
OVEN:
Preheat the oven to 200°C (400°F).
Arrange the chicken wings in a single layer on the rack.
Bake for 45 minutes or until crispy and golden brown.
What kind of BBQ do you have?
I got asked that question a few times via DM on social media so I will leave the info here too 🙂
The BBQ I have is the original from Weber 57 cm. I had the bbq for 3 years now and super happy about it.