A new version of Galician empanada, this time Galician Pie with codfish and raisins.
I love all versions of a good homemade Galician empanada, but this one was new for me. I went to Galicia (Northern Spain) for a few days last summer and tried for the first time at the bakery, La Pintora.
It is so juicy, a little bit sweet and with homemade dough, it is just perfect.
The empanada dough is super simple to make and if you have a kitchen appliance like my Kenwood, then it takes 5 minutes.
The cod fish filling is also super easy to make, but the assembly might be tricky. That is why I made a little video to show you how to assembly the empanada 🙂 If you have any questions just leave a comment and I will help you.
Salted cod or fresh cod?
You can use both of them. I am using dried and salted cod as it has more flavour but with fresh cod is also delicious.
Not a big fan of Codfish?
You can use canned tuna instead and add 1 cup of tomato sauce. Then skip the raisins. This will be a traditional Tuna Empanada that is also amazing. I will share the traditional Tuna Empanada recipe soon.
No time to make the dough?
If you really do not have time to make the dough you can try with store-bought pastry dough. But I can ensure you does not take that much time to make the dough at home and the result will be better.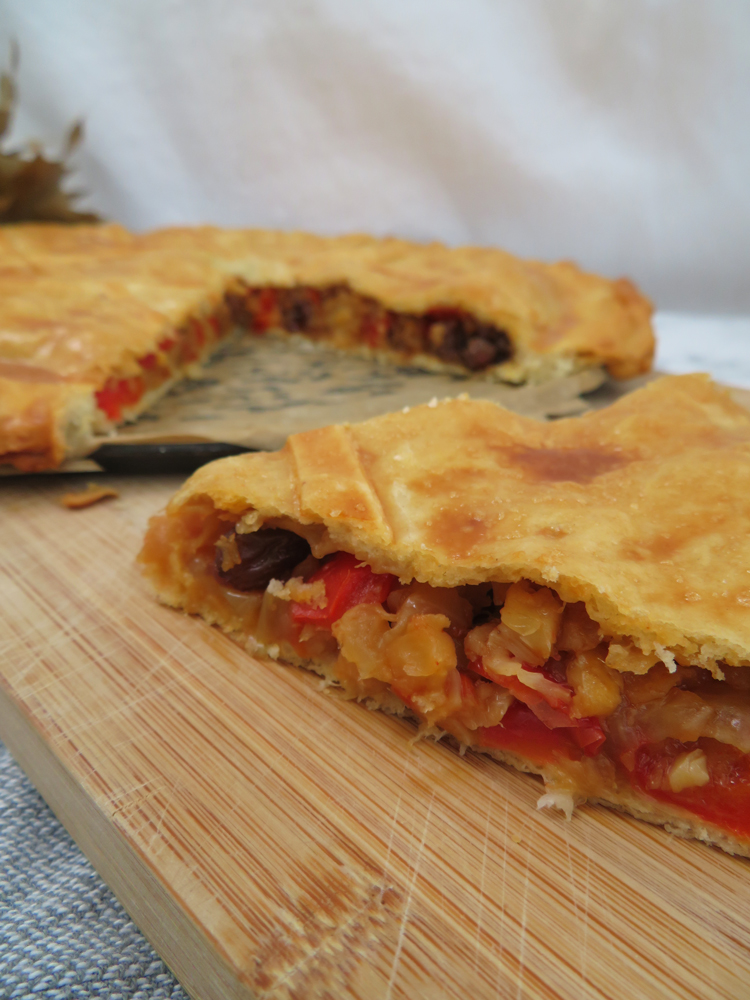 Let´s get started!
Galician Empanada – Galician Pie with cod and raisins
Course: Pie, Appetizer
Cuisine: Galician
Difficulty: Medium
Ingredients
Dough

250 g plain flour (or 175 g plain flour and 75 g corn flour)

75 ml warm water

50 ml olive oil

25 ml white wine

20 g fresh yeast

1/2 teaspoon salt

1 egg (for egg wash)

Filling

225 g Codfish, desalted

1 large onion, chopped

1 large red bell pepper, chopped

2 garlic cloves, chopped

2 tbs tomato sauce

1 cup of raisins

1 tsp paprika powder

2 tablespoon olive oil

1 teaspoon salt
Directions
Dough
Place the flour in a large bowl.
Dissolve the yeast in the warm water. Add it to the bowl. Add the olive oil, white wine and salt to the bowl.

If you have a Kenwood or a similar food processor, dissolve the yeast in warm water and add all the ingredients to the bowl. Mix in low speed for 5 minutes until the dough is smooth.
Start mixing with a spoon and then with your hands. Place the dough on the clean kitchen countertop and knead until the dough is smooth. It takes 8-10 minutes. Shape it into a ball.
Sprinkle some flour over the bowl and place the ball inside. Cover with a cloth and let it rest for 30 minutes.
Filling
Heat 2 tablespoons olive oil in a large pan over low-medium heat. Stir in chopped onion, bell pepper and garlic. Add salt and cook over medium heat until soft and golden. Around 15 minutes.
Chop the cod in small pieces. Add the cod to the pan. Add tomato sauce, raisins and paprika powder. Mix and cook for 5 to 8 minutes. The filling needs to be a little bit juicy. Set aside.
Shape the dough and bake (see video below)
Divide the dough into two equal pieces, one will the base and the other one the cover.
Preheat oven 200ºC. Top and bottom heat. Place baking paper on a baking sheet.
Stretch one of the pieces with a rolling pin until you get a thin sheet, around 2-3 mm thickness.
Place the dough on the baking sheet.
Spread the filling over the dough, but leave some space around the edge to close the empanada.
Stretch the other dough piece. Need to be the same size as the first sheet. Lay it down over the filling. Seal the edges.
Brush the surface with beaten egg and bake for 30 minutes until golden. 200ºC.
Remove from the oven and allow to cool down before eating it.
Recipe Video
Notes
How to desalt cod? Soak in water 24 hours. Change the water three or four times during that time.
Tools that I used to make the dough: