One of my favourite winter recipes, Spanish chickpea stew with cod slow cooker version.
Soft chickpeas, a creamy sauce and salted cod, the perfect combination for an amazing winter stew.
Super easy to make recipe as you just need to place all the ingredients into the slow cooker.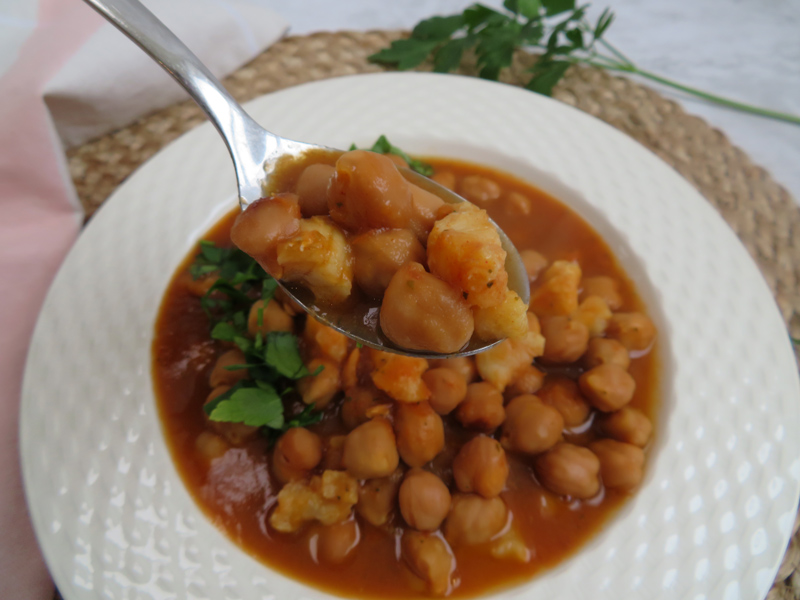 Legumes are the easiest thing to cook in the slow cooker and they always turn perfectly soft. The texture you can get cooking the legumes on the slow cooker is just amazing. Although the best part is that you can leave them cooking on the slow cooker overnight or while you go outside to do sport or any errands. So it saves a lot of time and the legumes will always be perfectly cooked.
If you want to buy salted codfish in The Netherlands, here you can find info of where to buy cod in The Netherlands.
Chickpea stew with cod – slow cooker
Course: Main
Cuisine: Spanish
Difficulty: Easy
Ingredients
350 g dried chickpeas

1 onion

2 garlic cloves

½ red bell pepper

400 g salted codfish

1 bay leaf

1 teaspoon of smoked paprika

⅓ cup tomato sauce

2 spoons of olive oil

1 teaspoon salt

800 ml of water

Topping: fresh parsley
Directions
One day in advance:
Place the chickpeas into a bowl and cover with cold water. Leave overnight or for 12 hours to absorb the water and soak.
Place the cod in a large bowl and cover with cold water. Place it in the fridge and change the water every 4-6 hours. It will take 24 hours to desalt a 1 cm cod fillet.
Slow cooker:
Add all the ingredients into the slow cooker except the cod and parsley. No need to chop the vegetables.
Cover and cook in HIGH for 12 hours.
Remove all the vegetables and 1 ladder of the water. Place them on a blender and blend until smooth. (Do not blend the bay leaf)
Stir in sauce back into the slow cooker.
Add the chopped codfish and let it sit for 5 minutes covered until the cod is cooked.
Sprinkle some chopped parsley and serve.
Notes
You can deep freeze this stew in a closed container up to 8 months.
The slow cooker-crockpot I always use is this one.
---
This post contains affiliate links, which means if you buy something through those links I will receive a small commission at no extra cost for you. Thank you for your support!