Boquerones fritos or Spanish fried anchovies are one of the most famous dishes if you visit the south of Spain.
Fresh anchovies covered with a thin flour layer and deep-fried in hot oil.

Crispy from the outside and tender inside served with a slice of lemon.

We could call them sea-chips.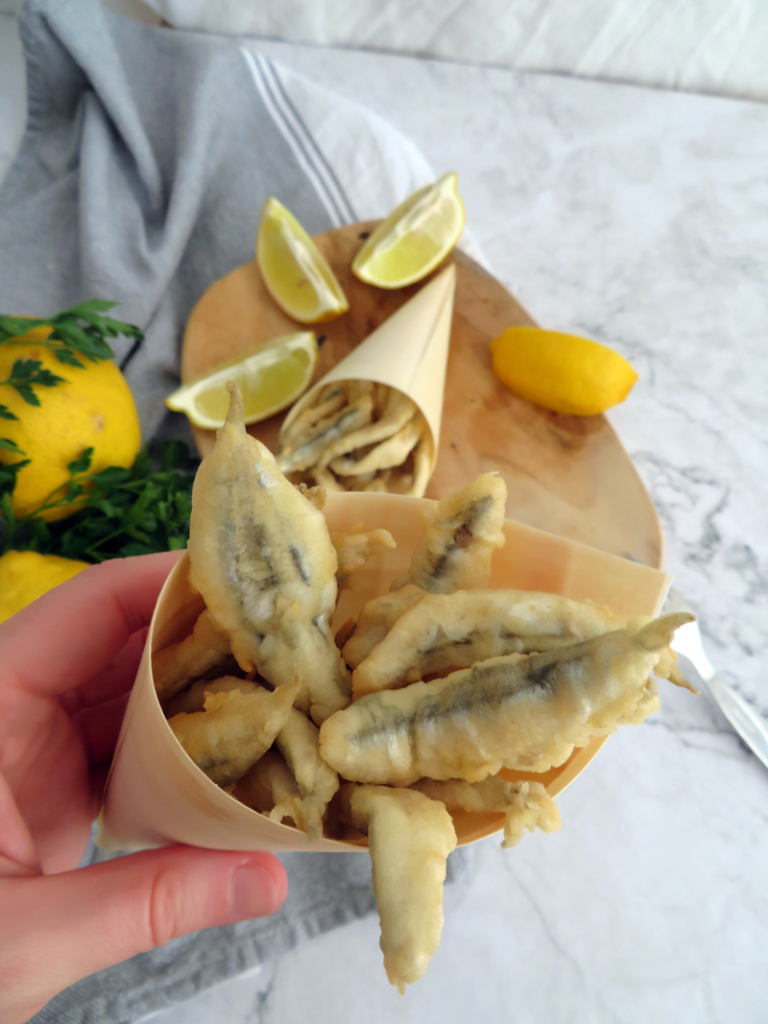 It is really easy to make them, but it is important to follow some easy tips to deep fry the fish properly and not to get an oily bite. As I like to give a twist to the traditional recipes I am going to show you the boquerones fritos version of my brother.
He likes to marinate the fresh and clean anchovies for 15-20 minutes in vinegar before frying them and I can ensure that the result is amazing.
If you want to make the traditional version skip the vinegar step but if you want to try a different recipe follow all the steps.
As always if you like the recipe leave a comment below. Thank you.
Let's start!
Boquerones fritos – Spanish Fried anchovies
Course: Appetizers and Snack
Cuisine: Spanish
Difficulty: Easy
Ingredients
200 g clean anchovies

1 cup wine vinegar or apple vinegar

½ cup water

1 cup flour

3 cups olive oil

1 teaspoon salt

½ lemon
Directions
Lay clean anchovies in a sealed container.
Pour the vinegar and the water. Close the container and place in the fridge for 15-20 minutes.
Strain the vinegar and water with a colander.
Heat the oil on a saucepan. Tip 1: Use a saucepan as it is deeper than a regular pan and will make it easier to deep fry the anchovies. Mine is this one.
Season the anchovies with the salt.
Tip 2: Place the flour in a ziplock bag and add ⅓ of the anchovies, one by one.
Close the bag and shake it carefully to coat each anchovy.
The oil must be hot so place a wooden spoon in the hot oil, if small bubbles start forming around the spoon the oil is ready.
Shake the excess flour of each anchovy and add them to the oil.
Fry for 2 minutes until they get light brown.
Remove the anchovies from the pan.
Tip 3: Place on a colander and then on top of a kitchen paper towel to absorb excess oil.
Repeat the process with the rest of the anchovies.
Serve with a lemon wedge.
Enjoy it!
More tapas or appetizer recipes here.
---
This post contains affiliate links.