What to do with whey? What about whey pizza dough? Sounds good right?
Crunchy and with lots of flavour.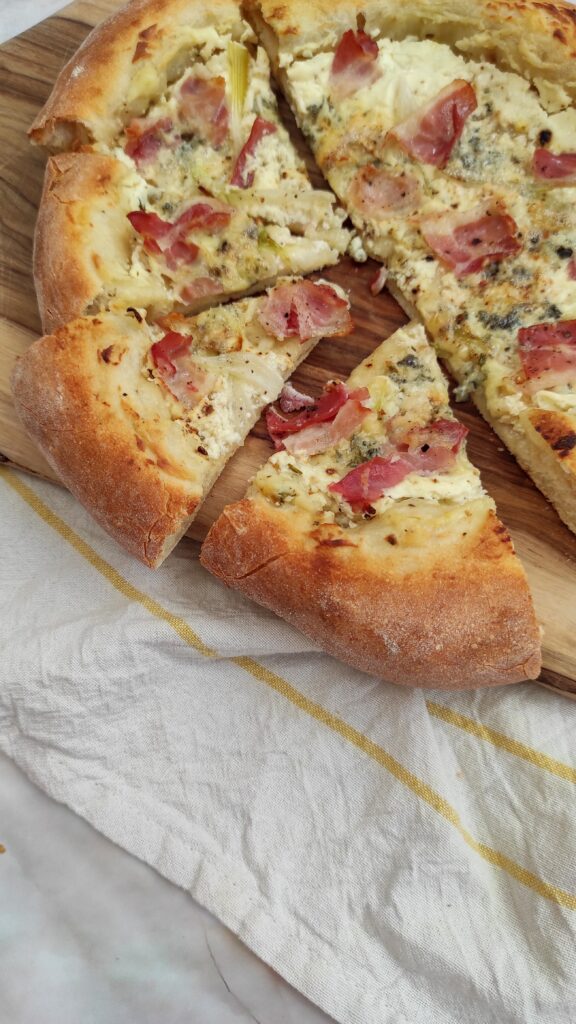 ---
Fresh cheese and butter whey
When you make fresh cheese or butter at home you also get lots of whey. I usually use it for baking thing like red velvet cake or Irish soda bread, which are amazing options.
Recently wanted to try something new so I tested pizza dough recipes. The result couldn't be better, whey pizza is a must if you have lots of leftover whey at home.
---
How to store whey pizza dough:
You can store the pizza dough in the freezer for up to 6 months. Then simply thaw the dough in the fridge overnight when you want to use it.
---
---
Pizza toppings
I made a Flammkuchen style pizza with a twist.
For the base I use creme fraise but with sume fresh elements in it. Add some lemon zest, black pepper and chopped fresh basil. Then go for the classic bacon and sliced onion. For that extra flavour add some blue cheese as well.
---
What to do with whey
Course: Main
Cuisine: Italian
Difficulty: Medium
Ingredients
4 cups of all-purpose flour or whole flour (550 g)

350 ml milk whey

7 g dry yeast

8 g salt

2 tablespoon olive oil
Directions
Place all the ingredients in a large bowl or in the bowl of a stand mixer.
With the stand mixer: Beat on low speed for 4 minutes.
By hand: Start mixing all the ingredients with a wooden spoon or a rubber spatula.
Transfer the dough onto a lightly floured surface.
Knead the dough for 8 minutes.
Grease a large bowl with a bit of olive oil and place the dough in the bowl. Cover with a kitchen towel or plastic wrap.
Allow the dough to rise at room temperature for 2 hours or until it doubles in size.
When the dough is ready, preheat the oven to 475ºF (250ºC).
Punch the dough to release any air bubbles and dive into 4 equal pieces.
Lightly flour the work surface and your hands. Flatten the dough into a disc with your hand or a rolling pin.
Place the dough on a baking tray.
Top with your favourite toppings. I used: creme fraise (with lemon zest, black pepper and basil), bacon, blue cheese and sliced onion.
Bake for 13 minutes or until golden.
Enjoy it!
Recipe Video