Irish soda bread, the perfect way to start the weekend.
I learned how to cook this Irish soda bread when I lived in Ireland few years ago. It is a super easy recipe to make it for breakfast. This bread has a really special soda flavour and it has a pretty compact texture. For me the soda flavour and its compact texture really makes this bread special. I like adding some raisins and sunflower seeds to make it a little bit different.
No yeast, healthy and just few ingredients.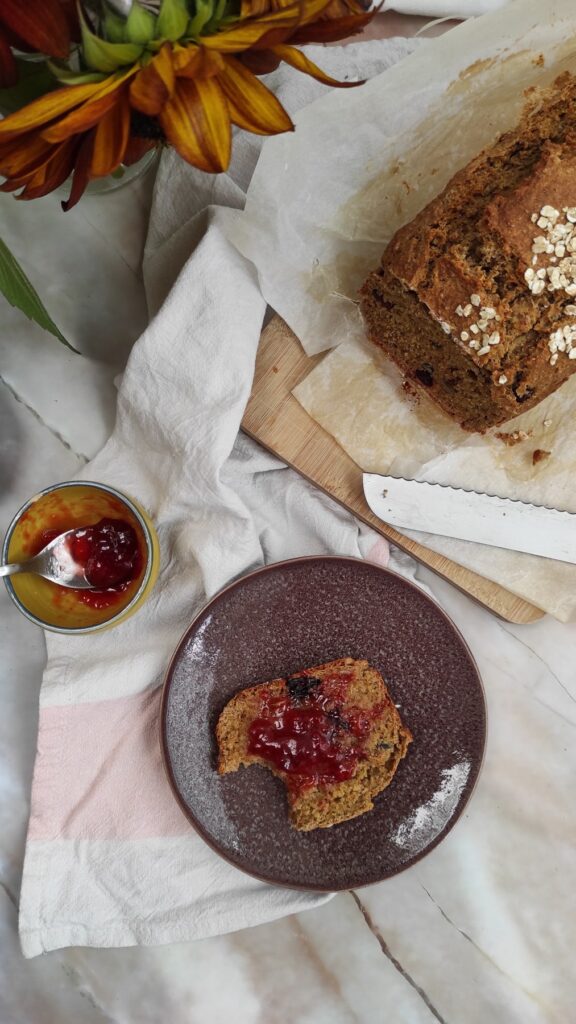 It can be frozen in slices and put it straight away in the toaster in the morning.
If you want to make a different breakfast you should really try this soda bread.
Homemade blueberry dates jam:
Irish soda bread + blueberry dates jam = the perfect combo
My favourite combo will always be these one. I am not a big fan of super sweet breakfast so this homemade blueberry jam is just perfect.
You wake up in the morning, pop 2 sliced of the bread in the toaster (directly from the freezer), spread some nice butter (don't be shy with the amount) and top them with some blueberry jam… Can't thing of a better way to start the day, specially when it is cold outside and you need to go to work.
With strawberry jam is as good 😉
Irish Soda Bread
Course: Breakfast
Cuisine: Irish
Difficulty: Easy
Ingredients
275 g Wholemeal flour

175 g oat flour (grinded oats)

1/2 teaspoon salt

1 teaspoon baking soda

25 g butter

425 ml Buttermilk (Milk with lemon or vinegar)

Seeds: Sunflower seeds, raisins, dates…
Directions
If you can not find buttermilk at the supermarket, do this: Mix 425 ml of milk with 1 teaspoon of lemon juice. Mix it and set aside. You will see that there are lumps in the milk, that is ok.
Mix all the dry ingredients in a mixing bowl (except the seeds).
Rub in butter until mixture resembles fine breadcrumbs.
Add the buttermilk and mix again. I would use an electric hand mixer as the dough will get thick.
Add the seeds you like the most. Mix to combine.
Transfer the dough to a rectangular baking tray. Flatten the dough with a spatula, you might need to dip the spatula in water as the dough is pretty sticky.
Bake in a preheated oven at 200ºC for 40-45 mins.
Notes
You can cut the bread into slices and deep freeze it. Whenever you want to eat it just put the slice on the toaster straight from the freezer. It will taste like fresh made. See picture below.
Great to eat for breakfast with butter and jam.
You can change the wholemeal flour with any other flour, oat, rice…
Store it in an airtight container in your countertop for up to 1 week. For breakfast, toast the sliced in a toaster and add some butter and jam, so good!
VEGAN: You can make this bread vegan by using oat or almond milk and using 1 tablespoon sunflower or olive oil instead the butter.
How to store this bread in the freezer: