Receta de torrijas clásicas de azúcar y canela, con la semana santa a la vuelta de la esquina era necesario dejar por aquí esta maravilla de receta. Torrijas clásica tradicionales, las de toda la vida vamos.
–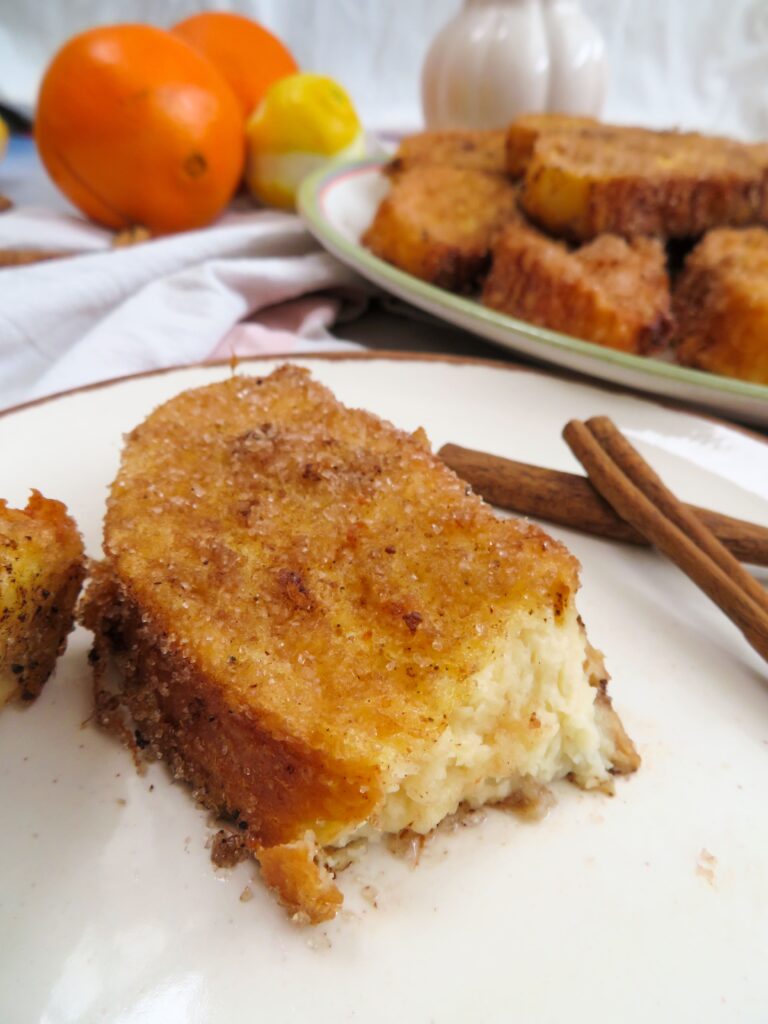 Y no cualquier receta, sino la receta de las torrijas ganadoras después del gran testeo de la semana pasada (2021). Te resumo lo que pasó.
Como en Holanda no puedo encontrar pan para hacer torrijas decidí hacer el pan en casa, pero como no me decidí por una receta preparé dos panes diferentes. El clásico pan y un pan más estilo brioche.
Y ya puestos a hacer versiones decidí probar 3 recetas diferentes cocinadas en 2 formas diferentes. Aunque el pan estilo brioche no salió nada bien, lo pude aprovechar para la versión de horno.
3 recetas diferentes de Torrijas:
Con azúcar y canela
Leche infusionada con limón, naranja y canela
Sirope de café y ron
2 cocciones diferentes:
Así estaba la mesa con todas las versiones antes de probarlas:
La ganadora fue….
Las clásicas torrijas fritas con azúcar y canela. Sí, he de decir que me esperaba más de las torrijas al horno. No estaban mal de sabor, pero se secan bastante y pierden un poco la gracia.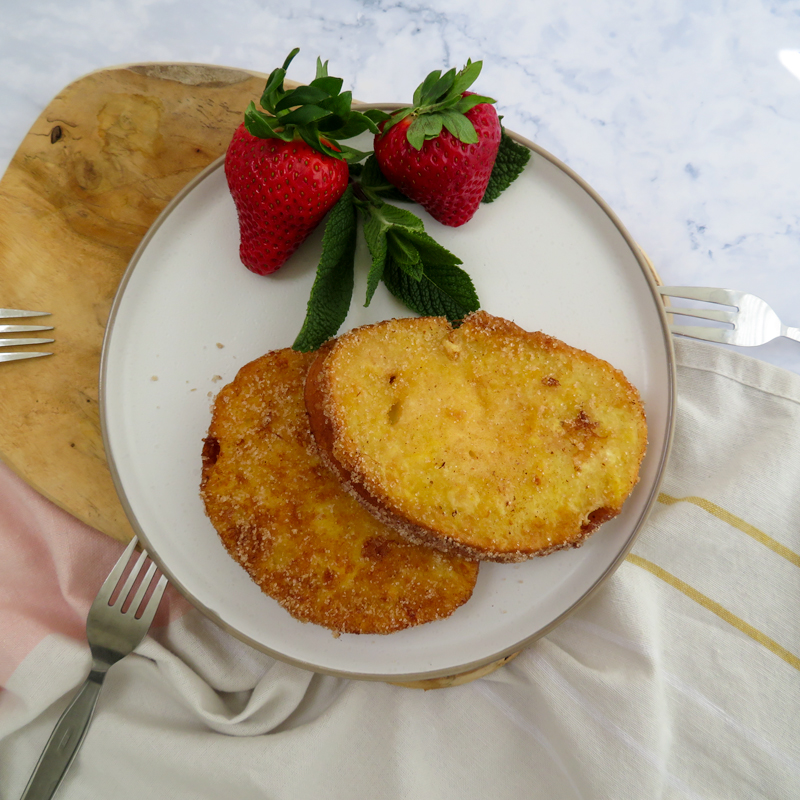 Tengo que decir que le doy una mención especial a la versión con sirope de café y ron ya que quedaron muy ricas.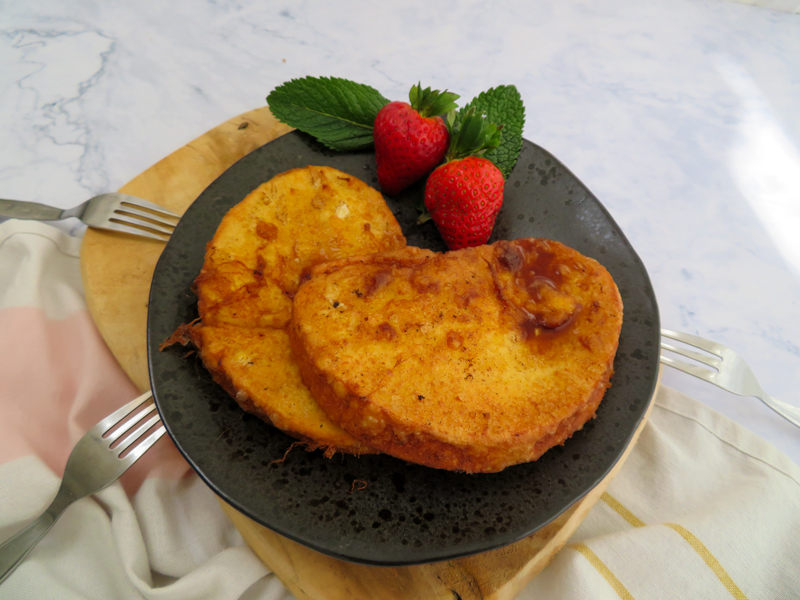 De modo que como prometí os dejo la receta de las torrijas clásicas de canela y azúcar y la versión con café y ron.
Esta es la receta que suelo usar para hacer el pan de torrijas en casa. He probado muchas masas y esta es sin duda la mejor, queda jugoso y esponjoso.
Vamos al lio con las torrijas clásicas:
Traditional torrijas recipe
Course: Postre
Cuisine: Española
Difficulty: Fácil
Ingredients
1 torrijas bread loaf

4 eggs

Olive oil

1 L milk

1 cinnamon stick

Rind of 1 lemon

Rind of 1 orange

Versión azúcar y canela

5 tablespoons of sugar

1 tablespoon of cinnamon powder

Versión sirope de café y ron

1 café expreso, 1 chupito

1 cucharada de ron

1 cucharada de azúcar
Procedimiento
Infusionar la leche:
En una cazuela mediana añade la leche, la rama de canela y las cáscaras de limón y naranja. Colócala al fuego y calienta casi hasta hervir. Apaga y deja que se temple o se enfríe. Lo puedes hacer unas horas antes. Retira las cáscaras y la ramita de canela.
Corta el pan en rebanadas de unos 2 cm de grosor. Con el pan que uso yo salen unas 15 torrijas.
Coloca la leche en una fuente con fondo, como la que se usa para hacer lasaña.
Coloca una capa de rebanadas de pan en la leche para que se empapen bien por los dos lados. Se tienen que empapar bien y poner blanditos pero que quede margen para poder manejarlas. Unos 15-20 minutos.
Calienta abundante aceite en un cazo.
En un plato hondo bate los huevos. Saca las rebanadas una a una y pásalas por el huevo.
Fríe las torrijas una a una, un minuto por cada lado. El aceite tiene que estar caliente.
Coloca las torrijas en un plato con papel de cocina para quitar el exceso de aceite.
Versión azúcar y canela
Mezcla en un plato el azúcar y la canela en polvo.
Cuando las torrijas escurran un poco el exceso de aceite rebózalas en esta mezcla.
Coloca en un plato.
Versión sirope de café y ron
Coloca el café caliente en un bol pequeño. Añade el azúcar y mezcla para que se disuelva. Añade el ron y mezcla. Deja que se temple.
Cuando las torrijas escurran un poco el exceso de aceite coloca en un plato y añade un poco de sirope de café por encima.
Notes
Guarda las torrijas en un recipiente cerrado (tupper) en la nevera. Cuando pasen unas horas el azúcar se habrá convertido en una especie de sirope y están buenísimas. Cuando las quieras comer, las puedes calentar 15 segundos al micro para que estén templadas.
Aguantan en la nevera máximo 4 días.