Edinburgh food guide, best places to eat in the city, places I would not go back, farmers market and curiosities about Scottish gastronomy. Plus a list of places I still need to try.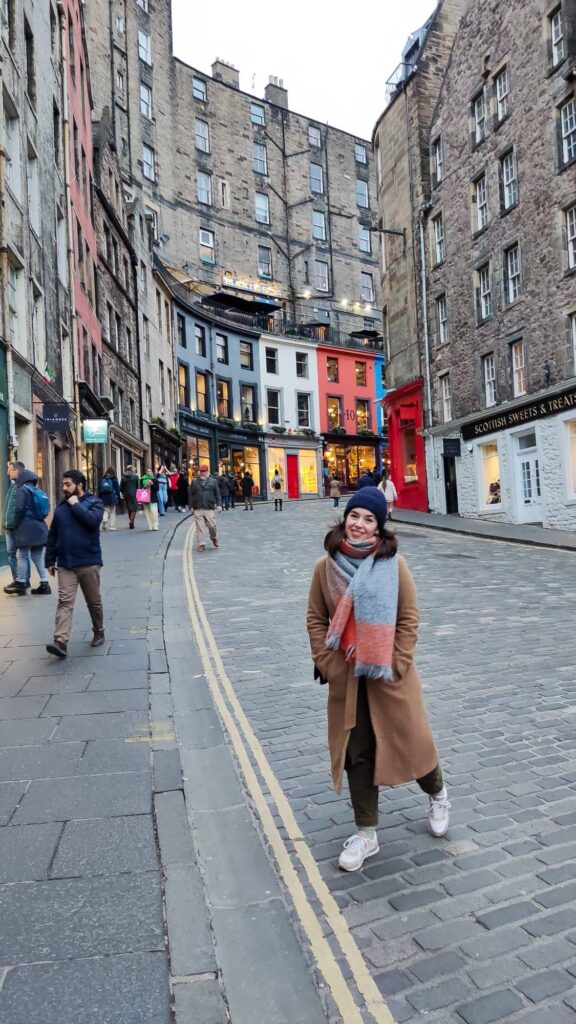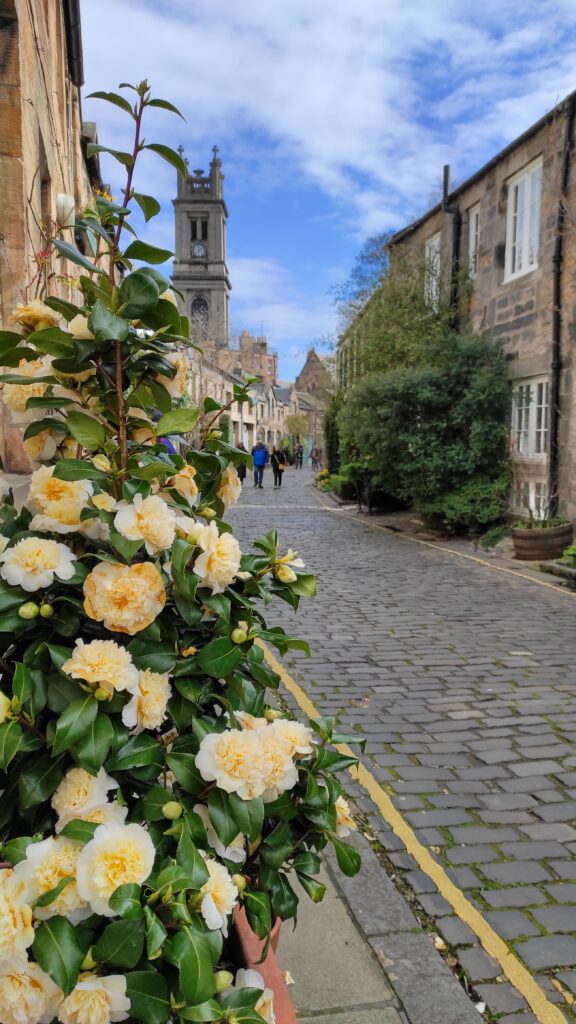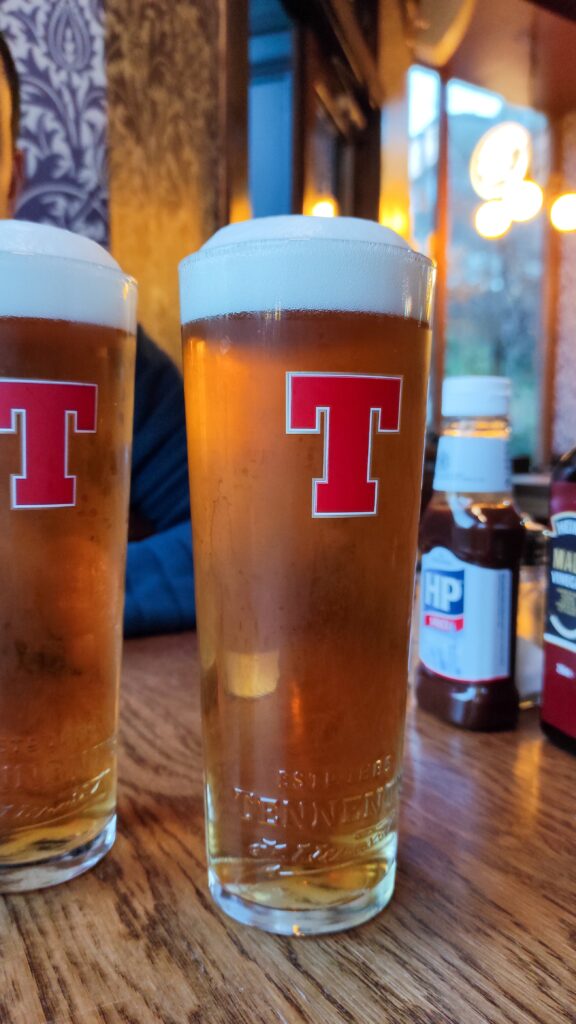 Lunch break
If you are sightseeing in the city centre of Edinburgh, those are the places I would recommend and the one I would not go back.
Oink Victoria Street – Best place to eat traditional Scottish hog roast in a roll with sauce and salad. Small place so more of a take away.
Ikigai ramen Southbridge – If you visit Edinburgh in winter and it is cold and rainy can not think of a better option than a nice bowl of ramen. Chicken ramen at Ikigai was lovely and they have vegetarian ramen options.
Union of Genius – Looking for some warm confort food? The soups or stews in this place are lovely. Located near the University of Edinburgh, pretty small but quick and lovely service. We tried the chicken chilly and the Ghanaian chicken, both delicious. Do not expect a light soup, it is more like a stew with rice, vegetables, beans, chicken… warm and delicious. Lots of vegan and GF options.
Kilimanjaro coffee – Did not have time to try this place but it was on my list. If you are in the University area, I would really try it. Perfect for breakfast, brunch or a coffee break.
Noodles Home – NO GO for me. It was really disappointing, I mean the name says it all, noodles home because that it all you get, noodles. I got a ramen with hand-pulled noodle and basically I got a huge bowl of noodles with broth and some spring onions on top. The broth did not have much flavour and it was just noodles! Do not expect vegetables… Would not recommend the place.
We also had some stir fried noodles with chicken that again was a platter with lots of noodles and a little bit of chicken, carrots and onion, but mostly noodles. Again I was missing some more greens.
UMI – The local tour guide recommended this amazing Japanese restaurant near the University. Unfortunately we did not have time to go there 🙁 but looks amazing! Do not miss it.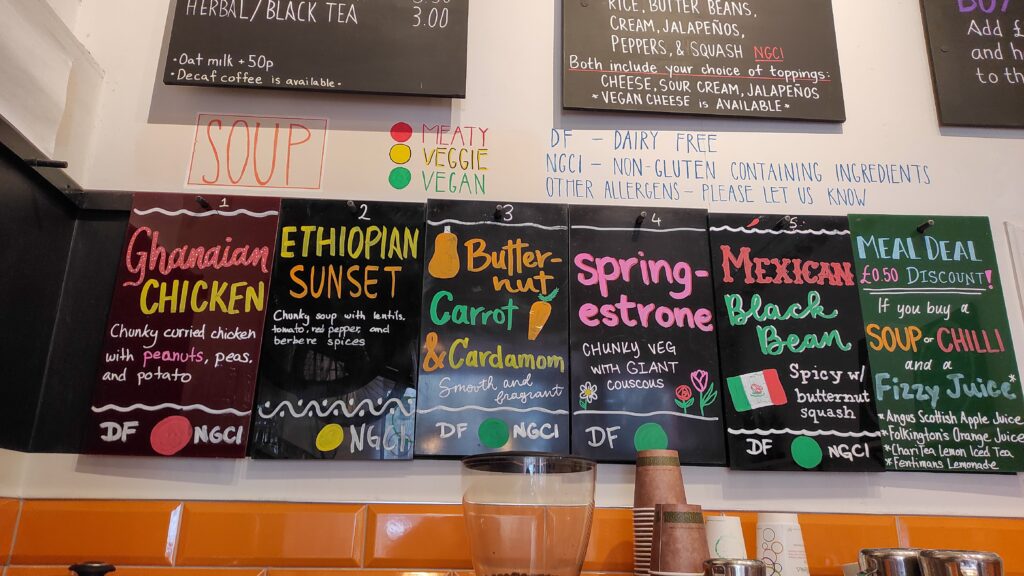 Traditional food
First Coast restaurant – Cosy restaurant near Haymarket. Modern Scottish cuisine focuses on locally sourced ingredients. 10/10. Loved this place. I booked this restaurant for our first dinner in the city and I loved it. Best way to explore modern Scottish cuisine with local produce.
Must try:
The haggis if you want to try some local food in a more fancy way.
Crispy hake was fantastic, but it was truly spicy! The Scottish do not joke about spicy food.
We also had some grilled vegetables as side dish that I would 100% recommend.
Price- 80 £ (2 starters, 2 mains, 1 side dish and 2 beers)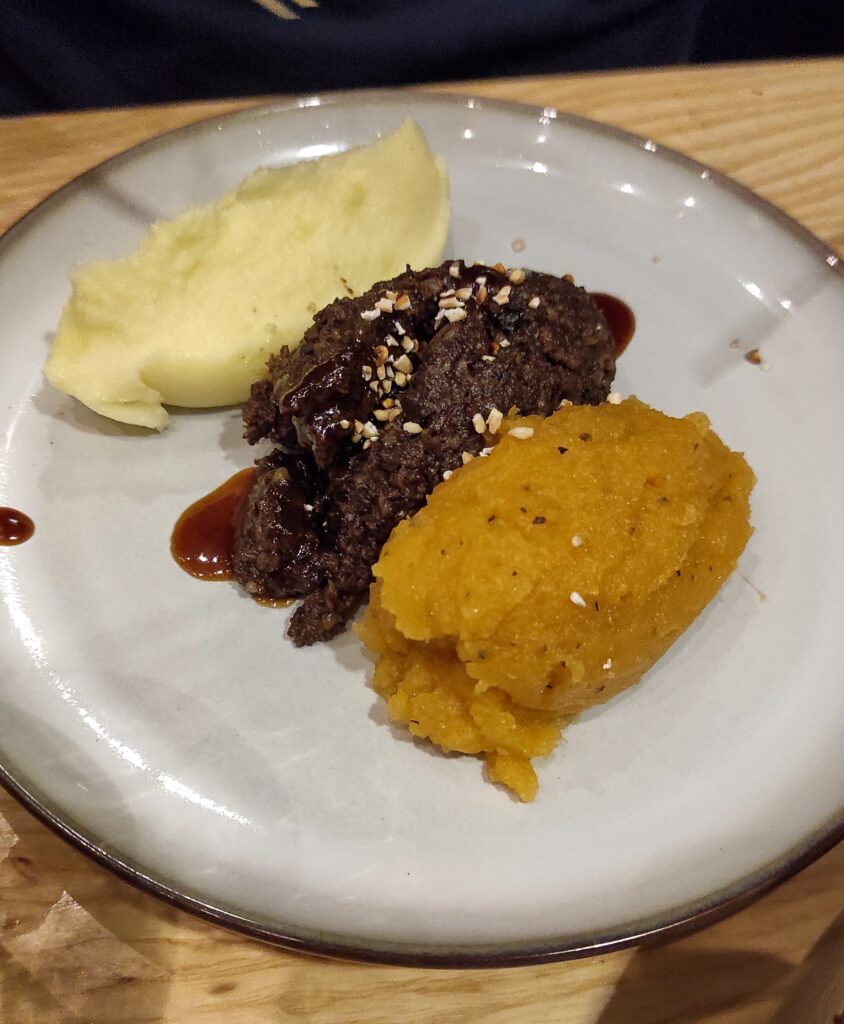 Howies restaurant in Victoria street – We did not have time to go to this place but looks amazing to have some tradicional haggis.
Badger & Co – We went there on Sunday to try their famous Sunday roast, loved it. We had the beef sunday roast but they also had venison and the vegetarian version available.
Breakfast and coffee
Nomad – Cute coffee place near Haymarket. A little bit pricey. We had breakfast at this place our first day in Edinburgh. The avocado toast was more like tons of guacamole on a toast, it was ok but the ham and cheese croissant was not good. The pancakes looked amazing, so maybe it is better to order pancakes next time 🙂
Coffee was nice and HUGE.
The milkman – It was on my list to try as apparently the coffee is delicious.
Greenwoods Edinburgh – Breakfast and brunch place that looked amazing bit did not have time to try.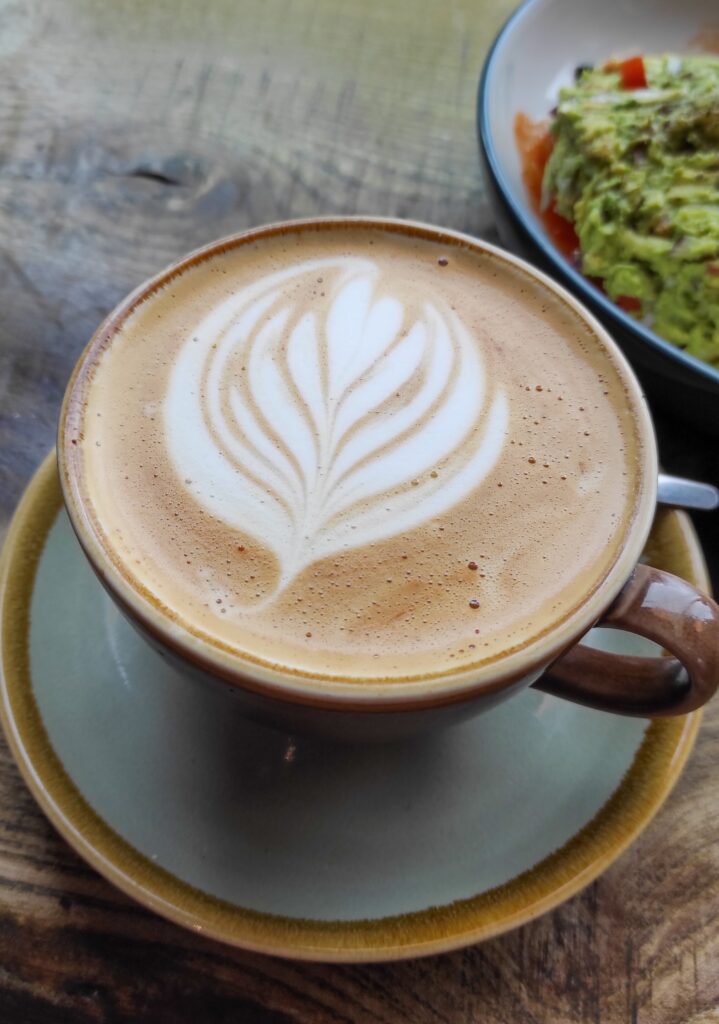 Life music
Stramash – Restored church/pub with life music. Super nice place to have a beer and enjoy some life music.
Farmers market
If you follow me on social media, you know I have a thing for farmers market… LOVE LOVE them. Love to check local produce and get a feeling of the local gastronomy. I loved this little market near the castle.
The market just opens on Saturdays from 9:00 to 14:00.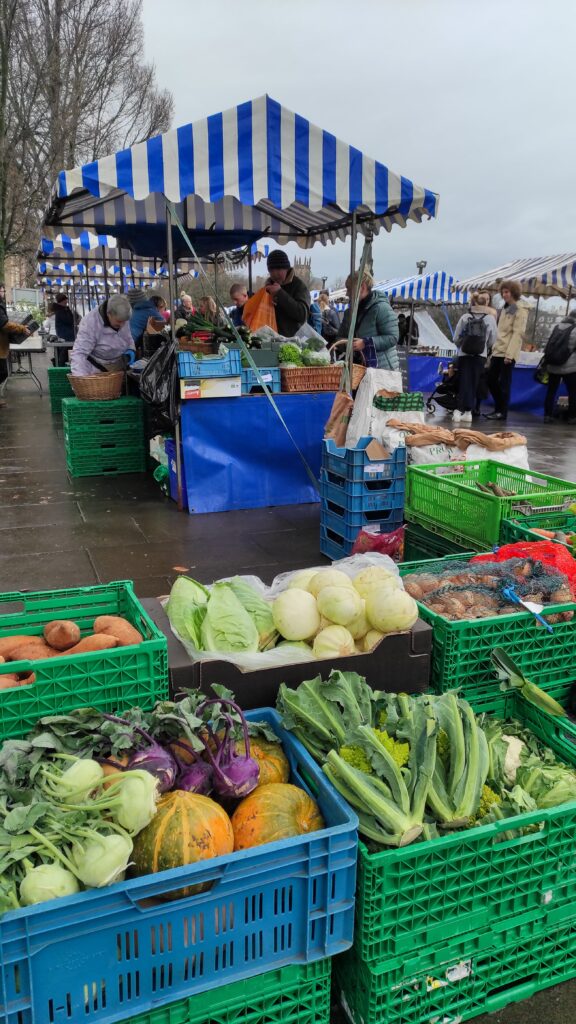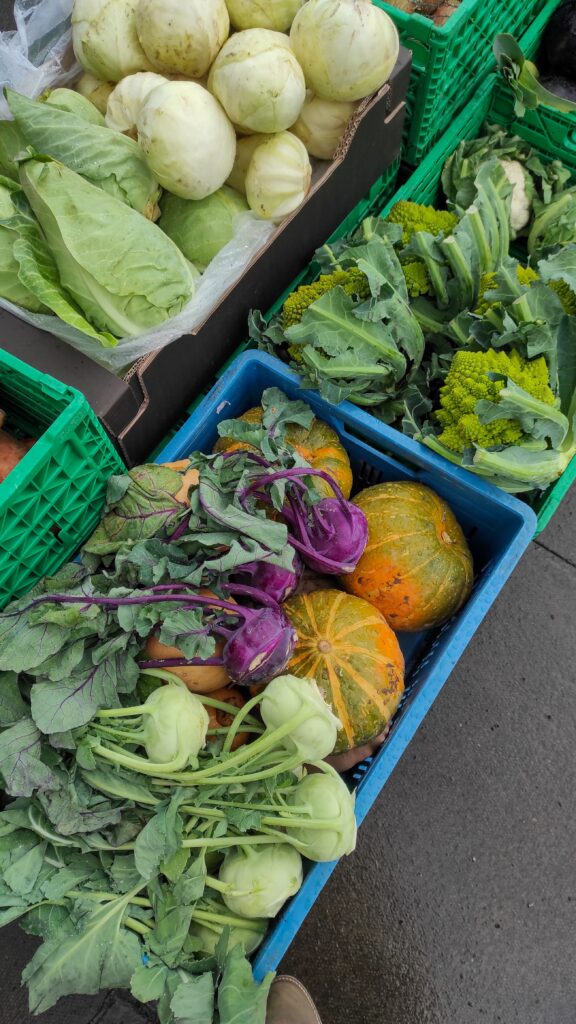 Lots of fresh vegetables and fruit, some meat, fresh fish, cheese and fresh milk. Lovely to see it and get some delicious local goat cheese.
On Sundays there is a small market at Stockbridge that was also nice to see. This one is mostly a market with food spots for lunch, noodles, paella…
Things I was not expecting in Edinburgh
Coffee – Coffee cups are HUGE, like pints… The bigger the better apparently. Take this into account when you order coffee, for me the small version was more that enough.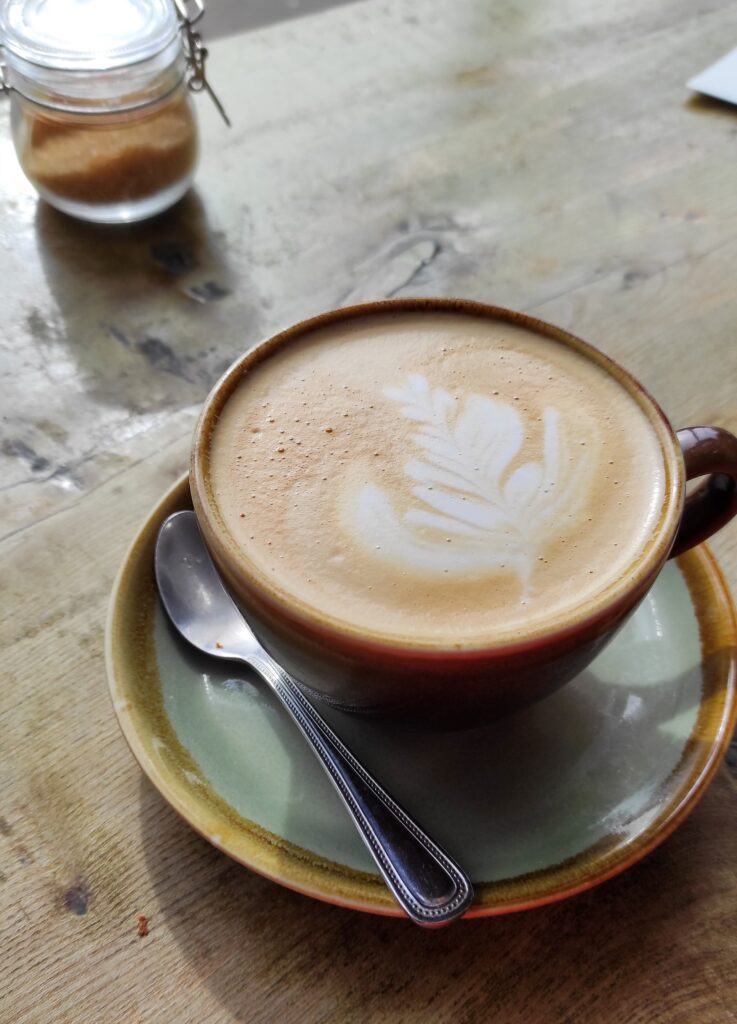 Gastronomy – Scottish gastronomy has way more variety than I expected. If you are from France, Italy, Spain, Greece with huge gastronomy background you might not think that but if you live in The Netherlands with more limited options, it was lovely to see more that chicken at the market.
It was quite socking to find wild rabbit or squirrel at the market.
Fish on the other hand, was the oposite. All the fish at the market was already ready to eat, fillet style, no whole fish at all.
Spicy food – No jokes when Scottish people say it is spicy as it truly is. I was not expecting so many spicy dishes, lots of Indian influence with curries and spiced food.
Battered fish – I love fish so usually when I go to a restaurant I order fish. It was quite funny that all the fish in Edinburgh is battered, I did not find any grilled fish with no batter.
---
Hope you liked this little or not so little Edinburgh food guide 2023.
Looking for more restaurant recommendations in Crete, Gran Canaria, Porto or The Hague?
---
Side note about Edinburgh's airport (food story time): Something really weird happened to me when I when through security.
I always bring some snacks and food with me when I travel as food at the airports and planes is pretty bad and unhealthy. Last times I took a plane in Bogota, Madrid or Amsterdam took hummus and carrots with me. So I did the same this time.
We I went through security, which btw it is old and pretty chaotic, they throw away the hummus as they said it was liquid. Excuse me, liquid? So carrots with carrots it was for me LOLs.
I tried to get some food at the airport, looking for something that was not a sandwich are the shelves were almost empty of food at 17:51.
I have to say I was pretty shocked about that taking into account that it is such a modern city where you can even donate money at a church with your credit card in a contactless machine. But the old security system and rules of the airport of Edinburgh are the same as 20 years ago.
Families traveling with kids that want to bring food for their kids, check the old rules of the airports in the UK as you might not be allowed to bring certain food for your kids.
---